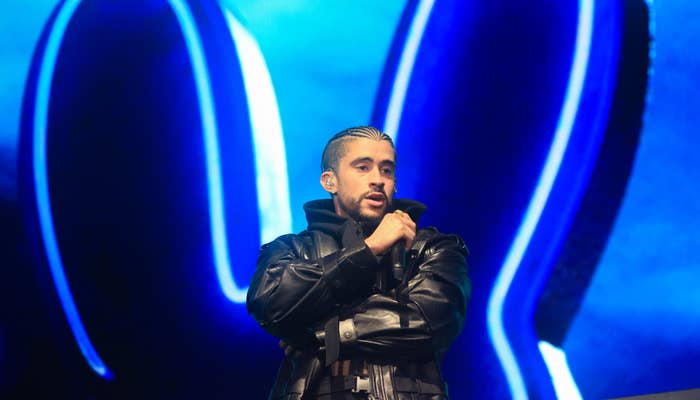 Bad Bunny offered an apology to Harry Styles during his headlining set at the second weekend of the Coachella Valley Music and Arts Festival Friday. 
While Benito was performing in front of fans, an apology to the Harry's House singer appeared on the screen near the stage that read: "Sorry Harry it was a mistake from my team. We love you."
The apology came a week after the Puerto Rican megastar performed "El Apagón" during Coachella's opening weekend and had a different message that mentioned Styles appearing on a screen via a tweet.
"Goodnight benito could do as it was but harry could never do el apagon," read the message. 
A representative for Bad Bunny and Sturdy.co — the visual content company that handled his Coachella performance — told Rolling Stone that the Un Verano Sin Ti star didn't sign off on the message mentioning Styles, but that didn't stop fans from stirring the pot on social media. 
The global superstars have been pitted against each other for some time now. Bad Bunny's headlining set in Indio, California comes a year after Harry Styles closed out Coachella last year, and at the 2023 Grammys, Styles took home the award for Album of the Year, which many believed either Benito or Beyoncé should have won. 
It also doesn't help that Bad Bunny is allegedly dating Styles' ex-girlfriend, Kendall Jenner, who was seen partying in the crowd during Bunny's historical performance last Friday. 
Bad Bunny's performance at Coachella's second weekend included collaborations with Jhay Cortez, Arcangel, Jowell & Randy, Grupo Frontera and Jose Feliciano. Bunny also joined Gorillaz for a surprise performance of their collab "Tormenta" before his headlining set.