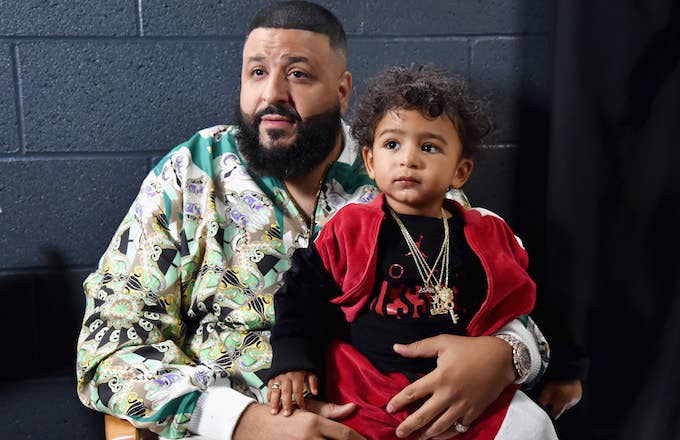 You may recall DJ Khaled's son Asahd being at the very top of our list when it came to celebrity baby power rankings, and for good measure, too—his résumé already includes executive producing his father's Grateful album, possibly doing so for Justin Bieber's album, and celebrating his first birthday popping bottles at Miami's LIV nightclub.
While a lot of Asahd's fandom and appeal is entirely rooted in his father's humorous marketing and promotional skills, the kid certainly has legitimate, well-established brand value to his name now. Naturally, DJ Khaled isn't one to waste an opportunity, having just filed to trademark his son's name on a variety of items ranging from keychains to video games.
According to TMZ, Khaled and his wife Nicole Tuck filed to trademark their 18-month-old son's name on a litany of items like cosmetics, jewelry, clothing, linens, perfumes, keychains, video games, and perfumes. Additionally, the parents want the right to brand children's goods such as pacifiers, strollers, books, bibs, teething rings, fruit snacks and even mini electric cars for kids. While this might come as a shock to some, DJ Khaled is a master at continuously expanding his brand and upping the Khaled image. This is just the next logical step, as the world knows and loves Asahd like a mascot for anything We The Best-related. This is, as Khaled himself would put it, another one.
How exactly this will evolve and what kinds of items will actually be manufactured and branded with Asahd's name is yet unsure. Filing trademarks is often just a preemptive measure in case minds aren't made up yet. But on the other hand, this seems like something DJ Khaled isn't playing around with. Asahd, himself, has already walked quite a few red carpets and catwalks, wearing tuxedos, Jordan sweatsuits, and more. Who knows? In a few years, you might see kids wearing Asahd's name on their t-shirts, while rolling through the neighborhood in an Asahd mobile.