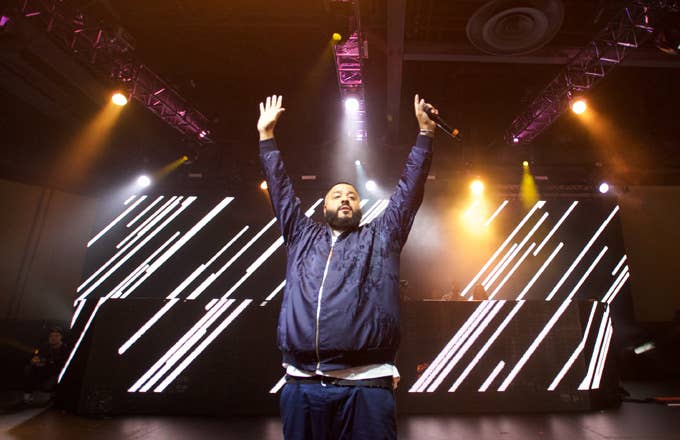 DJ Khaled is everything you'd expect in a conversation and more: exuberant, funny, high on life, and physically incapable of resisting the urge to gush over his now 1-year-old son, Asahd.
"Everything is for [Asahd]," Khaled tells Complex, as he breathes heavily on his Snapchat-famous elliptical. "I have more love than any word you can invent... I represent my son." As most parents do (so I hear), Khaled sees Asahd as an extension of himself. So where Khaled goes, Asahd goes, be it the BET Awards Show stage, or the "I'm The One" music video.
While Khaled's daily life might be filled with more Livestream unboxings and steam room sessions than the average DJ, he ticks the same way we do. Khaled hustles to be the best so that he can provide the best for himself and his family, which includes Asahd and his fiancée, Nicole.
"If there's one thing I can tell you now, it's this: I got my son, I got his family, and his family's family, and his family's family's family."
He's also got a ridiculously underrated work ethic. Khaled's produced three No. 1 albums in the last three years, and an astonishing 10 albums in the last 12. Meanwhile, the features he nabs—from Jay and Bey, to Chance and Ri—are only getting more legendary. Oh, and he's currently touring with Demi Lovato.
Khaled is shining off the stage, too. After writing a critically-acclaimed book and joining Diddy's Ciroc family, Khaled is now partnering with Timberland and Champs Sports on a dope project. He's lending his voice to a hilarious animated adventure series, "The Sole Protectors," alongside 2 Chainz, to help promote the new Khaled-inspired, blue pastel Timberland sold exclusively at Champs Sports.

In this one-on-one interview with Complex, DJ Khaled talks about the collaboration, dreams of becoming a billionaire, Asahd's executive producer credit on Grateful, wanting to work with Jay-Z on a full project, and more.
(This interview has been edited and condensed for clarity.)
Complex: The character you voice in "The Sole Protectors" has mastered the superpower of mind control. If there's one superpower that DJ Khaled could have in real life, what would it be?
Khaled: Love. That we all, forever, could love each other. Be helpful. Family on everything. Love, you know?
You star alongside 2 Chainz in the animated series, and you've collaborated with him in the past on songs, like "Whatever" off of Grateful. What is it like working with Chainz?
2 Chainz is an amazing artist. He has his own style, you know? And this energy, and his presence... it's just amazing. He's great people, and he's an amazing artist. We both was on the bottom together climbing that mountain top, you know? And we have another type of respect for each other, as well as our craft.
I've heard 2 Chainz doesn't write any of his song lyrics down on paper. Does he just come into the studio and start spitting?
Yeah, 2 Chainz is all about the vibe. He's the type of artist that if you send him a record, he'll come back in the next 30 minutes [with a song]. Respect, he's incredible.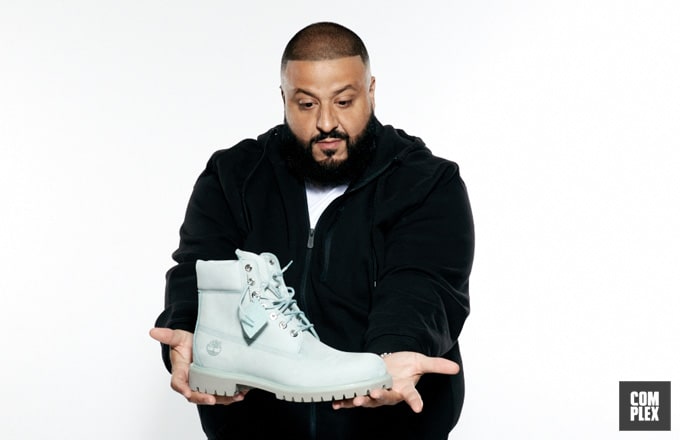 Earlier this year, you dropped the olive green Timberlands exclusively with Champs Sports. Now it's the blue pastels. What is it about Timbs that you love so much?
That they represent and give back to the community. If it's giving sneakers away, or visiting schools, or putting fun and excitement into the game... Timbs and Champs [Sports] are champions out there. They give back to young kids in a cold, big world. And that's what I was and what I represent. You know?
Absolutely. You've also got some history with Champs Sports, working as a sales associate there back in the day, and you have the personalized Champs Sports store in the We The Best Studios. Can you talk about that unique relationship you have with them?
It goes back to when I was a kid. I used to work at Champs [Sports]. It was just a cool job. When you gotta work, you sign your heart up to do things that you love, and Champs [Sports] was something that I loved because I would be wearing everything inside the store: from the Timberland shoes, boots, and sweatshirts, to Air Jordans and Air Jordan jumpsuits. It helped me as a young kid to be an entrepreneur. A young mogul, you know? When I got my Champs [Sports] opportunity, it just molded more of my vision to be a CEO.
Right, and speaking of finding that love, it's so clear how much you love Asahd, and the world has really gotten to love him, too. What does it mean to you that you're able to bring him on stage with you and throw him such lavish birthday parties?
Man, it's just a blessing to have my son with me too, you know? No words in the world can explain how much love I have for my son because I love him that much. I have more love than any word you can invent. He's my son; I'm a father now. And everything is for my son. And everything I do, I represent my son. He's my life. He is the realest form of joy and happiness and love.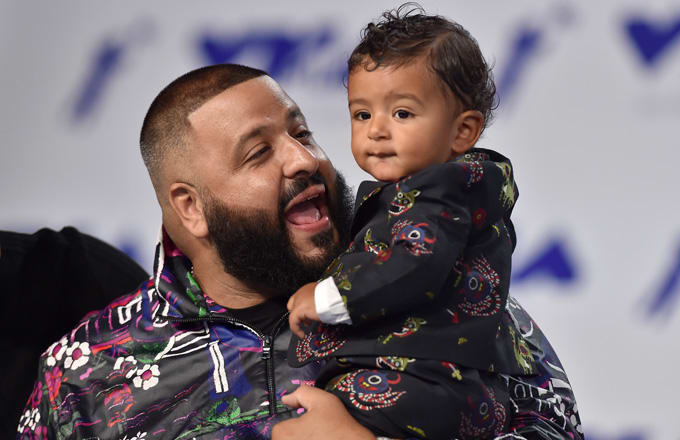 You made Asahd executive producer on Grateful. What do you envision for Asahd in the future? Do you want him to follow in your footsteps and be a DJ/producer?
I want him to do whatever he wants to do. And I'ma support him. The way I was raised, my family brought me around their work environment to show me what it took to put a home over our head; to see what's expected, be humble, and see the ups and downs and the grind. It molded me to be who I am today. And I took that experience and that love to be a music executive mogul, entrepreneur, DJ, executive producer, artist...
I got my son, I got his family, and his family's family, and his family's family's family.
My son, whatever he wants to do, I'ma support. Same thing my parents did for me. But I will bring him around everything I do so he knows how hard daddy works. When your children see that and grow up in that environment, they have another respect for the grind and work to take care of his family. But if there's one thing I can tell you now, it's this: I got my son, I got his family, and his family's family, and his family's family's family.
That's a beautiful thing. I was thinking: Drake and Asahd have nearly the same birthday, with Asahd's falling on October 23 and Drake's being on the 24th. Did they buy each other any gifts?
God knows what he's doing! When my son was born, Drake bought my son and myself two keys. A necklace with two keys on there that are stuck together forever. It says "Asahd" and "Khaled." "Father" and "Son." And when my Queen was in labor, Drake hit me up saying Asahd being born on the 23rd is gonna be super amazing. 23 is a beautiful number like Michael Jordan and a day apart from my boy Drizzy. It's just special. Any day is special for life. October 23 is amazing.
A little while ago, you posted a video on Instagram of Asahd saying his first words. Do you think his vocals are gonna make it onto any of your tracks soon? Added to the list of Khaled taglines?
BE READY!
I've orchestrated some of the biggest anthems in the last 10 years, and i'll never stop.
In an interview back in 2015, you predicted that you were gonna make something really special with Rihanna, who at the time you'd never worked with before. Now, obviously, you have "Wild Thoughts," which was huge. Who's the next person you haven't worked with yet that you want to work with?
I haven't worked with Andre 3000. I wanna work with him. Adele and Eminem, too. I've worked with a lot of people, but I haven't worked with them yet. Also, I wanna continue working with everybody that I've worked with before. We got more anthems and more great features to make. It's not always about who you have. It's about how great the song is—how great the anthem is—and that's what I'm best at. I put them together. I've orchestrated some of the biggest anthems in the last 10 years, and I'll never stop.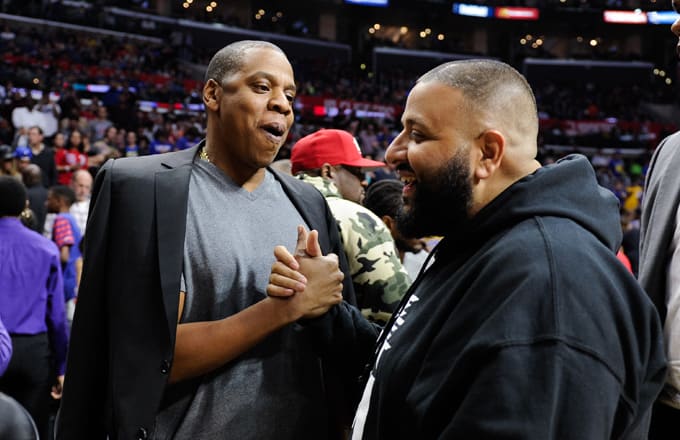 If you could, who would you want to do a full project with? Either production-wise or vocal-wise?
Jay-Z. I want to executive produce a full Jay-Z album. 'Cause I'ma piece it all together, and I wanna be able to one day do a Jay-Z album, executive produced by Khaled Khaled. That would be my biggest album.
You've made so many anthems, you're a huge social media star, wrote a critically-acclaimed book, hosted award shows. Where do you see yourself in 10 years?
Being greater. Being greater and raising my son. Being a billionaire. Being blessed. Being great, and being grateful. Never stopping. I'm never stopping. That's on everything I love.