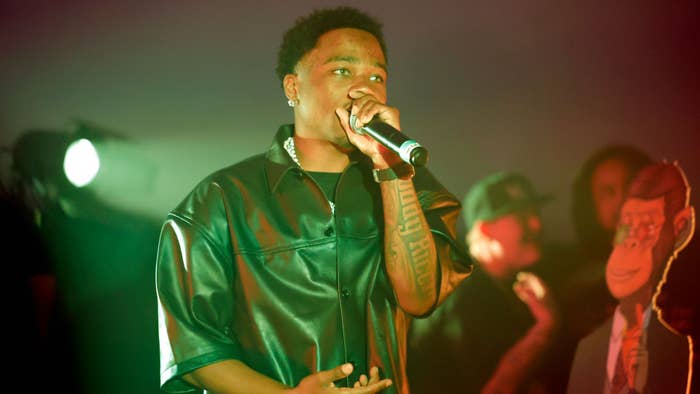 Roddy Ricch sent a firm message to the NYPD while performing at Hot 97's Summer Jam on Sunday, when he led a "fuck the NYPD" chant with the audience just 24 hours after he was detained on gun charges at the Governors Ball Music Festival in Queens, New York.
Roddy was eventually released from custody on Sunday and was luckily able to make it to New Jersey's MetLife Stadium in time for his set at Hot 97's annual one-day festival. Before performing his DaBaby collaboration "ROCKSTAR," Roddy amped up the crowd when he said "I need everybody to say 'fuck NYPD,'" which attendees eagerly obliged.
As previously reported, the LIVE LIFE FAST rapper was heading into Gov Ball's festival grounds to get ready for his performance on Saturday, when he was stopped at a security checkpoint and had his vehicle searched. Authorities discovered nine rounds of ammo and a large-capacity magazine. Roddy and two others were arrested, and the Compton rapper was released from custody on Sunday. He was charged with 4 counts of criminal possession of a weapon, possession of a large capacity ammo feeding device, and unlawful possession of that device, but the charges were reportedly dropped according to the New York Daily News.
Roddy Ricch's arrest comes after Fetty Wap was detained in 2021 on federal drug charges moments before he was set to take the stage at Rolling Loud New York, which was also at Citi Field.
This year's Governors Ball festival included headlining sets from Kid Cudi, Halsey, and J. Cole, while the bill also included appearances from Playboi Carti, YG, Denzel Curry, Japanese Breakfast and others.