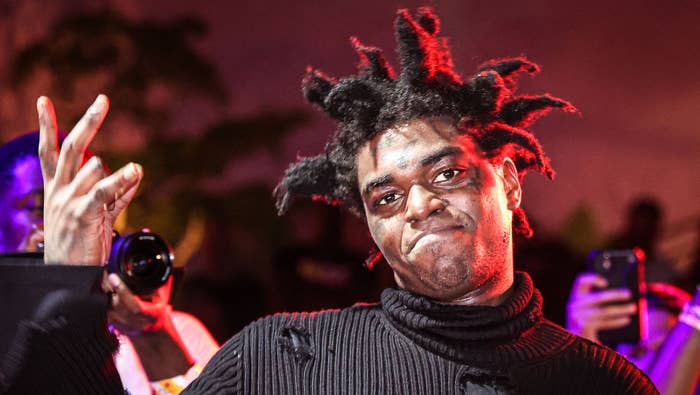 UPDATED 10/26, 11:25 a.m. ET: TMZ has more info about Kodak Black's alleged multiple failed drug tests. The outlet cites "new legal docs" saying the 24-year-old tested positive for cannabis in February and ecstasy in August.
As far as the 90-day residential treatment program he was ordered to complete, Kodak was able to get 30 of those days moved outside his home state of Florida, "claiming it would give him a better chance at success."
Black also requested for the court to allow him to fulfill his obligation to perform at Rolling Loud New York, with TMZ noting he claimed it's "strictly for business," and received permission. Kodak performs on Friday, Oct. 29, the same day as J. Cole, Lil Baby, City Girls, Playboi Carti, Rick Ross, Wale, Coi Leray, and more.
See original story below.
Kodak Black reportedly violated the terms of his probation by failing a drug test. 
TMZ writes that the alleged failed test led to a court hearing this week, with Black ordered by a judge to undergo a residential 90-day treatment program. Sources tell the outlet Kodak has since entered the program.
Black was serving a 46-month jail stint related to gun charges when he was freed by former President Trump back in January.
The news comes as Kodak recently announced that his girlfriend Maranda Johnson is pregnant with his second child. The pair have been dating on and off for about four years, and she is allegedly expecting to give birth to a daughter in late 2021 or early 2022. According to TMZ, Black is "ecstatic" to be having a girl, and apparently was already shopping for gifts to prepare for her arrival. This will be the rapper's second child following 6-year-old son King, from a previous relationship.
Kodak also has been trying to mend relations with his label signee Jackboy, recently asking to hug it out after their longtime friend WizDaWizard was murdered.
"Let's Use This As a Wakeup Call @Jackboy," Kodak wrote on Twitter. "Shit Get Real Krazy Real Kwik Out Here, Unexpectedly! & Fuck This Distance Love N***a Come Give Me A Hug N***a."