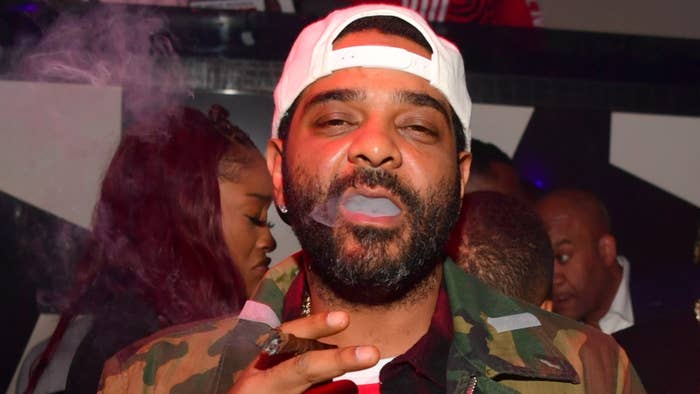 Jim Jones has returned with another one of his hilarious weather reports. With New York City enveloped in a smoky haze this past week, Jones aid his friends uptown must think "Jesus is smoking hookah" because of how "foggy" the city is.
The Dipset rapper, whose weather report updates have become a source of comfort and hilarity for New Yorkers experiencing extreme weather, returned to comment on the unusual effectsp of record-shattering wildfires in Canada.
"Enough is fucking enough," Jones said after performing his signature foot tap. "We really need to know who really the fuck is in charge here. Like what is going on? We started with Panda weather. We got past that. Then the weather start acting funny. It's June, I still could were a Pele tonight when it get chilly, and now this shit is yellow outside, and my n****s uptown in the heights might think Jesus is smoking hookah because it's so foggy."
He continued, "What is this smoke? Y'all about to tell me the fire in Canada got my shit smoke out here like n-ggas is, alright you know what. Who gonna tell me where summer at? Somebody gotta tell me where summer at bro cause right now this shit is not even making sense. We definitely at the end of the Bible. What did God say? Fire and hail and, boy I'm gonna go back inside. Somebody tell God this ain't the club stop smoking hookah up there. I'm out."
Jones had previously given a weather update in February, following a surprise snow dusting and a frigid 30-degree day.
"Man, fuck this weather and whoever the fuck is in charge because the shit is just not adding up at this fucking point anymore," he said at the time. "A n***a told me it was damn near 80 in Philly yesterday and snowing in New York today. The shit is just goin' wild. What's next? A n***a don't even know how to get dressed anymore."
The Lobby Boyz MC's weatherman persona has become something of a sensation. In fact, Jones revealed back in 2022 that he was even forced to trademark his foot tap after spotting it in a commercial.
"I trademarked the foot tap," Jones said in an interview with Shade 45 at the time. "I saw one of these companies doing that shit in their commercials and I had to… let me holla at you and show you what this trademark look like."
He continued: "Before they have to pay you that type of money, they do the right thing and acknowledge that you were outta pocket and things like that, and hopefully they turn around and do business with you for the same reason they was using whatever properties you owned."