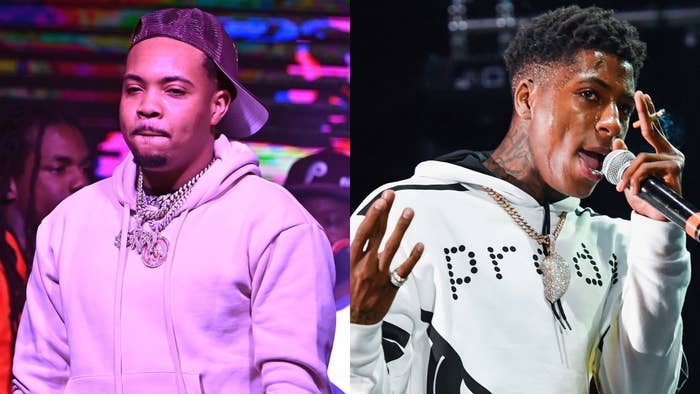 G Herbo has flexed a hidden knack for imitating YoungBoy Never Broke Again and did a hilarious impersonation of the Baton Rouge rapper's swagger at a kid's birthday party.
Herbo showed off his impression in a viral video on Monday that was captured by The Shade Room, and the Chicago rapper can be seen doing spot-on dance moves that YoungBoy Never Broke Again often performs in his videos, including the rapper's signature manic two step. Herbo was dancing to YoungBoy's "I Got That Shit," off his latest album Richest Opp.
While many fans were left in stitches, some warned in the comments that YoungBoy could see Herbo's clowning as a diss, and potentially return fire.
"YB making a diss song as we speak," wrote one fan, while another added, "b sensitive ass bouta be in the studio creating a whole diss track off this."
It's true that no one has been safe from YoungBoy's ire. The 23-year-old recently even took shots at Drake on Richest Opp's ninth track "Fuck The Industry Pt. 2."
"Talked to Drake 'cross FaceTime, he wasn't feelin' me/ Told me that he fuck with Durk, damn, that shit gettin' to me/ Told me that he like the shit I'm doin', but can't do shit with me/ So when we cross our ways, fuck what you say, bitch, you my enemy," he rapped on the venomous track.
The diss caused J. Prince and Birdman to pay a visit to YoungBoy at his abode in Salt Lake City, Utah, where he's currently under house arrest related to his 2021 gun arrest.
Prince shared a picture from their meeting on Instagram last week and said he encouraged the 23-year-old to not take any more shots at Drake.
"As you all can see, I had a good time kicking it with the homies in Utah. On behalf of the lil Homie YB, me and my brother Birdman were able to have a real conversation face to face," his caption began. "We talked about the past, the present, and the future. But most importantly, we left each other with a mutual respect moving forward."
As for G Herbo, he dropped off his Strictly For My Fans project back in April, and shortly after proclaimed to be the "best rapper alive" on IG.
"I really feel like I'm the best rapper alive, [no bullishit]," He wrote.