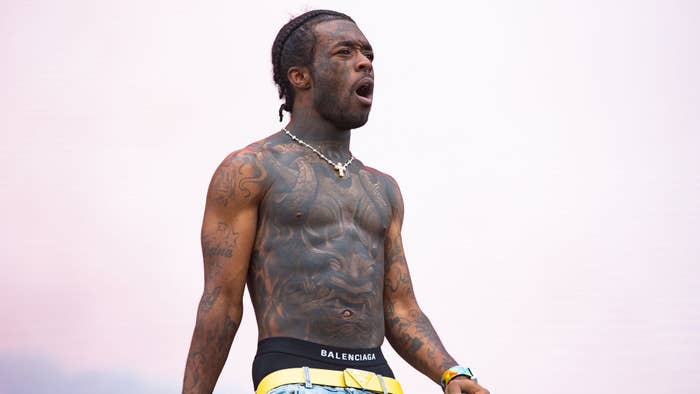 During a rowdy performance at Wireless Festival's first weekend in London's Crystal Palace Park, Lil Uzi Vert hurled a cell phone into the air and allegedly struck a fan in the process.
A TikToker who goes by Drilla G shared a video to their account that showed Uzi hyping up the crowd before performing his 2016 track "Money Longer." Uzi is then seen lobbing the phone toward the crowd as the beat drops. In a separate post, Drilla filmed a fan with a bloodied head being led away by festival staff, claiming Uzi was responsible for the injury.
A "source close to the situation" has since told the Shade Room, "During Uzi's set at Wireless Fest, fans threw multiple cellphones onto the stage and inadvertently struck him. He merely attempted to clear the phones from the stage, avoid slipping and safely continue his performance—he never intentionally directed it at a specific individual."
Complex has reached out to a rep for Lil Uzi Vert for comment.
The festival-goer who was reportedly struck also responded via Drilla G's accounting of events.
"I am the chick that got her head smashed in by the phone," she said, adding another person had also been hit. She didn't identify the individual but said the phone was clearly liable to hit someone because of how dense the crowd was.
"Yes, there was some damage caused, but the guy got his phone back and everything is being dealt with," she added. "And even if I did [move out of the way] it would have hit someone either way, [the phone] wouldn't hit [the ground] first."
On the original post, Drilla G commented with an update. "The other lad the phone also hit is holding up and the dude who had his phone thrown got it back free of damage," the user wrote. "Everything is being dealt wit."
Lil Uzi Vert performed at 2022 Wireless Fest alongside a stacked first-weekend roster that featured ASAP Rocky, J. Cole, and Tyler, the Creator as headliners. Other performers included Chris Brown, Flo Milli, Playboi Carti, Rico Nasty, Ari Lennox, Fivio Foreign, and Roddy Ricch. The second weekend will take place in London's Finsbury Park from July 8-10, and features Cardi B, SZA, and Nicki Minaj as headliners.