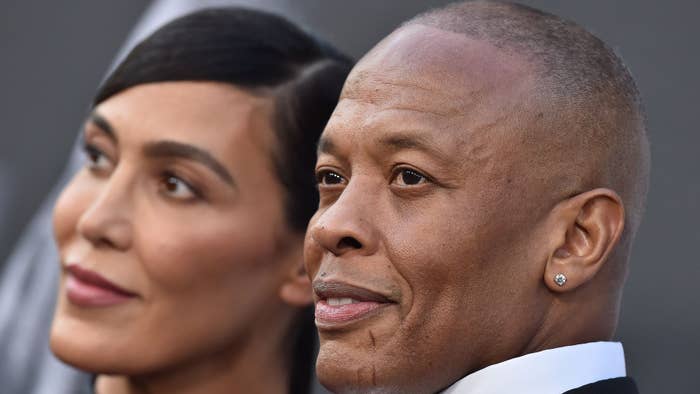 As Dr. Dre and Nicole Young's split continues to grow more contentious, the hip-hop mogul was reportedly handed divorce papers as he laid his grandmother to rest on Monday.
TMZ writes that Dre was attending his grandmother's funeral at a Los Angeles cemetery when a process server for his ex-wife approached and attempted to serve him legal papers. Dre-affiliated anonymous sources said the process server handed Dre the documents as he stood by his grandmother's casket; sources close to Nicole Young told the outlet Dre was actually served in the parking lot after the funeral. The 56-year-old Dre allegedly reacted angrily and refused to take the documents, and the process server supposedly placed the papers near the gravesite.
The docs relate to further payments for Nicole's legal fees, for which Dre has already paid $325,433, and for which a judge ordered he pay a total of $1.55 million. Dre contested this order when it was signed back in September, and claimed to have paid the full fee, but according to a report published by the Blast, the order stated that high-end legal hires were "reasonably necessary" for this case and that the hourly rates for such services were "reasonable and justifiable." Dre was told to pay these sums as a result of "disparity" between his and Young's income and assets, even after he filed suit against his ex-wife alleging that she embezzled hundreds of thousands of dollars from a company bank account.
The couple has been at each other's throats since filing for divorce last June. Young listed irreconcilable differences as the initial reason for the divorce, but later accused the producer and rapper of abuse. Dre replied that these accusations were part of an elaborate ruse to extort more money from him. According to TMZ, Dre filed legal docs where he denied any wrongdoing and claimed Young didn't bring up the allegations until after seeing their prenup wouldn't entitle her to half his wealth.
In other Dr. Dre news, the NFL made a massive announcement at the end of September in regards to the Super Bowl's coveted halftime show, saying Dre, Kendrick Lamar, Snoop Dogg, Mary J. Blige, and Eminem are all confirmed to be Super Bowl LVI's performers.