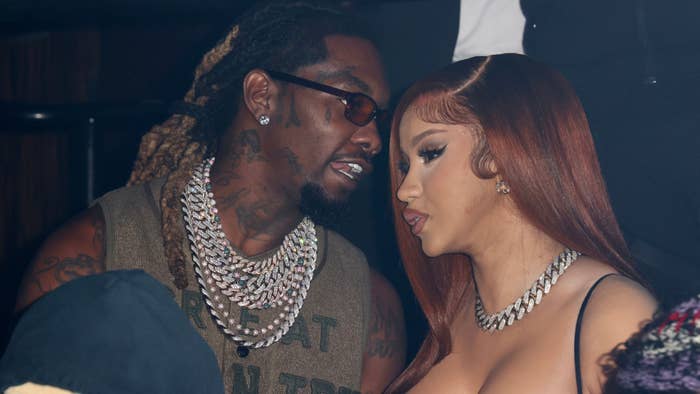 As Cardi B continues to chip away at her sophomore album, she took some time out of her busy schedule to show some love to her husband Offset, who turned 31 on Wednesday.
In a heartwarming post on Instagram, the "WAP" hitmaker thanked her husband for all his affection.
"Happy birthday my love. I pray silently and I pray loudly on this post that God bless you & protect you. Thank you for your love to me .I love your 4ever & beyond," she wrote.
Cardi's birthday shoutout included a carousel of pictures that featured one of them gazing at the New York City skyline together. Cardi also shared snippets of the couple's trip to Jamaica on her Instagram Stories.
The pair have a habit of getting each other lavish gifts for their respective birthdays. Last October, Offset gifted Cardi B a mansion in her family's native home of the Dominican Republic for her 29th birthday.
"I done bought you everything, so this year I wanted to get you something for having my beautiful son," Offset said while holding his wife's hand during her birthday bash. "So I bought you a house in the DR. Yessir, that's how we coming, pool on the roof. God is good."
Cardi then returned the favor that December, announcing at her husband's 30th birthday party that she was gifting him $2 million. 
"I want to say happy muthafucking birthday to my sexy, big-dick husband Offset," Cardi said. "That's my muthafucking baby daddy y'all. Babe, I feel like you have everything — you literally have every muthafucking car, you said you tired of jewelry. So I was like, what do I get somebody that gave me a muthafucking house?"
Cardi's sweet birthday note comes shortly after the Bronx-bred rapper revealed in a Twitter voice note that she has struggled to lift Offset's spirits in the wake of Takeoff's tragic murder, who was shot and killed outside of a Houston, Texas bowling alley last month.
"I feel like if I talk about the incident so desensitized, I feel like if we talk about how we really feel or what muthafuckas really been going through, y'all will start saying, 'Oh, sympathy,'" she said. "And we don't want no sympathy. We ain't no charity case. But no lie, I have been feeling so hopeless trying to make my husband happy."
She continued, "Trying to make him crack a smile, seeing him randomly cry, see him trying to distract his mind completely, schedules been changing, trying to keep up with work after everything that he's been going through these past couple of weeks. We not in the mood to be fucking playing around with y'all, deadass. I will deadass kill y'all. Stop fucking playing."