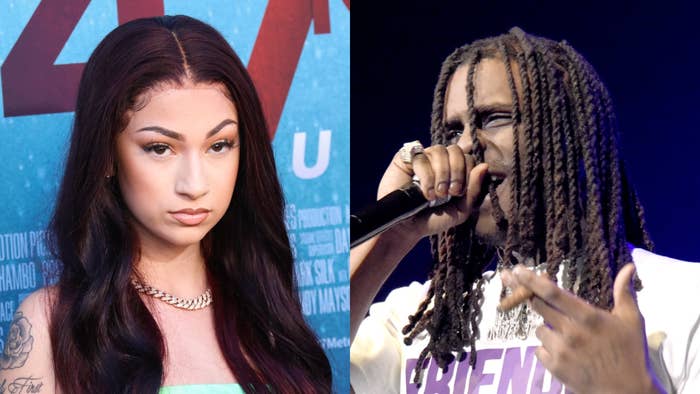 Bhad Bhabie has revealed that she has six tattoos dedicated to Chief Keef from when they unofficially dated back in 2020, and said she plans to get them removed.
Bhabie opened up about her relations with the Chicago rapper in an interview on the High Low With Emrata podcast and said that during their short stint together she managed to accumulate six tattoos dedicated to Keef.
"I have one guy that managed to make it six times, five or six," she said. "So, I have Chief Keef's birthday, his last name, his name, his nickname, and I have 'CK' on my ankle, then I have his last name right here. Actually, I just covered his birthday, and then I have 'So' on my ear, and then I have 'Keef' on my wrist."
When asked why she decided to cover up Keef's birthday, she added that it's because she's "sick of his shit."
"I'm getting them removed. I'm just tired of being delusional," she said. "I'm so over it."
Bhad Bhabie spoke more at length about her relationship and admitted he was one of the first loves of her life.
"It's been a long run," Bhad Bhabie said, but clarified that they were not together. "But I would say we were pretty close. But it was like, I don't know, I've known him for a minute."
She added that their time together was some "shit" that she should've never been involved with, and said she was the one who walked away with "no rhyme or reason." She did disclose that she was 18 at the time of the relationship – Keef turns 28 in August.
The reveal comes after Bhabie recently professed her love for Sosa on Twitter back in February, but admitted she knows he can't stand her.
"Y'all go tell keef I'm sorry and that I love him," she wrote, before adding: "He hate me it's cool tho imma b back."
In a screenshot captured by Akademiks, she also tweeted and deleted: "Tatted on me 6x sosa the only mf I'll ever love fr!"
Elsewhere in the interview, the Florida rapper said she began getting plastic surgery when she was 16 years old, and later added that she spent $4,000 on new veneers alone.
"I had two rounds of [silicone] ass shots when I was 16 that did nothing," she admitted. "I didn't start getting any kind of shape to my body until I started gaining weight. I gained, like, 25 pounds in, like, two weeks. It just happened. I don't know how it happened. I've never gotten my boobs done. I've had lip filler."
Bhad Bhabie has been criticized for her looks for years. She most recently was accused of "Blackfishing" after sharing a few selfies on Instagram last November. Critics noted Bhabie's darker-than-usual skin tone and her larger lips, and Bhabie took to her Instagram Story to issue a response, claiming she'd used a "light" foundation before the photos were taken.
"Case Closed," she wrote over the photo of her makeup.