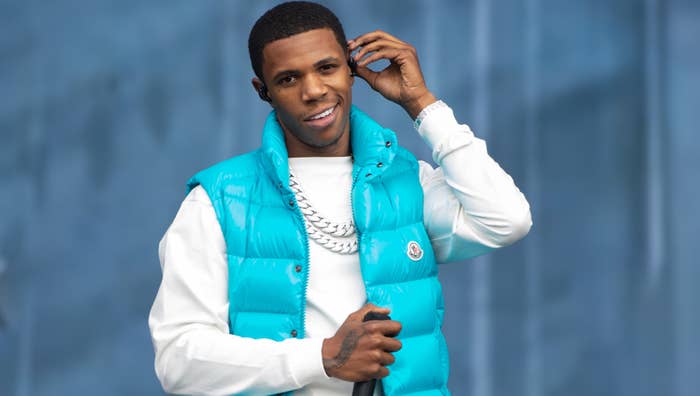 A Boogie Wit da Hoodie will not be releasing his new album on Friday as initially planned, and it's all due to Drake and 21 Savage.
The Bronx native took to his Instagram Stories and said bluntly the reason for the delay was that he didn't want to compete with Drake and 21's forthcoming collab album Her Loss, which also drops this Friday.
"Sorry but album dropping in December now, Drake was dropping same day and I'm not with that," Boogie wrote on his IG with multiple laughing emojis.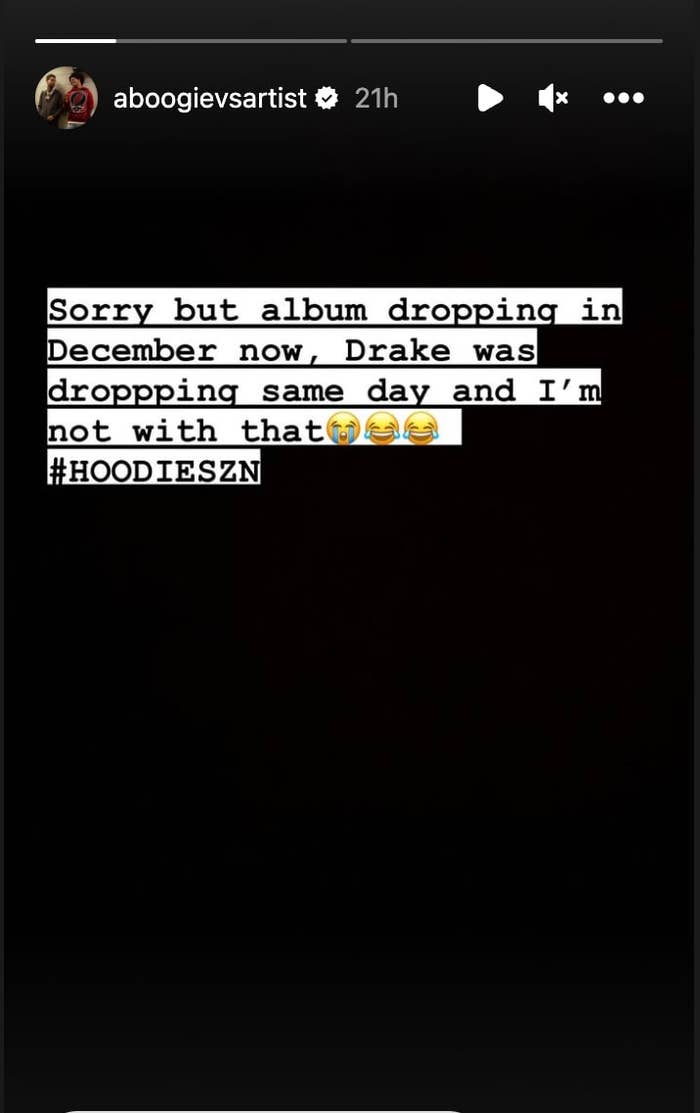 Me vs. Myself will now drop on Dec. 9, and will feature the previously released singles "24 Hours" with Lil Durk and "B.R.O." with Roddy Ricch, which dropped on Oct. 7. The latter pair have an especially fruitful working relationship, and have collaborated numerous times in the past such as on 2019's "Tip Toe," and 2020's "Numbers" and "Lost My Soul." A Boog said during a 2019 interview with Billboard that he and Roddy Ricch and share an "exact mindset" when it comes to making music.
"You know how you are with your day-one friends? We could be like that, but at the same time, we understand each other enough to know, 'Aight, I can be next door from him. He's working on his project, I'm working on my project and we just sit in our own spaces and zone out,'" A Boogie explained. "But then, he can pull up on me like when he pulled up to New York and I'm in Jue Lan club. Same thing when I go to L.A., I pop up on him and it's the same love. So anytime somebody treats the relationship like that, you gotta keep it going and keep that genuation. I said genuation. That's a good a—word."
Me vs. Myself will be the first new album from A Boogie wit Da Hoodie since 2020's Artist 2.0. He previously dropped off a prequel EP titled B4 AVA last year.
Drizzy and 21 were initially meant to drop Her Loss on Oct. 28, but ended up pushing back the project out of respect for Noah "40" Shebib, who contracted COVID-19 while working on the tape. 21 Savage and the 6 God, meanwhile, graced the cover of Vogue this week, which hit newsstands on Monday.
"Me and my brother on newsstands tomorrow," Drizzy wrote of the moment on Instagram. "Thanks @voguemagazine and Anna Wintour for the love and support on this historic moment Her Loss Nov 4th."