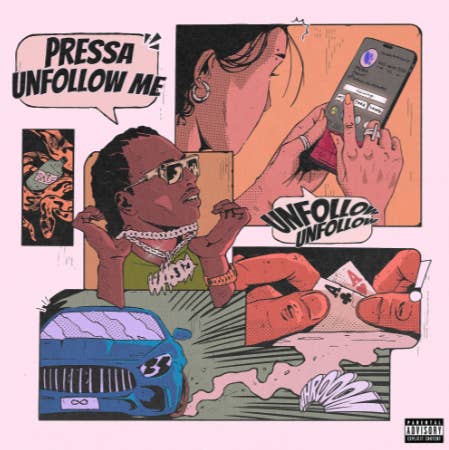 It's hard to keep up with new tracks every week. With a bevy of songs being released every day, we made a list highlighting new tracks from Canadian artists.
Pressa, "Unfollow Me"
Pressa's latest single "Unfollow Me" is a celebration of the Toronto rapper's hustling skills. He boasts he can sell anyone "anything from dog food to collar greens."
Nate Husser, "Itchy Palms"
The slick "Itchy Palms" from Nate Husser sees the Montreal rapper at his most collected over a woozy beat from Brody Myles.
Janette King, "How Sad"
Janette King's latest, "How Sad" is an electric banger dedicated to self-empowerment.
Gustavo Guaapo, "Section"
"Section," the intro track to Gustavo Guaapo latest LoveHunnids EP sets the fiery tone he'll follow on the remaining five tracks.
Victory, "Whatever I Want"
Victory's new single "Whatever I Want" balances nostalgic 2000s production with confident lyrics and a glossy flow.
Christian Jason, "Parisian Balconies"
"Parisian Balconies" from Vancouver artist Christian Jason treads the line between moody R&B and a club-ready hit.
Minoe, "Cherry"
"Cherry" sees Montreal singer Minoe embrace a darker aesthetic as she waits for a call from someone who failed to treat her as well as he should have.
Kerri f/ Afternoon Bike Ride & Imagiro, "Dead End"
Montreal artist Kerri continues the trend of melancholic guitar-led R&B on "Dead End" off his freshly released Hurting EP.
Nanu, "Coco"
Toronto-via-Atlanta artist Nanu returns with the explosive "Coco," which sees her switching between an onslaught of rapping and a catchy hook.
Tino Sutra, "dream house"
Toronto rapper Tino Sutra overthinks the most heated moments with his partner on "dream house."
Khem, "London Pound Cake"
On "London Pound Cake," Toronto rapper Khem unleashes a flurry of vulnerable thoughts.