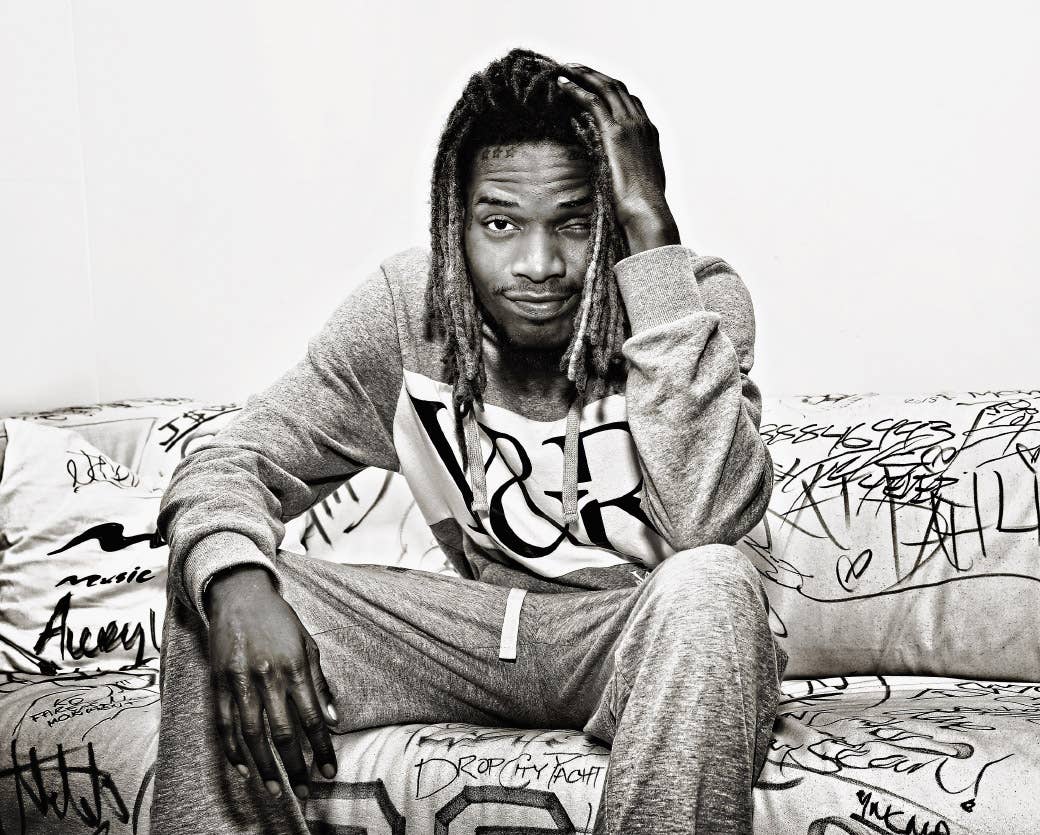 We've seen the rise of the viral rapper already. An artist releases a song that takes him or her from buzzing to Billboard's Hot 100 and is presumed to be a success. And while plaques are cool, longevity is more important. Take Paterson, N.J.'s Fetty Wap—real name Willie Maxwell—who saw what it's like to skyrocket to fame after the success of his 2014 summer anthem, "Trap Queen." Alongside his label, RGF Productions, and crew, Remy Boyz 1738, the song's SoundCloud numbers hit six figures within weeks of its release—without initial blog love, radio play, or industry support. But his squad saw firsthand how a song goes viral in the Tri-State area—first you hear it in the streets, and then enough people search for it online that by the time Hot 97 gets to it, it's already inching its way up the charts.
But what Fetty has done with the Tony Fadd and Brian "Peoples" Garcia-produced banger has broken records—and he's gone on to show he's no one-hit wonder, either. This week, Fetty has four songs in the Billboard Hot 100—"679" at No. 8, "Trap Queen" at No. 9, "My Way" at No. 11, and "Again" at No. 40. But the story of where it all began—on the streets of Paterson, N.J., with a few friends, a few studio sessions, and a free beat Fetty's manager found online—hasn't yet been told. We spoke to the 25-year-old new star along with RGF's Monty, Nitt Da Gritt, Brian "Peoples" Garcia, and the song's original producer, Tony Fadd, for the stories behind the biggest song of the last year.
---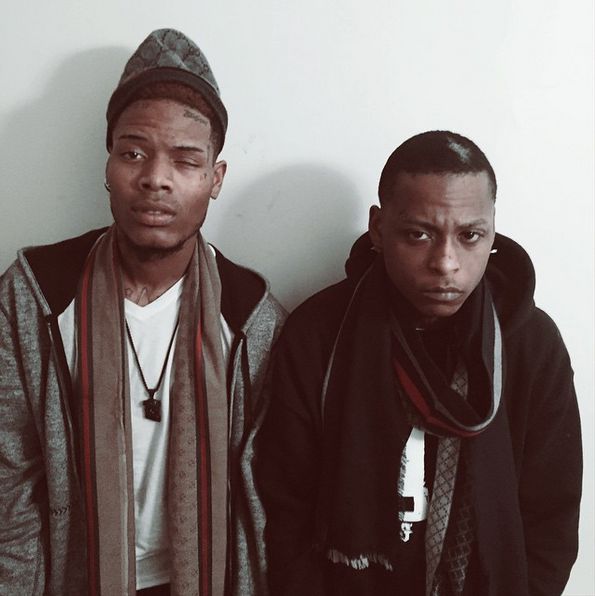 Monty: I met Fetty about 10 years ago. We both liked to smoke weed and we'd just chill together. We just had this bond. I was rapping, but he really wasn't making music back then. I influenced him to rap around 2010. At first, he was just finding himself. I used to go to the studios all the time so he'd just be with me. One time, he just wrote a verse and that's when we started making songs. We were still running from studio to studio in the hood.
Nitt Da Gritt: I met Fetty Wap in Paterson. I already knew Monty, so they was coming to get some loud from me. Monty was playing a verse I did, and Fetty was telling Monty, "Yo, who's this? He killed that shit, dawg! That nigga nice as hell!" When I met him, they came and got some weed like, "I wanna be down with ya'll!" I just was like, "Alright then!" Fetty felt my style, my swag, and my energy. I've just been rocking with him ever since.
Monty: Nitt is Mr. Miyagi. He's the Tom Brady of Real Good Fellas Productions. He's the mastermind behind all of this. We do what we do, we're in our zone, but he handles all the business and the other aspects. We were just working, staying in the studio, and we always just had a passion for music. Fetty kept making music—he's real smart—so he found himself quick and knew what he wanted to do. That's when he started singing and using the melodies. The first time he did that, it was crazy. We did this song "For the Moment," we couldn't believe it was us.
"Fetty was rapping and then he did one of those sing-songy-ad-libs he does. I was like, 'What the f**k was that?' He was like, 'Oh yeah, I do
singing too.'"
—Brian "Peoples" Garcia
Brian "Peoples" Garcia: Nitt told me about Fetty, but Monty brought him to this studio I used to have in Hackensack, N.J. Fetty was rapping and then he did one of those sing-songy-ad-libs he does. I was like, "What the fuck was that?" He was like, "Oh yeah, I do singing too." A couple weeks later, they came back and did two songs, and he was singing on both of them. One song, was "L.O.V." and I think the other was "No Days Off."
Fetty Wap: I do everything myself. When I record, I tell my engineer how to structure my shit. I structure everything. That shit is all Fetty Wap. Nobody helps me write my shit. I don't sing other people's shit. You have to understand that I don't make other people's music. If it's not me then it's not going to sound right. I just keep it me until they get tired of it.
---
The Making of "Trap Queen"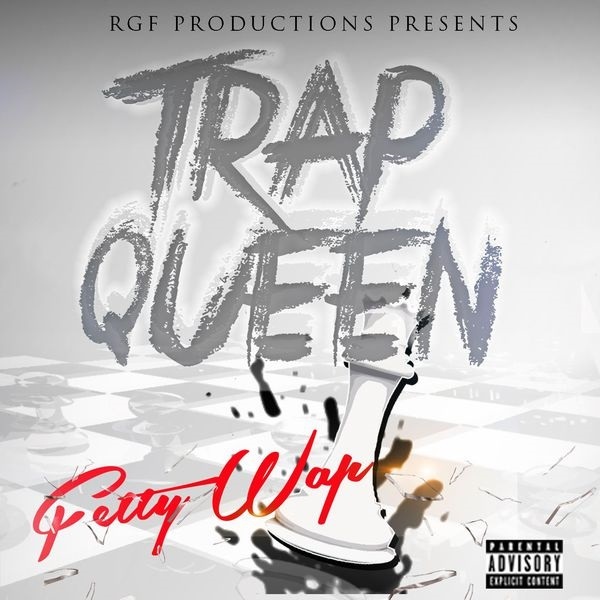 Fetty Wap: The inspiration behind the song was my ex-girlfriend at the time. She was a different kind of loyal. If you had to go jail, it was cool as long as you were going to jail together. I don't think I've ever met anybody else like that. I first met her at her job, and the way that I introduced myself, she didn't like it. I didn't really do it in the most respectful way. I was like, "What do you want me to say? Do you want me to say 'Hey, what's up, hello' to you? Does that sound better?" The next day I went back to her job, and she was my trap queen from then on. The song is a hood love story. My manager sent me the beat, and as I was listening to it, I knew. I kept listening to it. Even when I went to bed, I never stopped listening to it.
Nitt Da Gritt: We were at Eastside Park smoking. He was like, "I got this song. It's gonna take us out the hood. This is gonna be the one." I'm on the phone as he's playing it and I hear "Hey, what's up, hello?!" I hung up the phone and told him to run that shit back. He named it, "What's Up Hello" and I was like, "Nah, we're gonna name it 'Trap Queen.'" When that beat comes on, that shit grabs you automatically. You can't deny it.
Tony Fadd: Fetty got the "Trap Queen" beat from my website. I decided to make music and try to show it to U.S. artists, because hip-hop isn't that big in my country. I'm from Belarus, a small country between Russia and Poland. The beat was available for free download. Usually I make beats in my home studio and then put them on my site. I can't say that I felt like the beat was special after I made it. I really liked it, but I didn't think anything about it.
Brian "Peoples" Garcia: They brought me a USB filled with several songs. "Trap Queen" just happened to be in there. I was being nosey because I knew I was going to work on the track anyway, so I clicked on it. I realized that the song was hot and knew if I played around with it I would be able to make it better. Tony Fadd made the original beat, but I produced it. There's a difference. In the credits, it says produced by Peoples, beat made by Tony Fadd. The beat was only a minute and a half at first. Originally, the song stopped at "The Remy Boyz or nothing'" part. When I was mixing it, the song was too short, so I looped it.
Fetty Wap: Some people don't believe me, but I never really wrote the song. I went in there and just somehow felt everything that we've been talking about. Like, my ex, she wanted a Lamborghini and I was like, "I don't even like Lamborghinis, but I'm going to get one just so I can have one like you." We were just going to have everything together. Matching Lambos.
Monty: He was in his zone. It was one of those days. I wasn't with him, but I came home around 5 a.m. and as soon as I walked in, Fetty came to me, "You gotta hear this. This is the one that's gonna get us rich." That was it.
Fetty Way: I actually started rapping a verse then I was like, "No, I don't like how that sounds. Stop it. Start the beat over." Then I just sang, and I didn't stop until the beat stopped. Everybody was like, "What the fuck just happened?" We played that shit back, and while it was playing, we left it recording so I started doing the ad-libs. That's when I came up with the "squad" shit. That really actually came from my friend whose voice is so high, I'd just be like, "Nigga say 'squad.'"
"We lost sleep over this s**t. I lost weight. Spent a lot of money. It was to the point where I wasn't even getting horny over this s**t."
—NITT DA GRITt
Nitt Da Gritt: He was just hitting that shit on the money. You know when you hear music through some really good speakers? It makes your body move? Everybody was in the studio, and we knew we had something on our hands. People don't know about the work we put in. We lost sleep over this shit. I lost weight. Spent a lot of money. It was to the point where I wasn't even getting horny over this shit. I didn't want no pussy. I couldn't sleep for, like, five months. That was a different high, the hunger to get it.
Brian "Peoples" Garcia: Fetty recorded it in another studio, but we both didn't like how it sounded. Everybody who heard it felt the same way. It was a Monday when we talked about it. By that Saturday, I had him in the studio re-recording "Trap Queen."
Nitt Da Gritt: Fetty had a couple tracks before then, but when he did that, he found his sound.
Brian "Peoples" Garcia: I mixed it up in my bedroom, and my son—who was 5 at the time—kept singing it. I wouldn't even be playing it and he would be outside singing, "She's my trap queen." That's how I knew it was going to be something. It took me about four days to finish it. It only took us 15 to 20 minutes in the studio because he had the song already done. I could've went in and added my little magic touch to it, but the tremble in his voice wouldn't have been there, and I thought it sounded so natural and catchy. That's the part that pulls you into the record. You know how ballads and big rock records build up slow into a big hook? That's the formula that I wanted to use. It stops, and then, boom! [Sings] "And I ride with my baby." I knew from the minute I heard it, there's nothing like this out.
---
Monty: From Paterson to New York, we were doing shows. We were already traveling and grinding off of our mixtapes—we went everywhere. "Trap Queen" didn't go crazy yet, but Jersey and New York knew it.
Brian "Peoples" Garcia: We recorded it in March of 2014, and I started hearing it in August [of 2014] everywhere. Then Mr. Cee played it on Hot 97. I don't listen to the radio much. I'm a lab rat and my boys are the best producers in the country right now. I don't like listening to the radio to see what other people are doing, or what sound is popular. But one day, me and my wife were coming back from a wedding and Fetty was talking on the phone with Flex, who was like, "This is the new song taking over America." It hit Top 40 and just kept climbing.
Fetty Wap: The first time it was on the radio everybody hit us up. People were posting like, "Fetty you made it!" At that moment, honestly, I felt like that was supposed to happen. I pushed it so hard that I didn't know what else to do with the song. I already had a million SoundCloud hits before it was getting radio play. I had about 50,000 views on YouTube before it was getting radio play. It was like, "What the fuck else was I supposed to do?" I did everything. I pushed the song every day. I went everywhere. Everybody knows it. People knew the song, they just didn't know me. When it started getting radio play, I was like, "Finally. They know it now."
Fetty originally uploaded the "rough version" of "Trap Queen" to SoundCloud in March under his username, FettyWay1738. Over the next few weeks, Fetty's rough cut would rack up hundreds of thousands of streams, and eventually it was revised into a radio version, complete with the verse Fetty didn't really want to do. It'd be six months before 300 Entertainment, the imprint founded by Lyor Cohen, Kevin Liles, Roger Gold, and Todd Moscowitz, would get involved. In November 2014, 300 and RGF joined forces and Fetty's song, and crew, blew up.
Monty: The song did numbers, it was crazy. You can tell "Trap Queen" was just something different, a different energy. Everyone from the whole town was running with it. It just kept growing.
Brian "Peoples" Garcia: I told him that he should do a verse so that he can put out a remix later on. When I started seeing it catch fire I knew other rappers were going to hop on it. So I felt like we should have a remix already tucked. I think they misunderstood what I said so instead they pushed the version with the verse on it out and used it for the official video. That verse was recorded by somebody else. If you notice, the version on the radio and version in the video sound a little different. 
Fetty Wap: I actually wanted to leave it as it was. It wasn't my idea. They [300] kind of beat it into our head that the earlier version wasn't going to do it, which was a lie. At the end, people still play the regular version because that's the best version to me. It was cool for me, though. It's whatever.
Brian "Peoples" Garcia: I treat everything like drums. The way he sings his vocals it's kind of like a melody that would be added to a beat. So I treat that vocal as if they were supposed to be part of the beat. Not as if it were a vocal laid down on top of the beat. As a producer there are certain sounds. Sometimes you feel like a beat is missing something. His voice adds that extra element that's missing from a beat. That's why I say that. His voice molds into the beat. Him and the beat are one. I helped him structure the song. I didn't just work on the beat. That's why I'm credited as a producer.
Tony Fadd: Toward the end of 2014, he sent it to me saying that the song was becoming popular. Fetty's camp found my contacts and reached out to me. We worked something out and made it official. I liked the song, but I didn't realize that it was going to be as big as it is. It's a banger. I remember looking for it on YouTube and it had four million views. I said, "Oh my God."
Fetty Wap: As far as the success of "Trap Queen," I don't trip off the fame or anything like that. I try to stay regular. But one day, my manager called me like, "You have to go to New York to do a fashion show." When I went to get fitted for the fashion show, Kanye West was right there. He didn't really say much at first. I went home the next day, I got ready for the show, and when I got there, the fashion show was over. I was like, "Damn. I might as well go home." Then they were like: "Everybody get in the vans!" When I got in the van I saw Big Sean, 2 Chainz, Travi$ Scott. Then when we get there, Kanye comes up to me and tells me "Trap Queen" was one of his favorite songs at the moment. Next thing you know, the song comes on and people started going crazy. Nobody knew me, but everybody knew me.
Nitt Da Gritt: We're really just the type of people that be excited, but we don't act excited. As Kanye was coming over towards us at the show that he let Fetty perform at, he said what's up to Wap, Danny Stoop, and when he came to me, he said, "Hey, I know you from the video." And he shook my hand, laughed, and you know Kanye don't smile. All I did was talk at the end of the song. Everything just kept going up, and up, and up, and up, and up.
"I don't think I'll ever meet anybody like my ex [who inspired 'Trap Queen'] ever again. She's doing good now. She's in school."
—FETTY WAP
Fetty Wap: To me, that was my opportunity to let the world know who I am. Like, that's my job. Some people say that going to the studio is their job. That's not my job. That's where I have fun. I have fun in the studio. When I go onstage and perform in front of these people, that's my job—to make sure that these people know who I am and they have a good time. I make sure that they get their money's worth. I didn't come to just stand onstage and walk around and sing a song and get off. I come there to do a job, and I make sure that my job is completed. When my job was done, everybody talked about it. That was the payment for my work. That was my commission for putting that work in. I don't get any nervousness from it. That's just what I do.

Brian "Peoples" Garcia:["Trap Queen"] went gold, then it went platinum, then it went double platinum. We knew we were going to prove people wrong. Last year, we recorded "Trap Queen" in March, "679" in June, and "My Way" in November. That's when I knew this lil nigga got some shit.
Fetty Wap: I don't think I'll ever meet anybody like my ex [who inspired "Trap Queen"] ever again. She's doing good now. She's in school. She's doing what she has to do. With the money that we made—and the money that I'm making now and everything that's going on for me—it's only right that I help her. Even though we're not together, I still make sure that she's good.