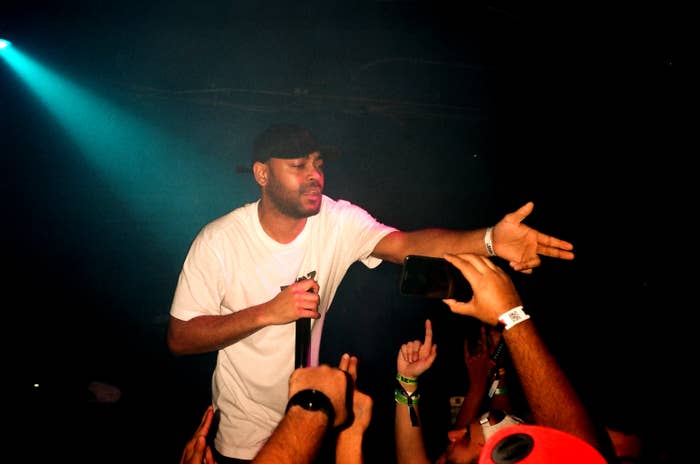 Tuesday 14th March.
SXSW (South By South West) is a yearly gig crawl/festival covering the landscape of Austin, Texas, showcasing some of the finest emerging talent making a stamp on the music industry. So when we saw that London promoters Musicalize were curating a stage—with a line-up of supreme UK talent—we simply couldn't resist. And a whole bunch of fans, British and American, couldn't either (former Hot 97 host, Cipha Sounds, and Danny Brown were getting down to the sound of Ghetts).
Kano & Friends kicked off at The Main II, off of East 6th Street, with a straight fire set from Rude Kid. The intimate space filled quickly as the open doors allowed Rude's mix of Stormzy's "Big For Your Boots" and Sir Spyro's "Topper Top" to blast through to the chaotic main road. As soon as he dropped a grime refix of Migos' "Bad and Boujee", ravers threw up their hands in complete grime submission.
Boy Better Know's Frisco put on a great performance too, with the support of DJ Maximum, gripping the open-minded audience through his broad range of work. At one point, the crowd was so overwhelmed with excitement when he dropped "Walking With Elephants" and then went into a freestyle set, before bringing out Birmingham spitter Saf One. Following that, Logan Sama took the growing crowd through the history of grime music and highlighted pivotal moments on the mic. A swift mix in of Skepta's "That's Not Me", and it's no surprise the audience burst out into skanks worthy of Eskimo Dance.