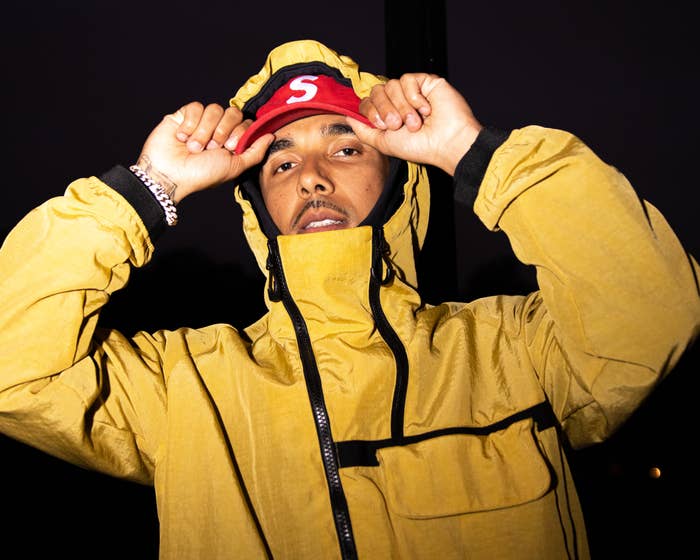 Representing the city of Nottingham, MC/singer/songwriter Bru-C has unlocked the formula to creating authentic, crossover club bangers, fusing the very best of UK bass sounds for a sound like no other. Juxtaposing rhymes that capture his personal healing with the fun, cheeky movements of a Friday night out, it's no surprise he's built such a cult-like following, helping his fans to ease their minds in a world of political insanity.
Bru-C, born Josh Bruce, was surrounded by music from an early age. From Motown to Lauryn Hill to reggae music, he connected with the soul in the sounds he heard growing up—"music that had emotion," he tells me. Thanks to his older sister, he was introduced to UK garage when he was 10 years old—a pivotal era which led to his discovery of grime through Sidewinder tape-packs. Three years later, Bru-C found himself around a local collective called YLC, or Young Reckless Crew, who were a lot of his older sister's friends. "I always used to go to the youth club and watch them spit," he says. "I loved everything about it. So I started writing bars, but I didn't have the confidence to do anything with it. I was too shy for that, then." Bru-C continued to invest in his talent privately, because it brought him joy and a chance to escape. 
It wasn't until the MC hit 14 that he got in the studio to record his first song, "Changes", with his friend G-Biz, which ended up being sent around his secondary school—the ultimate teenage seal of approval. "It was actually about smoking weed and how it's bad for you," he explains. "I think I tried to blend it in as part of a school project, which is why it was a bit of a different concept, but it was so sick." Bru-C continued to immerse himself in the local music scene, which led him to fall deeper in love with bassline/4x4, dubstep, and drum & bass—a genre that can't get enough of him right now. "I used to be a plasterer and the guy I worked with always had Mixmag CDs in the car. So when I was, like, 16, I remember hearing Chase & Status, this before they released More Than Alot, and I loved what they were doing with D&B."
Testing out his skills over the years, he jumped on the battle rap circuit—via Don't Flop—and started collaborating with London grime vets D Double E and P Money. But it wasn't until he shared his D&B track, "You & I", that he noticed a shift. "I dropped a clip on my Instagram and it went mad," he says. "Then I played a show in Kettering, like the week before the track came out, and every single person was singing it. I was like, 'What the fuck just happened?'" Now it was all systems go: his debut project—2019's Original Sounds—allowed him to reintroduce himself as a vocalist on dance music. "I feel like that did really well on that project, in terms of people hearing a different side to me, talking about mental health and that kind of thing, and it really resonated." The rhymer's follow-up set, 2020's Smile, was also well-received in the dance music scene: "I feel like the world just needed to smile at the time."
Unifying his early love of emotive songs and his love of new and heritage, bass-loaded sonics has made Bru-C an unstoppable force. We caught up with him to discuss how he went about choosing the right label home, how his ADHD impacts his creating process, and which T2 bassline banger accidentally became his sister's birthing song. 



"It really is surreal for someone like me to be signed to 0207 Def Jam. Man like Josh from Long Eaton? It's unheard of."
COMPLEX: Bru-C! How are you? Firstly, let's talk about this new chapter in your life, and why you decided to sign with 0207 Def Jam.

Bru-C: 0207 Def Jam are fam, man. 100%! I've known Cian [Cooper Davies] for years—he's an A&R Manager there. He tried to get me a deal with another label a few years ago, and the label didn't understand me like Cian did. I went and met with Cian and Twin B, one of the presidents, and the first thing Twin said to me was, "Long Eaton's finest!" From there, I knew that this would be my label home. These people get it.
The Boateng Twins are legends. Their journey and impact within UK music is so important.

It really is surreal for someone like me to be signed to 0207 Def Jam. Man like Josh from Long Eaton? It's unheard of. I signed the deal on the street that I grew up on. Instead of doing it with champagne in the office, I was like, "Nah, I'm going back to the ends!" I want to carry on being who I am and doing what I do and everything to just be heightened by being a part of Def Jam, and that's what we're doing. I feel like the label's really good at taking an artist and just showing them to the world. They've made me feel so welcome. It's been a very humbling experience.
I've been digging deep into your catalogue of music this past week while the sun's been out—banger after banger! I'm feeling a heavy UK music influence. What was your first memory of experiencing it?

My older sister showed me UK garage when I was about 10 years old, from Pay As U Go to Heartless Crew and So Solid Crew. The first ever time she brought garage back to the house, it was a cassette recording of a live set of Pay As U Go and Heartless. I was into it, but I wasn't crazy about it. I was like, "Yeah, this is sick." But then I heard a Sidewinder tape with Wiley and Dizzee. It was the year before I started secondary school, and that was it: from there, I was just completely immersed in the UK underground music scene.
I remember hearing that moment, specifically them going back and forth and how special it felt to first hear their chemistry together. What was it that excited you about that Sidewinder set?

I've always been a high energy person and I always enjoyed a lot of the more high energy hip-hop tracks before that. So, I think, because of the tempo, the way that the beat was skippy and the melodies of the bass lines were just dark… [Grime producer] Alias comes to mind straight away as an example. I remember hearing an Alias riddim and being like, "Yo! What is this?" Man was hearing Alias, looking outside and it's raining, gloomy, and just generally shit. Grime matched my surroundings when I was growing up. Where I grew up, it wasn't a particularly nice place, and this music just seemed to relate a lot more than anything else that we'd ever heard. And I think that's probably why it became such a big part of my life so quickly.
It really felt like the soundtrack to our childhood, didn't it? 

In my teens, I only really listened to music that was coming out of the UK and Jamaica. I'm not Jamaican, I'm Vincentian, but I've spent a lot of time there. When I was younger, we used to get a lot of CDs and bring them home; there would be, like, ten MCs on one beat for the full mixtape. Mavado would have a version and then someone else, etcetera. When it came to UK music, where I was from, there wasn't really a lot of local grime. Then I heard bassline. I was listening to what was coming out of Sheffield, Huddersfield, Sheffield, Leeds a bit, Nottingham, Wolverhampton, Birmingham, Leicester. It was different! It was mandem, it was MCs, and there was also a lot of singing vocals and remixes of old R&B tunes, which is why I really liked it. And then the drops were screechy and heavy. I was just like, "This is it!" There's nothing that hit me like bassline did when I first heard it. It was like everything I grew up listening to, all slapped into one CD—all these mad new sounds that were high energy and shutting down the raves. You can definitely hear that in my music. That was a massive influence on me. Then, from there, drum & bass and dubstep.
What early bassline tracks remind you of that stage in your life?

There's a few percy ones that are too rare to mention, but T2's "Show Me" is a big one. T2 and Nay Nay's "Monster Music" is one my all time faves, and my nephew was actually born to that song. I was with my sister when she gave birth. We were listening to "Pull Up Dat" by Flirta D, Shizzle, Napper and those guys, and then she was like: "Put some bassline on!" I put "Monster Music" on and—boom!—she started dilating, then the baby came.
Growing up in and around Nottingham, how did the local artists inspire you? 

I was definitely a massive fan of Wariko for years. I was a massive fan of a rapper called Odjo, NG Cartel, Game Cartel, Shots Movements, S-Double, Skits and so many more. There were so many sets and MCs that were just doing music. I don't think anyone was really trying to do anything special either—which is the great thing about it. It was all just kind of happening. I wasn't a part of that, I was just a listener. I was living in Long Eaton and this was all happening around Nottingham: Radford, St Ann's, Meadows, Lenton. A lot of youth centres, like CRS and Take 1 Studios—big up Courtney and Trevor Rose.
How did lockdown, the lack of shows and being isolated, impact your life and music?

It impacted me in a massive, positive way, because I've been on the road every weekend for, like, three years in the UK and around the world, just playing shows—nonstop—running events. I had an event company at the time, a clothing brand as well, and I realised in lockdown that all that stuff was just making me so unhappy. I just wanted to do music. I just wanted to create! And I don't think I would've made these types of songs if lockdown didn't happen. Having that time allowed me to think about what I wanted and who I am.
Sit still with it and figure out how you're going to move forward.

Exactly.
I saw your tweet about ADHD. When did you get diagnosed?

This year, January. 



"I had noticeable symptoms of ADHD from a very early age that a lot of people in my life would joke about and say, 'You've definitely got ADHD.' That was almost like a running joke growing up."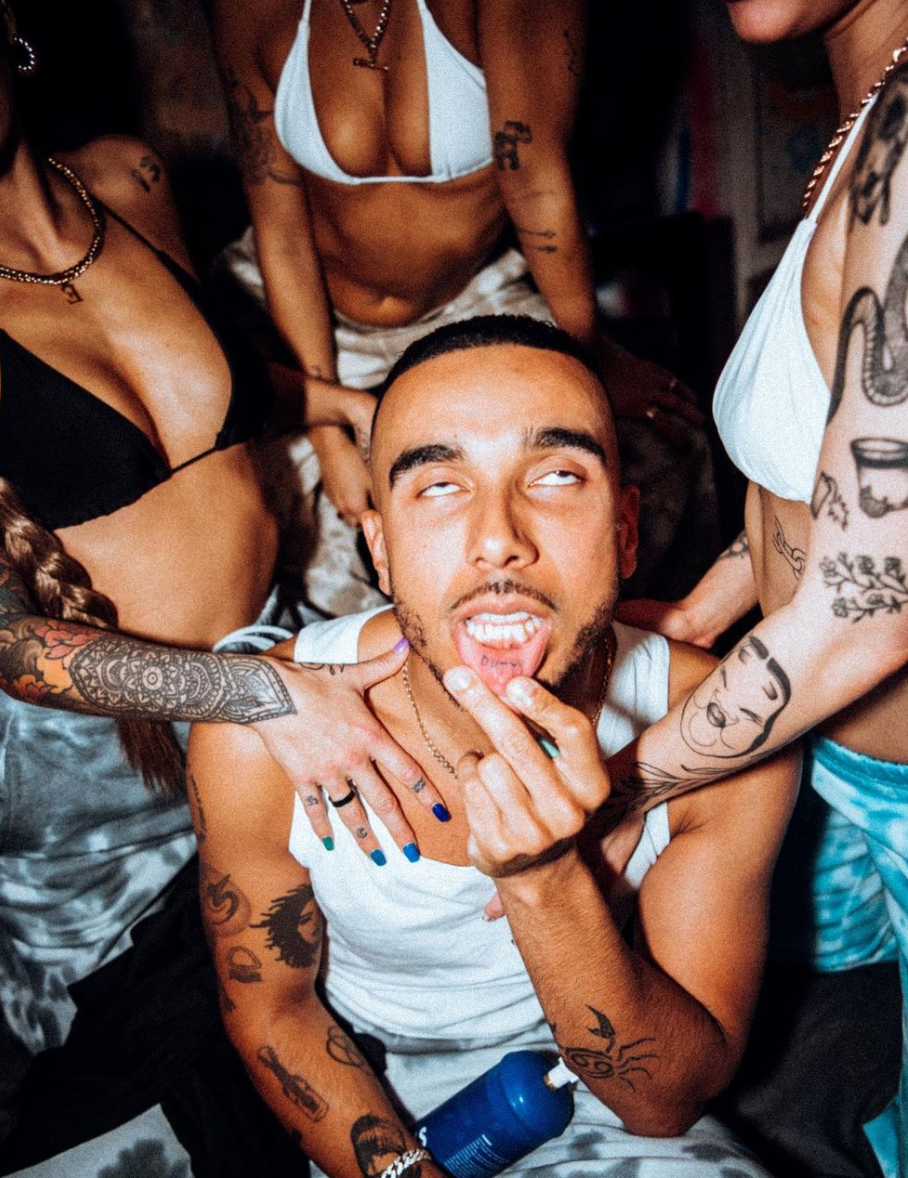 I was diagnosed with ADHD early last year—I'm meeting and hearing about so many people in their 20s, 30s, even 40s being diagnosed later on in life. Did you go through the NHS route and get referred to the private clinics?

I'd been going to my local GP since 2017 with anxiety and hot flushes in my body. I was getting fevers, shaking and trembling all the time. I just didn't know what was wrong with me—for years. I had noticeable symptoms of ADHD from a very early age that a lot of people in my life would joke about and say, "You've definitely got ADHD." That was almost like a running joke growing up. It wasn't until I started doing music full-time, quit my job and went self employed that I started to get burnouts. I think a lot of people misunderstand what ADHD is. Mine is intermittent, so it basically means that I have a hyper-focus. 
How does that impact you?

Because I'm hyper-focused, my brain short circuits, basically, and it's like powering something up too far and then it's done. So I can focus very intensely on things, but my energy levels dip very quickly. At the time, I was running three companies and I was doing it on my own. I didn't have a lot of external support in my own life. It was so challenging. Then to keep going to the doctors and not getting answers was just so frustrating, man.
Were they giving you Sertraline (medication for depression) or anything like that?

Every time they gave it to me, I just refused it and then I was diagnosed because I went private. At first, it was really hard to deal with. I was taking the ADHD medication they gave me, but I felt horrible on it, so I'm not taking it anymore. Finding out, though, has been a positive; being diagnosed and doing my own research. I feel more normal than I have for a very long time.
Do you feel that the diagnosis helped you accept yourself more rather than demanding that you be this power man that can juggle 17,000 plates?

I actually thought, "Do I actually want to juggle those plates or do I want to make bangers, play raves and play FIFA?"
What are some of the pros and cons of having ADHD?

The pros of having ADHD is that you can take something and absolutely run with it. I am so impressionable, it's scary! I've learned to control it now, but there was a time in my life when I'd watch a Tony Robbins documentary, and that's it: I'm getting up at 4.30am every day, and I'm running for miles. Or I could watch a documentary on a rapper saying, "Fuck everyone!" and that trickles into my music. People reading this, who have been watching me for a long time, will have seen me do a lot of mad shit, like the live performances through lockdown and viral videos.

What's one of the most random things you did in a video/live performance?

We dressed up in full Tesco uniforms for a video and jumped in the freezers in Tesco. We did the same thing in Ikea. If I get an idea for something, that's it—I'm flying with it. That's a pro and a con. The pro is I'll do anything it takes to make sure it gets done. But the con is, sometimes financially, in business, that's not always the best thing. I'm all about the art, innit. If I get an idea and I want to put it out—I don't care to what extent, I'm not gonna do a spreadsheet—I'm just gonna go and do it. 
How does your ADHD impact your music?

If someone sends me a track and I really like it, give me half an hour in the studio and the song is done. I've always been very quick with writing. If I catch a vibe with someone in the studio…
—if you're passionate, you'll love it.

Right! Like, when Bou and I are in the studio together, it's a madness! We're currently sat on about 15 tunes. We flick through ideas, then I'll write and record into the mic. I've written some of my best hooks just sat in a room with him. He has a massive Algerian influence and brings a lot of Arabic sounds into his music, and I learned a lot of that from him. He brought his influences into his music in an unapologetic way, which hadn't been done in drum & bass before. His drum sound is the click and no one had done a fucking click in a D&B tune. I get so passionate about things like that. 
What would you say to little Bru-C, now, at this stage of your journey?

This is for little Bru-C and also to myself now, a little bit. I still feel like I've just walked out of school, with no GCSEs and a lot of things going on in my life that were very mad. No hope, living in an area of no hope and up to no good. I still feel like that. I still feel that lost feeling, to a certain degree. A lot of this sometimes feels like imposter syndrome. So I say to little me, and still to myself now: "Fuck it! You're gonna be dead one day, so just fuck it." I think some things have to be taken seriously so you can get good results, but I think that has to have boundaries so that you're protected. It would also be to put yourself first. For a long time, I put my career first and I put other people first in my life. There's not been a lot of occasions where I've just put myself first. For some people, putting their business first and working 24/7 is great for them—that keeps them going. But for me, I'm a very mentally sensitive person from my upbringing and I feel like certain things I've had to learn myself, about myself, and all the things that I've been through, which means that I am the way that I am. Putting things on a pedestal, above me, when I can be in a very low place sometimes, is damaging, because then they come first all the time.
I think people with ADHD have a tendency to just go all-in like that, and it can really drag your spirit down. What things do you really enjoy and always look forward to doing?

My tour and my shows, they're full of energy, excitement, anger, love, sweat, mosh-pits, family. It's just a beautiful thing. Like, my shows are so mad because some of the music has a deeper meaning and some of it's just let's fucking have it! Some of it's for the girls; there's something for everyone. And you really see that in the crowd. I feel like I'm not even there to perform; I feel like they're there to have fun with me. It's just beautiful. I feel such a part of a show every time I step on stage, and I think that connection kind of goes into the audience and that's what makes the feeling so special. 
You've been dropping some serious bangers these last few months, from "Paradise" and "Playground" to the most recent "No Excuses". That Hedex remix of "No Excuses" is definitely taking over my summer [laughs].

"No Excuses" is being received really well. I feel like it's just the perfect Friday anthem—we're going out tonight, no two ways about it. That's the vibe! The Hedex remix we just dropped is also doing really well. I've got a few bits to come over the summer and I feel like the next few songs are gonna be a surprise for a lot of people. I won't say too much more but just stay tuned.
You've gone from secretly writing bars as a teen to now creating club bangers with thought-provoking visuals. How does it feel to be living out your dreams right now?

It's gone past anywhere I ever thought it could have. I'm just grateful... I'm still hungry, but I also want to enjoy it all—travel, live, and just be in it. That's where I'm at right now.
It's a blessing to be able to do something you love and get paid for it. 

For a long time I was on the chase with it, and that can be so damaging.
The hustle of it and trying to make it work?

I think hustling is good. Scraping, doing what you need to do and digging deep, that's all good. If you've got the perspective that the better version of you is always over the horizon, that's the damaging part. And I definitely had that for a long time, where I was always trying to better myself and I was never happy with who I was, where I was, and where things were. I think everyone's been guilty of that at some point. I've just reached a place of acceptance now.