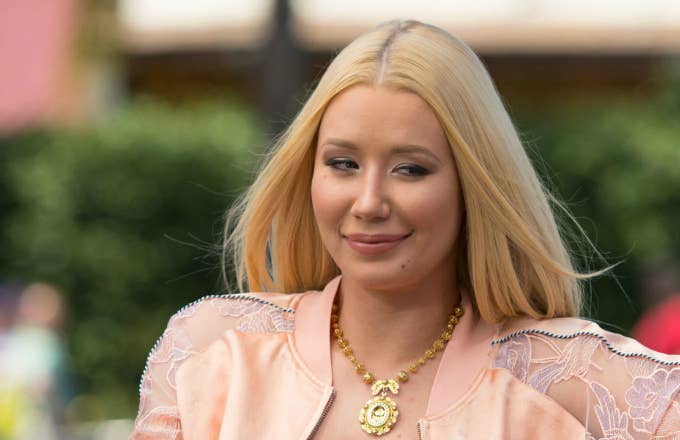 Iggy Azalea has been trying to make her way out of beefs lately, publicly squashing her feud with Azealia Banks and ignoring shots from the likes of Danny Brown. You can only be a peacemaker for so long, however, and the Australian decided she found a worthy target.
Halsey, the singer best known for her feature on "Closer" by the Chainsmokers, came sideways at Azalea in late June while discussing homophobic comments made by Migos member Quavo. "There's a lot of people I wouldn't put on my record," she said. "Iggy Azalea: absolutely not. She had a complete disregard for black culture. Fucking moron. I watched her career dissolve and it fascinated me."
Azalea decided she wasn't going to just grin-and-bear it this time. During an appearance on the Smallzy's Surgery podcast on Tuesday, Iggy went in on the 22-year-old singer.
"It's a bit weird to bring someone up in an interview that you weren't asked about," she said. "I don't know her, I've never met her or interacted with her in any capacity, so I thought it was a bit of a strange thing to kind of throw that out there. But she's young and you know I hope that she kind of learns maybe to be a bit less judgmental when she's kind of in the same shoes."
Though it may have been unintentional, the "I don't know you" claim invokes memories of one of the biggest moments of shade in pop history, when Mariah Carey famously told an interviewer the same thing about Jennifer Lopez. Halsey is no J.Lo—and Iggy is no Mariah, if we're being fair—but social media went bonkers when they heard her clap back.
Although this is a a pretty savage response, does anyone miss the days when artists would just come out and say they don't like each other? All the passive aggressiveness is fun, but it would be a little more entertaining if Azalea just let some real insults fly. Halsey didn't hold back with her insults, so why should she get a diplomatic response from Azalea?
In any case, since Katy Perry and Taylor Swift ended their years-old beef, there needed to be a replacement pop-star feud for us to gossip about in their absence. For now, this will have to fill the void.