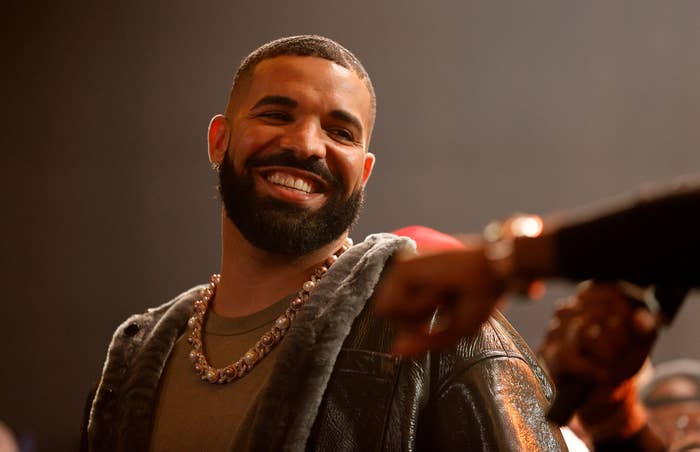 UPDATED Friday, Feb. 25 at 4 p.m. ET:  In a new interview with The Roz & Mocha Show's Damnit Maurie, Randy's Patties' manager reveled he's heard from "several people" about Drake potentially taking over the restaurant, including one who apparently represents the artist. 
"I'm not really at liberty to discuss this right now," he said of the situation. "We haven't even started any real discussion or discourse yet amongst ourselves, much less with anybody else."
He also indicated that Randy's might not be closing permanently, and that it could return at some point, in another form, after the owners "take a step back" and "look at what options are available for us."
See original story below.
Forget Kiki. He might as well now sing: "Randy's, are you closing? No more patties? Drake will never let you leave."
Yes, the rapper is all in his feelings on Instagram about the Toronto Jamaican patty stalwart's imminent end. Manufacturing hurdles and supply shrinkages hit the small business hard enough to leave staff telling their faithfully queuing throngs that Feb. 26 would be their final day of operation, reported blogTO. When eTalk anchor Tyrone Edwards took to Instagram about the news, Drake stood out among the many commenters dismayed about the demise of Toronto's favorite place for hand-made, meat-and-veggie stuffed, flaky Caribbean pastries.
But thankfully Drake didn't stop at opining for the pastry joint. "I'll buy Randy's right now," read his comment to the Instagram post. Followers were left reeling at the notion of Drake saying "YOLO" to the authentic Island snack racket.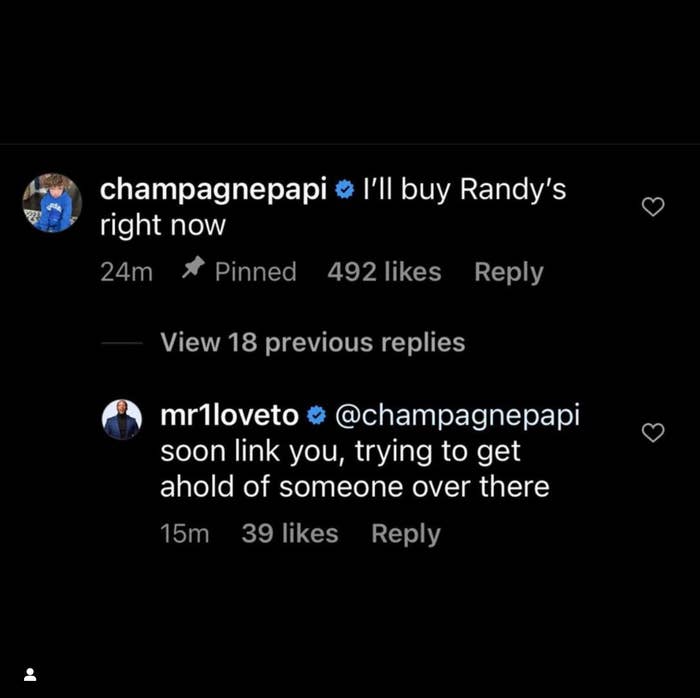 Among the best reactions:
Yes, the comment could've been in jest or hypothetical. But this is the dude that once rapped, "I don't even know how much I really made, I forgot, it's a lot." So he certainly has the bread to keep his favorite meat pie spot afloat, if he is indeed serious.
And seeing as he's spearheaded everything from the OVO label to the Dreamcrew management and entertainment firm, Drake's no stranger to both business ventures in general and the food and beverage sector, wading into the latter with his Virginia Black whiskey partnership. Then there's his famed Toronto Raptors ambassadorship, meaning championing another beloved hometown brand (albeit one of a very different sort) is within his wheelhouse.
Regardless of whether Drake ever becomes an gastro-benefactor, his social media support for Randy's fortified his foodie bona fides (he's famously shouted out Toronto's patty scene before. And if this is nothing more than a superstar's fond farewell to a pastry institution, let's hope it at least inspires a patty tossing version of the "Hotline Bling" meme. But we'll continue wishing the MC serves up more of those sumptuous Jamaican treats IRL, and that Champagne Papi keeps this esteemed mom and pop shop going.