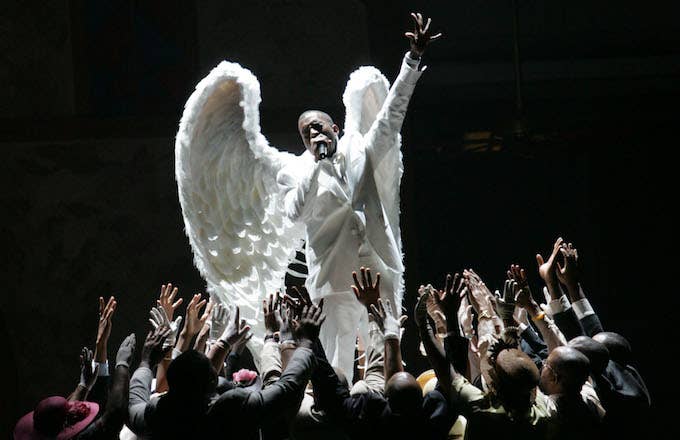 In the lead-up to the February 2016 release of The Life of Pablo, Kanye West said something that not many people took seriously. During a conversation with radio legend Big Boy, Kanye intimated that TLOP would be something far beyond a traditional hip-hop album. "This is a gospel album—with a whole lot of cursing on it—but it's still a gospel album," he said. "It's the gospel according to Ye." A month later, the album was tentatively titled So Help Me God.  
But upon its release, the album was called The Life of Pablo. The first track, "Ultralight Beam," sounded exactly like what Ye promised. It literally opened with a prayer by 4-year-old Natalie Green, and the lyrics were direct: "I'm tryna keep my faith/But I'm looking for more/Somewhere I can feel safe/And end my holy war." Boosted by Kelly Price's emotive voice, Chance the Rapper's verse of worship, gospel icon Kirk Franklin's impactful invocation and the choir's overarching presence, the song settled in my head and heart as if I had been prayed over. I'd be remiss if I didn't admit that I cried while listening to it for the first time.  
With "Ultralight Beam" in place, it only made sense that the following tracks would be just as gospel-inflected. That was true—to a degree. "Father Stretch My Hands Pt. 1" and "Pt. 2" featured a sample from Pastor T.L. Barrett's song of the same name. But the songs themselves were the furthest thing from gospel. "Pt. 1" started with a gorgeous intro, featuring the sample, an upbeat Kid Cudi and the infamous Metro Boomin drop. But then, it transitioned into the following lines: "Now, if I fuck this model/And she just bleached her asshole/And I get bleach on my T-shirt/I'ma feel like an asshole." Ye was right about there being "a whole lot of cursing" on his self-proclaimed gospel album, but this was borderline absurd.
Even beyond the T-shirt talk, Kanye doesn't actually speak about his faith or God on the two-part "Father Stretch My Hands." He lets the sample do the talking. The same thing happens later in the album, with "Low Lights." The unidentified female vocals are taken from a track called "So Alive," by house musician, producer and DJ Sandy Rivera, who released the song under the pseudonym Kings of Tomorrow. The woman speaks candidly about her faith, opening with, "You want me to give you a testimony about my life/And how good He's been to me," and ending with "Oh Lord, thank You/You are the joy of my life." "Low Lights," a song that doesn't actually feature Kanye, is the closest the entire album comes to gospel.
Other songs on TLOP mention God and biblical references, but only in some feeble fashion: "Highlights," "FML," "Wolves," "No More Parties in L.A.," and "Saint Pablo" all mention God in passing. It varies from strange hypotheticals ("What if Mary was in the club/'Fore she met Joseph around hella thugs?") to superficial, self-absorbed situational awareness ("Thank God for me/Whole family gettin' money, thank God for E!").
Gospel music is based on meaningful messaging and the spirited vocalization of life's battles and human triumph. It makes you feel something.
But in the grand scheme of things, it doesn't mean much. Kanye simply abandons his mission of presenting a gospel album less than five minutes into it. Any rapper from around the way could—and does—make fleeting comments about God. The fact that Kanye specifically said that this would be a gospel album means there should have been a degree of intentionality, not surface mentions of religious ideas passed off as "the gospel according to Ye." Gospel music is based on meaningful messaging and the spirited vocalization of life's battles and human triumph. It makes you feel something. Which brings us to Kids See Ghosts.
At just seven tracks and 24 minutes, the joint project between Kanye and Kid Cudi touches on God and faith more than Ye does in TLOP's entire hour-plus run. And a close look at the album reveals not only why it's Kanye's real gospel album, but how the record reveals the differing approaches to spirituality of the two artists who created it.
The opening song, "Feel the Love," exists mainly to give G.O.O.D. Music's hottest commodity Pusha-T a platform from which to glo off. However, even here, Cudi opens the song by singing, "I can still feel the love!"—a phrase which, in the context of the rest of the album, seems more likely to refer to divine love than the secular kind.
By the time track two, "Fire," gets going, Kid Cudi launches directly into his spirituality. He starts his verse with, "It's so many days I prayed to God." By the song's end, he's reflective: "On this road I find/These scars I left behind/Heaven lift me up." With its punctuated downbeats and guitar twangs straight out of a Western, the song sounds like a hopeful, but arduous march toward redemption.
On "4th Dimension," Cudi says, "I really hope the Lord heard me, we all live in sin." On the same track, Kanye approaches faith in a very rapper-like way: "She said I'm going too fast, I'm exhausted/Now drop to your knees for the offerin'." (Insert eye-roll emoji here.)
A collaborator, Ty Dolla Sign, joins their mission on "Freeee": "And you know damn well/He lift me up every time that I fell/And set me free." The track sounds like an extended hat-tip by the artists to a higher power for setting them free: to create, to live, to progress, to love.
But it's Cudi, more than his group-mate or any featured artist, who makes this album feel like gospel. He isn't afraid to go all the way there. "Reborn" is basically a contemporary hymn: "I'm so, I'm so reborn/I'm movin' forward/Keep movin' forward, keep movin' forward/Ain't no stress on me Lord, I'm movin' forward." And in the last minute of a song whose very name nods to spiritual rebirth and salvation, we hear what sounds like a church organ.
On the title track, "Kids See Ghosts," Cudi says, "Sittin' by myself, findin' heaven soon… I can hear the angels comin'." Ye, in his only direct mention of faith, says: "Got a Bible by my bed, oh yes I'm very Christian/Constantly repentin', 'cause yes I never listen." It's a purposeful line, because he speaks unabashedly about his sincere commitment to God, despite his slip-ups. But it's a statement—not a thorough exploration of feeling and circumstance, like Cudi gives us.
The album's final track, "Cudi Montage," is completely dedicated to faith, and Cudi takes every opportunity to explore his relationship with God. He weaves his own experiences together with straight-up prayer: "Heaven gonna help me/'Cause I feel the world weighin' on me heavy, tryna keep it steady/Ready for the mission/God shine your love on me, save me please." The hook is just as focused on messages of belief in rescue from God: "Stay strong, save me Lord," Cudi says repetitively, as Ye alternates with, "Lord shine your light on me, save me, please." The album ends with Cudi's advice to himself—and the rest of us—as we traverse the rocky phases of our lives: "Stay strong."
The dynamics between Cudi and Ye on this track reflect their pairing throughout the album: They're both invested in love and freedom and light and hope, but Cudi seems to be sprinting toward acknowledging its source versus Kanye's vapid, surface-level acknowledgement.
It's much shorter, but Kids See Ghosts directs its time toward faith in a way that The Life of Pablo did not, even with its lengthy running time and Kanye's stated intention. In noted contrast to TLOP, Kids See Ghosts presents a clear vision of spirituality. Most importantly, it's a vision that isn't muddied up by bleached assholes. Maybe we have Kid Cudi to thank for that.