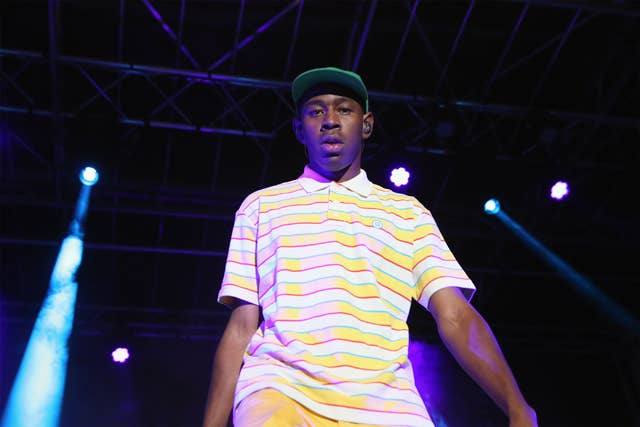 Near the end of June, Tyler, the Creator started hinting at... something. After a series of tweets counting down to a date (with a lit bee in each image), we got the one-two punch of "Who Dat Boy" and "911/Mr. Lonely." The songs were the lead-in to Tyler's fourth studio album Scum Fuck Flower Boy, due out July 21. Most internet-savvy Tyler fans woke up Monday morning to news that Flower Boy had leaked two weeks early, and while the first question was, "How did an album leak this early in 2017," the second was, "Wait, is Tyler, the Creator rapping about his sexuality on Flower Boy?"
Aight I'm so confused... did Tyler come out as bi? If so when??
hol up...did tyler really come out the closet in the album??
The speculation is the result of a number of lyrics on the album. On the opening track, "Foreword," Tyler raps:
Shout-out to the girls that I lead on for occasional head and always keeping my bed warm
And trying their hardest to keep my head on straight
He gets more literal on "I Ain't Got Time!":
Next line will have 'em like 'Whoa'
I been kissing white boys since 2004
An interesting moment comes at the end of early interlude "Sometimes..." A radio DJ break placed in the album, Golf Radio host Shane Powers asks for any requests, and a man who won't give his name asks for "the one about me." Tyler then launches into "See You Again," a love song dedicated to someone with "rose to the cheeks" and "dirt-colored eyes." Fans speculating about the identity of the purported lover on fan sites like Genius and KanyeToThe have identified someone named Wyatt as the voice on the track, but he is never named by Tyler on the album. 
Later on in Flower Boy, lyrics on the song "Garden Shed" appear to depict the struggle of coming out: 
Truth is, since you kid, thought it was a phase
Thought it would be like the phrase 'poof'; gone
But it's still going on
For what it's worth, Tyler tweeted about coming out in 2015, but because of his persona, it's unclear if he was being serious about that.
I TRIED TO COME OUT THE DAMN CLOSET LIKE FOUR DAYS AGO AND NO ONE CARED HAHAHHAHAHA
Later in the album, Tyler raps, "All my day ones turn to three, fours cause of track seven." Track seven on Flower Boy is "Garden Shed," so you could read this line as Tyler saying that his sexuality caused people he used to call his best friends to pull back from him.
After the speculation started to spread online, some Twitter users stepped up to applaud his move.
Omg I'm reading theories that Tyler will come out in his new album & honestly if this true I am so here for it
tyler the creator took an entire track to come out and it's beautiful as hell
If Tyler, The Creator has come out as gay/bi then that is beautiful man. Do your thing. Fair play. 🤙🏼
Meanwhile, others are wondering why he hadn't talked about it before.
This nigga tyler the fucking creator is gayyyyy why it take so long for him to come out like we ain't know
how come everytime tyler says anything about being gay everyone acts shook like he's nvr tried to come out plenty of times before
Now that I think about it, Tyler been come out lol he said "how could I be homophobic when by boyfriends a faggot, been tryna come out" 😂
Tyler, The Creator's representatives declined to comment on the lyrical content of Flower Boy, or how the album leaked so early.