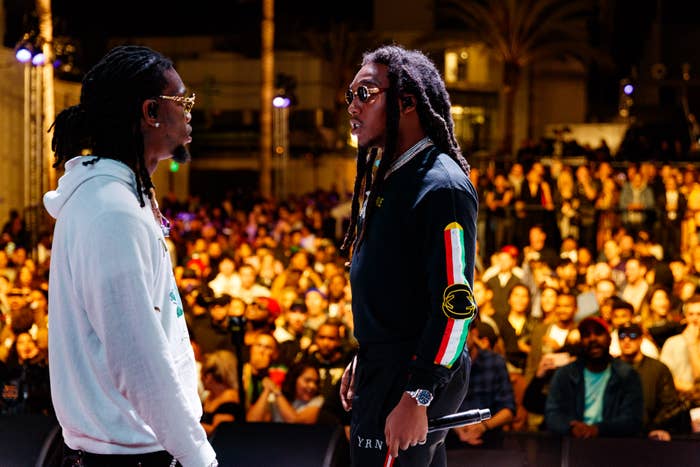 Back in October of 2017, Complex writer Zach "Chopz" Frydenlund wrote that Offset was in the process of becoming the hottest commodity in rap. It made sense; while Quavo was the obvious superstar of the Migos, Offset spent 2017 carving out his own niche in the game. His feature game was on point, bodying everything from Future and Young Thug's "Patek Water" to Gucci Mane's "Met Gala." Interestingly enough, it looks like he's since been replaced as the people's champion of the Migos, by the one and only Takeoff.
For some, this isn't new. Many felt that even if Culture II was a gang of songs too long, it was the perfect foundation for Takeoff to outshine his squadron, particularly on cuts like "Gang Gang" and "Too Much Jewelry." It was the same with Cardi B's "Drip," the Migos-featured banger that dropped (pun intended?) out of nowhere on Tuesday night. It proved to many that, if Quavo is the flash of the Migos and Offset is the grit, Takeoff is now the soul.
This could've been a Cardi and Offset duet, which would have made sense given their relationship. She has the first verse and Offset has the second; with them sharing the hook, it felt like a match made in heaven. But someone asserted that all of the Migos should be featured on the cut, giving Takeoff a spotlight as he rips through "Drip" on the world stage.
Migos' triplet flow has been jacked by many in the game (for good or ill), but there's something about Takeoff's approach that still feels new. I'm not sure if its the dizzying array of words that spill during his verse, or the fact that he had the gall to rhyme "Picadilly" and "wet willy" over this trunk-rattler (as well as shouting out the best corn muffin mix, ever), but the way the people are reacting to the verse, Takeoff is the current don of the Migos.
Yooooo that new Cardi B- Drip is hot Takeoff killed his verse can't wait to hear the rest of the album
Cardi B's "Drip" just confirms Takeoff be the best Migo
I actually don't mind Cardi B new song 'Drip'. 😂😂 I think the chorus is humorous, and like every Migos song, I like TakeOff verse the most.
oh takeoff really killed that new cardi b joint. of course
One could truly go on. For now, let's all just say "all hail Takeoff" and wait for the Migos don to bless us once again.