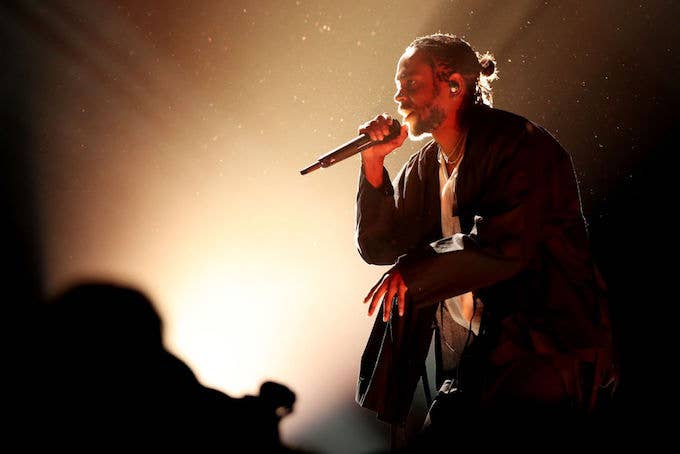 Kendrick Lamar is the latest star musician to attempt to control photos at his concerts. The hip-hop star will encourage fans to live in the moment by keeping their smartphones away. Lamar is taking the desire to control photographs of himself a step further and will not be permitting professional photographers into performance spaces of his current tour, the Guardian reported. He began the European leg of his tour last week in Dublin. 
The rapper, who recently won four Grammys at the 2018 awards show, joined musician Jack White in a smartphone ban at live shows. White made this rule for his upcoming tour in an unofficial mission to stop fans from watching their shows through smartphone screens. The Guardian reported that Lamar, who is currently supporting his latest album Damn, addressed this concern to protect his brand (and making sure that tickets will continue to sell) by limiting photography and video recordings. Many artists make a majority of their profit while on tour. Lamar's management did, however, allowed a handful of official photographers into the North American dates of his tour.
Lamar recently stunned his fans (and Marvel fans for that matter) with the long-awaited Black Panther soundtrack. For those who may not make it to a live show (and now can't live through friends via recorded SnapChat snippets of his performance), Black Panther: The Album was made available to stream on Thursday night. Lamar is heavily featured on the 14-track album, which he also curated and produced. Expect to hear music by Vince Staples, SZA, Future, Anderson .Paak, Khalid, Travis Scott, the Weeknd, and more on this musical collaboration.