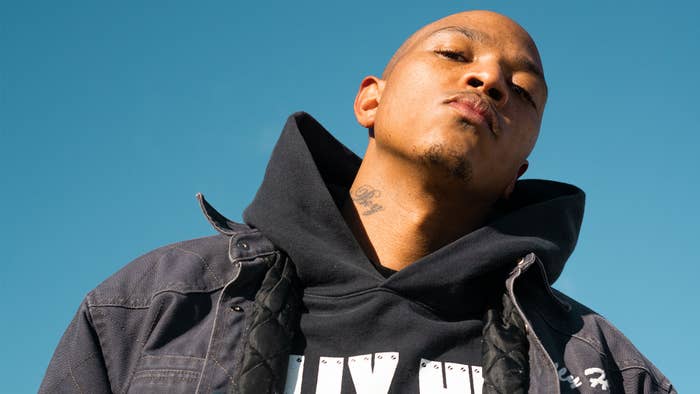 Blasting through over 20 songs during its Season 2 premiere, Euphoria had music-loving viewers glued to their Shazam apps ready to discover unknown songs—though there was one single seemingly untraceable. 
Previously unreleased, "Mr. Bangbadaboom," a track by Thrillah, a rapper from Dartmouth, Nova Scotia, made its way onto the show's season premiere, "Trying to Get to Heaven Before They Close the Door." Recorded six years ago, the track has now finally made its way to an audience, finding itself among great company in the New Year's Eve party playlist on Euphoria's opening episode, alongside songs by The Notorious B.I.G and DMX.  
Thrillah says he was inspired at a young age by local Dartmouth rap group East Preston's Finest, explaining how after he began listening to them he thought, "Man. these guys are crazy. I want to get into this rapping stuff." That's when he began writing and "playing around" with music—at age 10—though he confesses, "I didn't really take it [music] seriously until my twenties."
He befriended producer My Best Friend Jacob while in junior high. "It wasn't until a few years after that we started doing music stuff together. We've always been close friends, and have been collaborating musically ever since." The producer has gone on to work with some of today's leading artists, having scored The Weeknd's docuseries Another You and Travis Scott's documentary Look Mom I Can Fly, as well as steering the sound design for Kanye West's music video for "Famous."

Thrillah says "Mr. Bangbadaboom" came together years ago when My Best Friend Jacob emailed him the song's beat. "We put the full track together and never released it. We just thought it was a cool song to make, so we just put it on the back burner not really thinking anything of it," he explains.
Now, half a decade later, with the help of music distribution company United Masters, the song has made its debut—to an audience of over 2.4 million listeners. 
"It feels pretty crazy," Thrillah says about "Mr. Bangbadaboom" being featured on such a massive episode—it broke the record for HBO Max's all-time viewership for a series opener. "I was just watching the show the night of the premiere not expecting to hear my track, but I knew last year I had a placement in the show. I was just shocked when I heard the song on the first episode of the new series."
Those attentively watching Euphoria know that nothing goes into a scene without intention, including music placement. High-energy, with a bouncing bass intertwining with playful bells in a shuffling beat, "Mr. Bangbadaboom" serves as a moment of carefree easement between two highly tense scenes in the episode.
The majority of the season premiere takes place at a New Year's Eve party, following characters in and out of rooms, giving the episode a 'you don't know what goes on behind closed doors' feel; the only neutralizing space where characters seem to be without distress is on the dance floor. As Cassie's (Sydney Sweeney) heart panically pounds while she hides in an bathtub, and Ru (Zendaya) nearly loses her own heartbeat on the floor of a laundry room, it's in the carefree open space of the house party's dance floor where you can see Kat (Barbie Ferreira) and Jules (Hunter Schafer) jumping along to Thrillah's "Mr. Bangbadaboom" (around the episode's 36-minute mark). 
Thrillah has since officially taken "Mr. Bangbadaboom" out of the archives, making it available across all streaming platforms.
As for what's next, the MC says he is currently working on his next project, which boasts a stacked list of collaborators. "I have a group of dudes who do a lot of producing for me, such as My Best Friend Jacob, Matty Galaxy, Adrian Scott, and Grant Keddy."
"You can expect a little bit of everything on this record; mainly rap and soul, and a lot of good vibes."