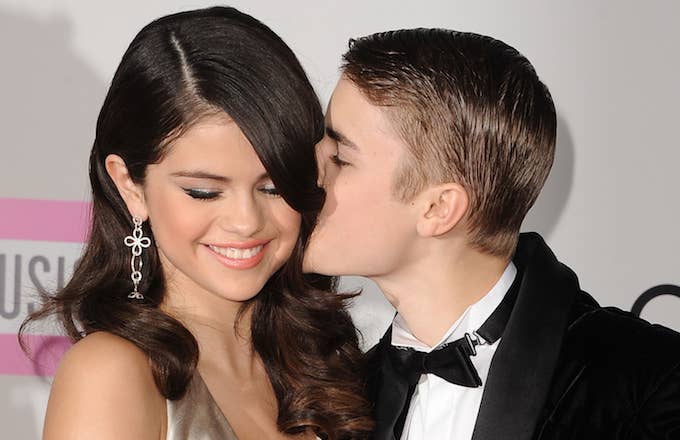 There's a lot going on in the world right now. The country is becoming more divided and racist seemingly with each passing moment, kids are dying in schools and the government refuses to do anything productive to help, and even porn is under threat. It can often feel like there's just too much news all the time, and that can be suffocating. That's why it's important to be able to identify truly vital information when you see it: like, for example, the fact that Justin Bieber and Selena Gomez, who recently started dating once again, are on a break. Again. At least according to two unnamedE! News sources.
This is a truly juicy story, so pay attention. E! News reports that there is trouble in paradise. Hard to imagine, I know, but even couples who kiss during hockey games go through tough times. An anonymous source told E! that the two pop stars "were having a lot of little disagreements recently and one fight in particular blew up and caused them to decide to 'break up,' however, they've been in contact the entire time and their feelings for each other have not changed." Sounds like a non-event to me, but then again, what do I know about dating? Literally nothing.
In case you were already reaching for the tissues, the source added some comforting words: "They will absolutely get back together and they are not over, but they both need some time away from each other."
E! News, bastion of investigative journalism, spoke to a second, also anonymous source, who said the two have been "having issues."
"They both have expressed that they have been feeling overwhelmed with a lot of pressure that has come with their public relationship, and haven't been seeing eye to eye on things," the source said.
The source added that Selena was trying to patch things up with her mother, who disapproves so strongly of her daughter's new "serious" relationship that she reportedly ended up in the hospital after she heard about it.
"Things are not amazing between them," the source said about Selena and her mother's relationship.