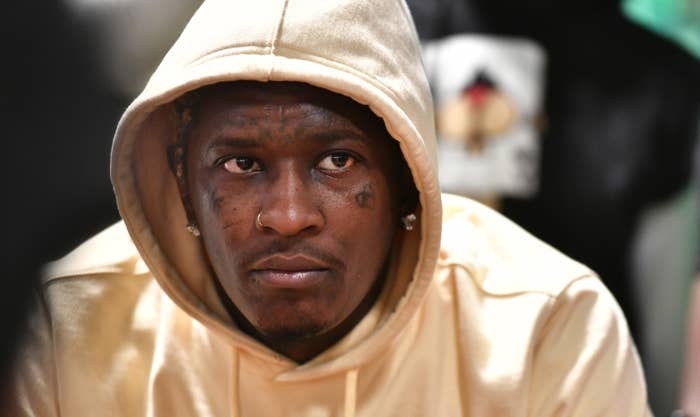 Young Thug was hospitalized. 
According to 11Alive, the Atlanta rapper was taken to a medical facility on Thursday when he began feeling sick ahead of his court proceedings. Thug's attorney Keith Adams confirmed the news shortly before the scheduled court appearance, but did not have any details about Thug's condition or the nature of his illness.
"I know he's had some difficulty of a similar sort at the Cobb County jail a few months ago, and so I'm obviously concerned about his well-being," Adams said. 
The attorney told the Atlanta Journal-Constitution he hadn't communicated with Young Thug ahead of the court proceedings and didn't learn about the hospitalization until 1 p.m. ET. 
"My understanding is when he went to go be seen by a doctor, he was OK, he was alert," Adams said. "I don't have any reason to believe he is in any serious condition. He just wasn't feeling well."
Adams told the AJC that the defense had the option of continuing without Thug, but decided to suspend the proceedings until he was able to appear in court. 
"We did not waive his presence. We could have gone forward if we waived his presence, but we did not do that," the attorney explained. "It's never, in my opinion, in his best interest to have anything occur without him being there."
The hospitalization comes several weeks after Thug's lawyer filed a fourth motion for bond in his YSL RICO case. The 31-year-old has been incarcerated since May 2022, when he and his YSL associates were accused of participating in criminal street gang activity. Thug's lawyers said his time at Cobb County Jail has taken a significant toll on his health; they cited a lack of sleep, exercise, fresh air, and healthy food options.
"By the end of the week, [Young Thug] is fighting to pay attention to the goings on in his case," attorney Brian Steel claimed in his bond request.