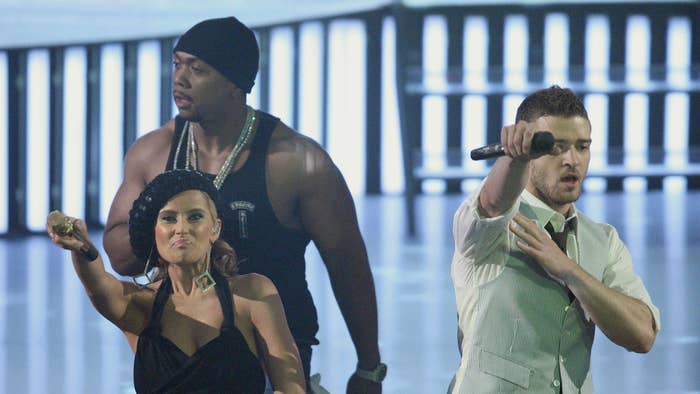 "Da king has returned."
Timbaland made the declaration on Instagram last week when he shared another snippet of "Keep Going Up"—his much-anticipated joint track with Justin Timberlake and Nelly Furtado. The video teaser included decades-old​​​​​​​ footage of the trio performing and promoting their 2007 smash single "Give It to Me," which reached the top of the Billboard Hot 100 chart and secured a 2008 Grammy Award nomination for Best Pop Collaboration with Vocals.
Sixteen years later, Timbaland is looking to strike gold once again.
At midnight Friday, the megaproducer unleashed "Keep Going Up" through the support of Beatclub, an online music creator platform he co-founded in 2021. The song is expected to land on Timbaland's long-awaited sixth studio that's set to drop in November.
"Keep Going Up" was also used in the promotional spot for ESPN's Week 1 Monday Night Football games. According to ESPN, Timbaland and Timberlake have joined forces with the sports outlet to curate the tunes for the rest of the 2023-24 season.
You can stream the collaborative song now on Apple Music and Spotify, and watched the visualizer—packed with behind-the-scenes footage—below.
Timbaland will be quite busy for the rest of the year. In addition to preparing his own album, the award-winning producer has been working on the follow-up to Timberlake's 2018 LP Man of the Woods. Timbo teased the effort during a Variety interview back in April, saying the album would offer a hefty dose of nostalgia.
"We just finished up and everything sounds great," Timbaland said. "Now it's really on him how and when he envisions it to come out, but it's done and it's coming. [The album]'s like FutureSex/LoveSounds but nothing too heavy, just giving you what you expect from us… Music is a young sport. Of course, we've both seen a lot of life, but you have to bring out the 13-year-old kid again, you know? We had songs that maybe were too complicated, so we said we want it to feel like FutureSex… part two. So, we did songs that will fit that."