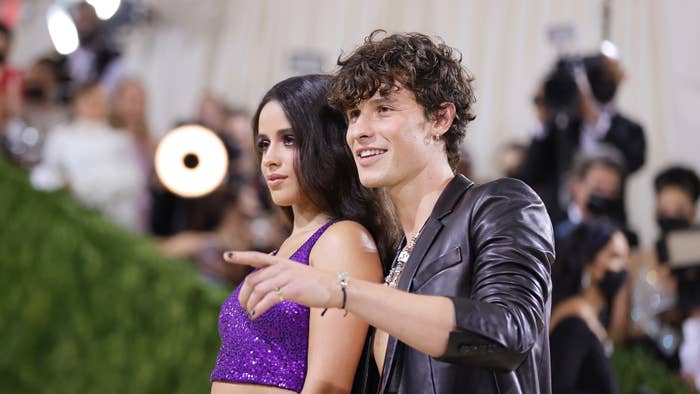 Is Shawmila officially back? All signs point to yes.
Days after their PDA-packed reunion, Shawn Mendes and Camila Cabello were spotted hanging out together in Santa Monica. A three-second video clip shared by TMZ and Entertainment Tonight showed the artists walking down a restaurant-lined street Wednesday while holding hands. 
Though Mendes and Cabello have not confirmed the status of their relationship, fans are convinced their recent outing proves they're back together. The two reportedly met in 2014 and developed a close friendship over the next several years. They confirmed they were dating in 2019, just months after they released their hit collaboration "Señorita." The two, who spent most of the pandemic together in Miami, remained relatively tight-lipped about their relationship, even as some suspected it was publicity stunt. Cabello addressed the rumors in a 2019 interview with Elle, insisting she wasn't too concerned about the skepticism. 
"I don't know; people can say whatever they want," she explained. "They can speculate, but at the same time, we are going to live our own lives, enjoy it, and fall for each other like nobody is watching. That is how I want to live. I never want to open the door for people to feel like they are involved. Like I said, I want it to be mine and [his]. That's why I'm so tight-lipped about it: because I want to protect it."
After two years of dating, Mendes and Cabello announced they had called it quits in November 2021, but reassured fans they was no bad blood.
"Hey guys, we've decided to end our romantic relationship but our love for one another as humans is stronger than ever," Cabello and Mendes shared on their respective IG Stories. "We started our relationship as best friends and will continue to be best friends. We so appreciate your support from the beginning and moving forward. Camila and Shawn." 
Fast forward to 2023 Coachella Weekend 1, where Mendes and Cabello were seen talking and kissing each other on the fairgrounds. Although their actions led some to believe they were back together, insiders told Page Six that wasn't the case.
"Shawn and Camila remain friends with a lot of love and history between them, but they aren't dating again," said a source, who described the recent kiss as a "one-off." "They've stayed in touch since their breakup and decided to meet up at Coachella since they were both going."