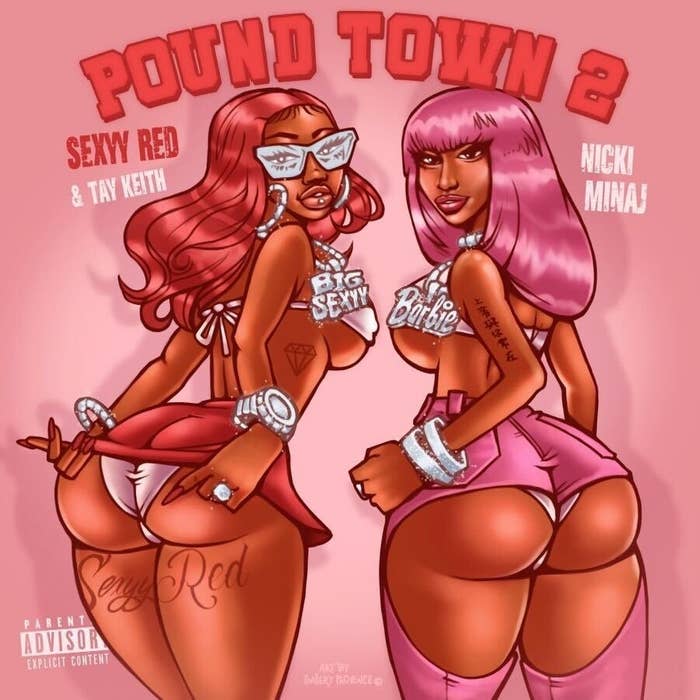 Sexyy Red and Tay Keith's "Pound Town" just received some extra star power.
Four months after releasing the viral track, the rising rapper and the super-producer blessed fans with a Nicki Minaj-assisted sequel.
Though Sexyy Red has been rapping since 2019, she didn't break into the mainstream until she unleashed "Pound Town" this year. The Tay Keith-produced track was immediately applauded for its lyrics, which were both overtly sexual and cheeky. The rapper spoke about the single in her recent interview with Complex's Eric Skelton, saying it was the first song she ever freestyled.
"I was in the studio, just on some lazy stuff, and my people was like, 'Come on, you got more songs to record,'" she recalled. "And I'm like, 'I ain't got nothing wrote down, come on now.' So I went in the booth, and this was my first time ever freestyling. I heard the beat and just started rapping from there. The whole thing was a freestyle."
She then addressed the song's most meme-able line: "My coochie pink, my booty-hole brown."
"When I'm rapping, I just say stuff about myself. I'll describe anything," she continued. "If I've got some tight nails on, I'm going to say something about my nails or my outfit. So I was really out of town, thugging with my rounds, and then I'm like, 'My coochie pink, my booty-hole brown.' It was true! So I said it."
You can stream Sexyy Red and Tay Keith's "Pound Town 2" featuring Nicki Minaj on all major platforms, and check out Complex's full Q&A here.