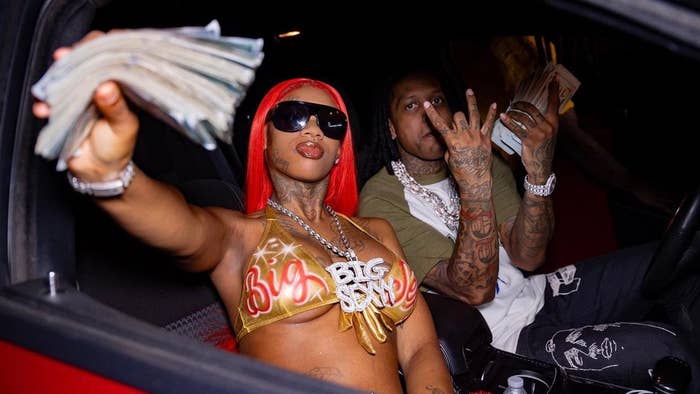 Sexyy Red's hot streak continues.
After joining forces with Latto, Young Nudy, Nicki Minaj, and Tay Keith, the St. Louis rapper teamed up with Lil Durk on her "Hellcats SRTs 2" remix. The two teased their collaboration back in August, after Durk announced he would embark on a "feature run."
"I'm healed…First stop: Sexy Red," he tweeted. "Second stop: YTB Fatt."
Sexyy Red immediately called Durk out over the obvious typo.
"Dang u gon spell my name wrong Lil Jerk? 😂🙄," she responded.
A few days later, Durk returned to social media to share a little peek at what he and Sexyy Red had in store. He posted a photo of his digital audio workstation, which confirmed his appearance on the "Hellcats SRTs" remix. The OFT rapper also used the opportunity to take another lighthearted jab at Sexyy Red.
"Cexy reddd lol for calling me a jerk," Lil Durk wrote in the "artist" field.
"Ok lol luh derk got me lost for words right now," she responded.
The original "Hellcats SRTs" appeared on Sexyy Redd's Hood Hottest Princess​​​​​​​, which arrived back in June.
You can stream the Shawn Ferrari-produced remix on Apple Music and Spotify.
Sexyy Red is now preparing to kick off her Hood Hottest Princess Tour. The trek will begin Oct. 16 in Boston and will include stops in NYC, Chicago, Nashville, and Atlanta, before concluding Nov. 29 n San Francisco. You can peep the full tour schedule below.