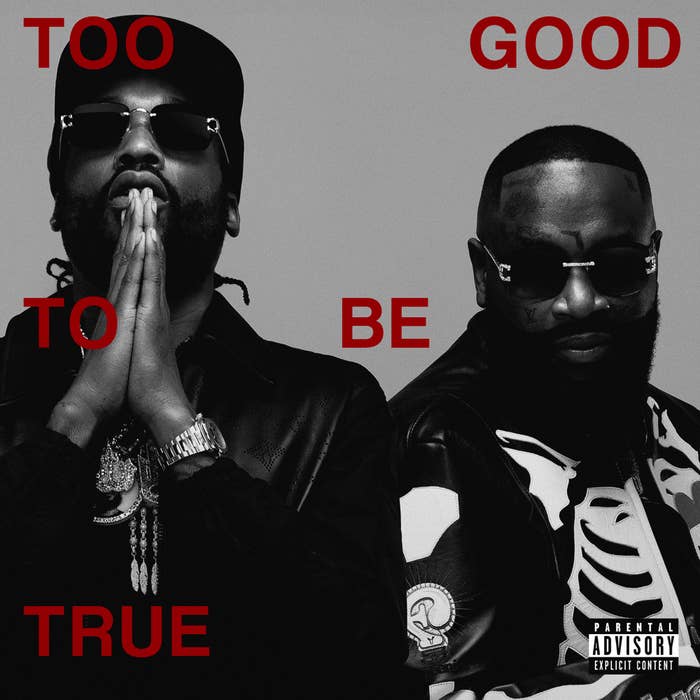 After years of collaborative singles and performances, Rick Ross and Meek Mill have finally joined forces on a full-length project.
On Friday, the MMG rappers gifted fans with their long-awaited joint album Too Good to Be True. Rick and Meek confirmed the effort back in October, shortly after they unleashed the lead single "Shaq & Kobe." Since then, the two have shared "Lyrical Eazy" as well as a "Shaq & Kobe" remix featuring Dame D.O.L.L.A., the rap alias of Milwaukee Bucks star Damian Lillard.
Too Good to Be True spans 17 tracks and includes guest appearances by DJ Khaled, Vory, Teyana Taylor, Fabolous, Wale, The-Dream, French Montana, Jeremih, Cool & Dre, Beam, and Future.
Rozay spoke about the project during a recent interview with Rolling Stone, explaining why he decided to reunite with Meek on a proper album.
"I just feel like because of the classic records we've released and collaborated on," the 47-year-old said. "We were in the studio late one night and Meek put on 'the best dunks and the best duos,' and I was like, 'That's it. We Shaq and Kobe. It's too easy.' How many people could go up against me and Meek Mill at one time? If Meek Mill does 'Dreams and Nightmares' right now, I don't give a fuck who's in the arena, they gonna have a problem. If I drop 'Every day I'm hustlin',' I don't give a fuck who in there, they got a problem."
Ross went on to describe Too Good to Be True as a "fire" project with the "best" beats and solid bars.
"When it comes to the rhymes, everybody knows Meek Mill was always that nappy-braided, on-the-corner Philly young 'un who could rap for three hours, don't write nothin' down. Still don't," Ross said of his 36-year-old compatriot. "You could cut him a beat right now, and he'll start walking around this motherfuckin' pool table for an hour rappin'."
Meek signed to Ross' MMG label in early 2011, years after he inked a deal with T.I.'s Grand Hustle Records. In an appearance on Complex's 360 with Speedy this week, the Philly rapper recalled one of his first interactions with Rozay, and the lengths he took to make a good impression. Meek said he had gone to Ross' mansion for a meeting and was immediately taken aback by how grand it was.
"I ain't never seen that shit with the marble driveways and all that…statues in the backyard, blue water," he told Speedy Morman. "When I came down, I had a little AP (Audemars Piguet watch) on, but that weren't really about nothing. I was seeing some shit. So when I went home for like three days, I told my man, 'Yo, next time we come back down this jawn, we gotta come back down here right. Like, make sure they see us the right way.'"
Meek revealed he had rented a Chevy Impala for his first trip to Ross' home, but decided to up his game for the second visit. He ultimately rented a Rolls-Royce Phantom for $3,500 a day; however, he had some trouble starting the car again after making a quick shopping trip. After a bit of arguing, the rental company agreed to provide Meek with a Bentley Flying Spur.
"It just boosted my confidence," Meek said. "I wanted Ross and 'em to see me in a certain way...but the next time I came to Miami, I ended up buying a Rolls-Royce."
As part of their promotional run, Meek and Ross also appeared on Complex's GOAT Talk, where they discussed everything from the greatest rappers and best drinks to their hottest viral moments and their favorite conspiracy theories. Midway through the sit-down, Meek was asked to name the greatest Drake feature. The Dreamchasers rapper, who squashed his years-long beef with Drake in 2018, made it clear he was still on good terms with the OVO boss and teased another collaboration.
"And, yes, Meek Milly and Rozay, we fuckin' with the boy heavily," he said. "You might be hearing him some of this new shit that's comin' out very soon."
Ross—who for years was hyping a collab album with Drake—said his own 2012 track "Stay Schemin" contains his favorite Drizzy verse, and Meek agreed.
"I was a part of that," said Meek, who appeared in the music video. "I ain't really know Drake, I probably met him once or twice…I just bought my first Rolls-Royce, I pulled up, and y'all shooting a video. I had $100,000 in cash. It's a day I'll never forget in my life. And that's the shit that I love Drake on, too. When he's on that street shit, when he's on that grimy shit, too, 'cause I'm from the street."
Listen to Too Good to Be True on Spotify, Apple Music, and everywhere else.