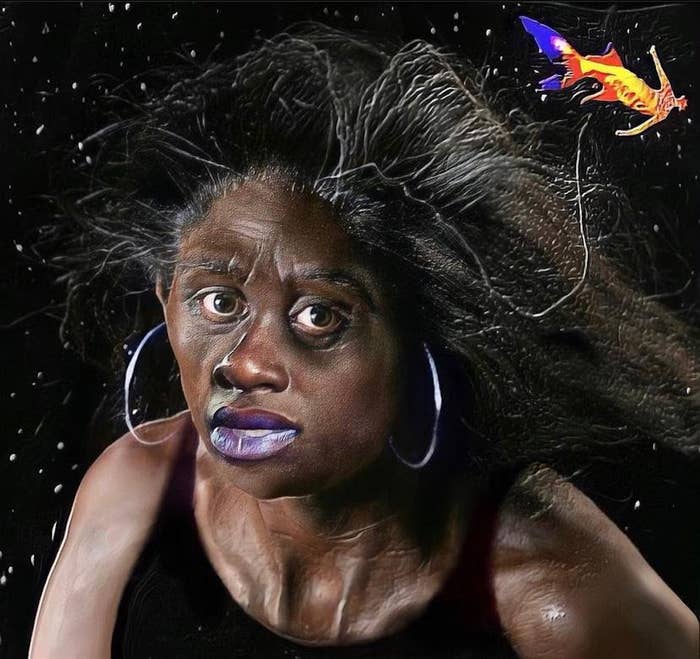 Noname isn't biting her tongue.
In her newly released sophomore album Sundial, the Chicago-born rapper tackles a wide range of political and social issues, including everything from gun violence and mutual aid to the shortcomings of capitalism and the police state. One of the most talked-about tracks, however, finds Noname calling out Jay-Z and the Roc Nation partnership with the National Football League.
"I ain't fuckin' with the NFL or Jay-Z," she raps on "Namesake." "Propaganda for the military complex."
She also references a few fellow artists who've performed the NFL Super Bowl Halftime Show: Beyoncé, Rihanna, and Kendrick Lamar.
"Go Rihanna, go/Watch the fighter jet fly high/War machine gets glamorized/We play the game to pass the time," she raps about the annual event, substituting Bey and Kendrick's names as she repeats the bridge.
However, the track also finds Noname practicing some self-reflection, as she also calls herself out for agreeing to a certain gig.
"Coachella stage got sanitized," she said, referencing her appearance at the 2023 festival. "I said I wouldn't perform for them/And somehow I still fell in line, fuck!"
The outspoken artist addressed her Coachella performance in a since-deleted Instagram post shared in January.
"I'm about to play coachella because i need the bread," she wrote, as reported by HipHopDX. "Trust, i'm not above anybody but if there was a collective boycott where ALL black artists refuse to share our work unless we see radical change in our conditions, i would immediately do that shit."
Following a brief delay, Sundial finally hit streaming services this week, nearly five years after she dropped her debut album, 2018's Room 25. Her first mixtape Telefone hit in 2016. Noname announced her latest project via Instagram back in April and told fans it was expected to arrive in July. Those plans were scrapped shortly after Noname unveiled the official tracklist, which showed Jay Electronica as a featured artist. A number of people slammed the rapper for choosing to work with Jay as he has a connection to the Nation of Islam and its controversial leader Louis Farrakhan.
Noname addressed the criticism in a series of since-deleted tweets.
"N***as legit rap about actual murder and sexual assault that they commit in real life and y'all can't take a jay elect verse?" she wrote. "Please drink water and be safe out here… Been seeing a lot of critiques about my choice to include Jay on my song. If you disagree with his political and religious beliefs that's fine. But to compare him to Hitler? A man responsible for the extermination of millions is wild as fuck to me. It's truly not that deep."
Noname reassured her followers the Jay Elec song would get released, but suggested the album may never see the light of day.
Thankfully for fans, the rapper came through and delivered the full project. In addition to the song with Electronica ("Balloons," also featuring Eryn Allen Kane), Sundial includes titles like "Hold Me Down" featuring Jimetta Rose and the Voices of Creation, "Oblivion" with Ayoni and Common, as well as "Gospel?" assisted by Billy Woods, SilkMoney, and Stout.
You can stream Sundial now on Apple Music and Spotify.
The album arrives about a week before Noname hosts the Sundial Block Party in her hometown of Chicago. The event will include live performances by Noname, Navy Blue, Alex Vaugh, and surprise guests, as well as DJ sets, refreshments, and activities for kids. The block party will go down from 3-8 p.m. on Aug. 17 at 4310 S. Lake Park Ave. Although it is free to the public, a book donation is suggested for the Noname Book Club.