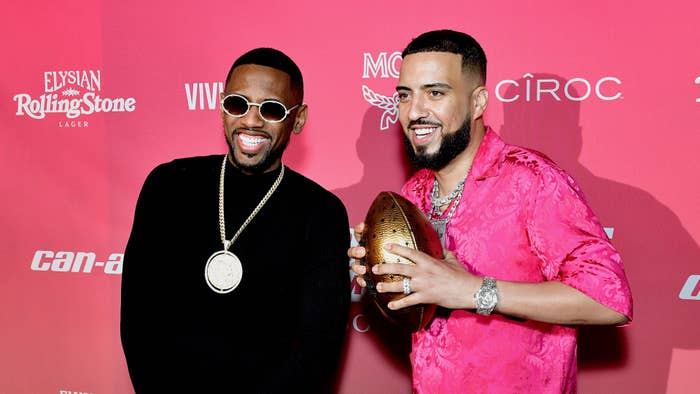 Fabolous gave French Montana a taste of his own medicine.
Earlier this month, French took to Instagram to share footage of his and Fab's New Year's celebration in St. Barts. The Coke Boys rapper filmed fellow beachgoers against the Caribbean backdrop before calling out Fab's questionable beachwear.
"My n***a Fab dressed like he in Brooklyn," French said with a laugh, as the NYC native approached. "Sneakers on, socks … First sunset of the year."
Though it was a playful jab, Fabolous wasn't about to let French get away with it. Earlier this week, the Summertime Shootout MC shared a series of Instagram stories from the duo's recent visit to Shell Beach. The first image showed French and Fab sitting back on some lounge chairs while making "X" signs with their middle fingers: "If cross me, it's 🖕" Fab warned in the caption.
Fab then shared a close-up shot of French's sandy feet, and called attention to the rapper's crooked toes.
"Had to get you back for snapping on my beach attire," Fab captioned the photo. "@frenchmontana crossed his toes too."
The playful exchange went down just days after French unleashed the sixth installment of his Coke Boys mixtape series. The project, made in collaboration with DJ Drama, spanned more than 20 tracks with guest appearances by ASAP Rocky, Benny the Butcher, Kodak Black, Jeremih, Nav, and EST Gee. 
Months before Coke Boys 6's drop, French and Fab connected on "Say Less," a Streetrunner- and Tarik Azzouz-produced track that was accompanied by Abeni Nazeer-directed video.