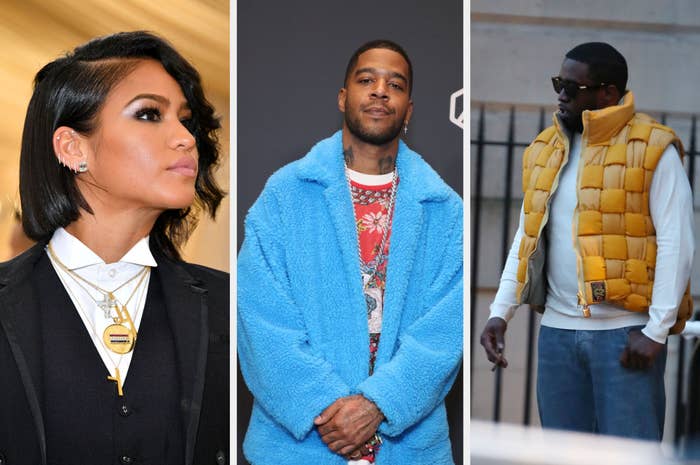 Cassie has filed an explosive sexual assault lawsuit against her ex-boyfriend Sean "Diddy" Combs.
According to legal documents obtained by the New York Times, the R&B singer— real name Casandra Ventura—has accused the hip-hop mogul of repeatedly abusing her throughout the course of a decade. The complaint, filed Thursday in Federal District Court in Manhattan, paints Diddy as a jealous and violent man who used his high-profile status to control various aspects of Cassie's life.
The two reportedly met in 2005 when the plaintiff was only 19. Cassie signed with Diddy's Bad Boy imprint shortly after and had an on-again, off-again relationship with the label boss for several years.
One of the allegations stemmed from a 2012 incident involving Kid Cudi, legal name Scott Mescudi. According to the Times, Diddy became extremely upset after learning Cassie had a "brief relationship" with the "Day N Nite" artist, so much so that he threatened to "blow up" Cudi's car. He allegedly "wanted to ensure that Kid Cudi was home with his friends when it happened," and potentially engineered exactly that.
"Around that time, Kid Cudi's car exploded in his driveway," the suit read. Rumors of the incident began circulating online in late 2012; however, the reports were never confirmed by the involved parties.
A spokesperson for Cudi corroborated Cassie's account in a statement to the NYT, saying, "This is all true."
See the relevant portion of the harrowing lawsuit—which is available in full here—below.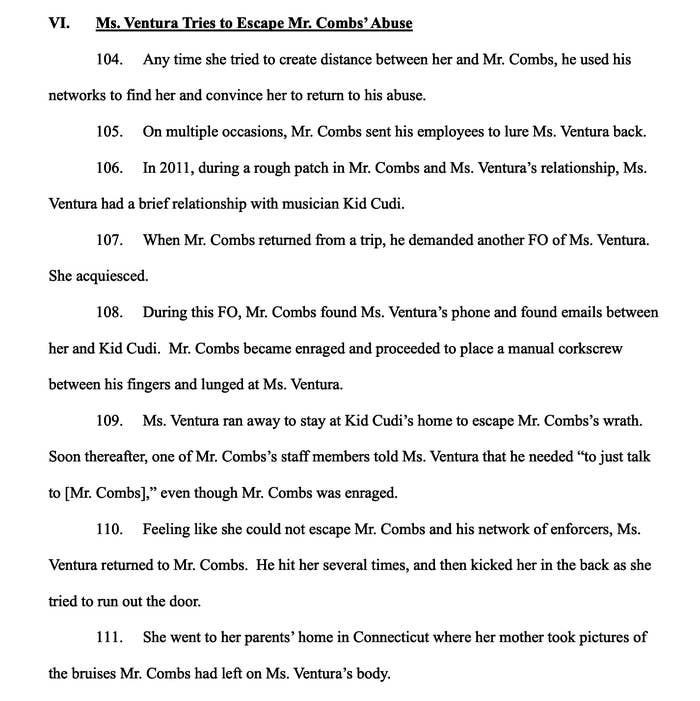 Cassie also accused Diddy of forcing her to have sex with male prostitutes as he masturbated and filmed the encounters, which he referred to as "freak offs." She admitted to accepting drugs during these instances, as they "allowed her to disassociate" from the "horrific" experience. Cassie claimed that some of the "freak offs" took place in different cities, which qualified her as a sex-trafficking survivor.
"After years in silence and darkness, I am finally ready to tell my story, and to speak up on behalf of myself and for the benefit of other women who face violence and abuse in their relationships," Cassie said in a statement to the Times.
The singer, who is now married to fitness trainer Alex Fine, also accused Diddy of physically assaulting her "multiple times each year." She claimed that in 2009 Diddy had repeatedly kicked her in the face after she was seen talking to another talent agent.
About seven years later, an intoxicated Diddy allegedly gave Cassie a black eye while they were staying at a Los Angeles hotel. The plaintiff said she tried to leave after the alleged attack, but Diddy followed her into the hallway and threw a glass case at her. According to the suit, hotel surveillance footage captured the incident, but Diddy allegedly paid the hotel $50,000 for the video.
Cassie said she had made several attempts to go to her parents and escape the abuse, but Diddy allegedly used his team to "lure" her back in. She also claimed that Diddy's employees played a role in concealing his behavior and keeping Cassie silenced, as they threatened to suppress her music if she did not comply with Diddy's demands.
Cassie's attorney, Douglas Wigdor, told the Times that Diddy became aware of the lawsuit before it was filed Thursday. Diddy allegedly tried to stop the move by offering Cassie "eight figures."
"She rejected his efforts," Wigdor said.
The plaintiff is seeking unspecified damages. Diddy's lawyer, Ben Brafman, said his client "vehemently denies these offensive and outrageous allegations."
"For the past 6 months, Mr. Combs, has been subjected to Ms. Ventura's persistent demand of $30 million, under the threat of writing a damaging book about their relationship, which was unequivocally rejected as blatant blackmail," he said in a statement to Complex. "Despite withdrawing her initial threat, Ms. Ventura has now resorted to filing a lawsuit riddled with baseless and outrageous lies, aiming to tarnish Mr. Combs' reputation and seeking a pay day."