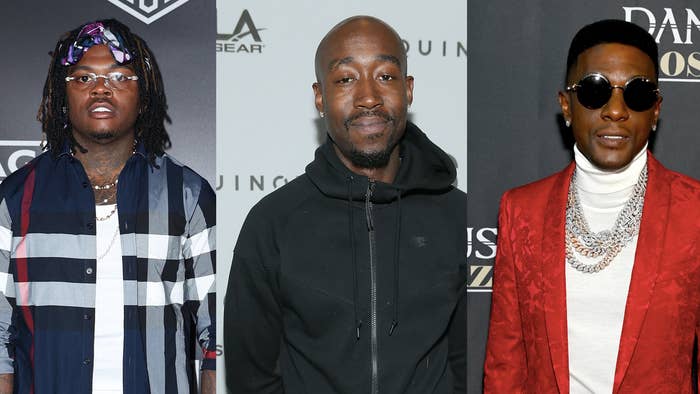 Gunna's newfound freedom has garnered mixed reactions from the hip-hop world.
The 29-year-old rapper, born Sergio Giavanni Kitchens, made headlines this week when he pleaded guilty to a single count in the YSL RICO case. As part of the plea agreement, Gunna received a time-served, suspended sentence and was quickly released from Fulton County Jail. Since then, a growing number of rap figures have taken to social media to share their reactions; some of which were congratulatory, while others were accusatory. 
Artists like Kid Cudi, DJ Scheme, and Jacquees fell in the former group, and celebrated Gunna's return home.
Some entertainers, however, were convinced that Gunna had secured his release by ratting out his co-defendants. Boosie Badazz pointed to Gunna's sentencing hearing in which he admitted that the YSL imprint was both a record label and a gang. Many people, including Boosie, were convinced the latter admission was a "snitch" move.
6ix9ine, who's also been accused of being a rat, made similar comments on Instagram, where he shared video and partial transcript of Gunna's court appearance.
Gunna's foe Freddie Gibbs also accused Gunna of cooperating with authorities, and called out other rappers who were cheering for his release.
Comedian Lil Duvall pushed back on the allegations, saying Gunna shouldn't be labeled a "snitch" unless Young Thug says otherwise.
Thug is among the dozens of YSL associates who were listed in the sweeping RICO indictment. The rapper has pleaded not guilty to the gang-related charges and remains behind bars.
Shortly after accepting the plea deal, Gunna made it clear he was not cooperating with prosecutors.
"While I have agreed to always be truthful, I want to make it perfectly clear that I have NOT made any statements, have NOT been interviewed, have NOT cooperated, have NOT agreed to testify or be a witness for or against any party in the case and have absolutely NO intention of being involved in the trial process in any way," he said in a statement to Complex.
Gunna's attorney Steve Sadow echoed the comments in a Thursday Instagram post.
"Gunna did not snitch to get out of jail," Sadow wrote. "He has said nothing and is not cooperating. His plea statement cannot be used in court against any other defendant. So please stop spreading lies."