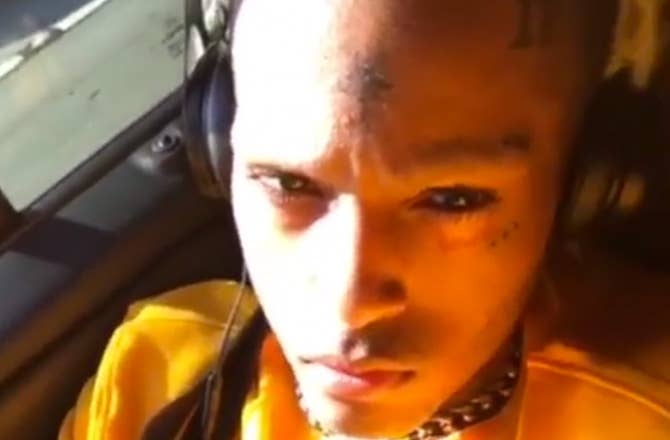 UPDATED 10/30/17 10:55 a.m. ET: Ski Mask​ took to Instagram Stories to respond to XXX's request. In the video below (captured by DJ Akademiks), Ski Mask says he'll "always love that alien-looking nigga" but explains he has to distance himself so fans will see him as an individual. "On top of that, that nigga crazy as hell," he adds. 
Ski Mask The Slump god responds to xxxtentacion requesting for him to be his friend for him to continue to make music

pic.twitter.com/PRxzhUu2bU
See below for original story published on 10/29/17.
In what has been a bizarre month of October, XXXTentacion is now claiming that he will return to making music if he and Ski Mask the Slump God become friends again. XXX got on Instagram to share a message directed at Ski Mask.
"If you want me to make music, tell Ski Mask to be my friend again," he says in a video that has since been deleted. "Tell Ski Mask to be my friend again and I will make music. Tell him to be my friend again."
XXX also advised his fans to download his music on SoundCloud while they still could because he was going to delete everything.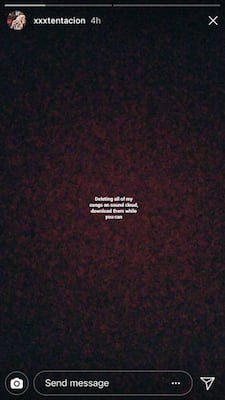 Less than two weeks ago, it was reported that XXXTentacion had signed a $6 million record deal with Capitol Music Group following a successful debut for his album 17 on the Billboard 200. A little more than a week later, the Florida rapper went on Instagram to say that he was terminating his deal with Capitol. "I am not a signed artist, and I will not be releasing music for a very long time, I'm tired of this shit," he wrote. However, two days later, a rep for XXX said he was still signed to Capitol's indie distributor Caroline. 
The backtracking led to XXXTentacion calling it quits, claiming that he was being "mentally abused" to his followers on Instagram. "Sad to announce I will not be making or releasing any music, I am tired of being mentally abused for trying to help people, I'm tired of the hate, I'm done," he confesses.
Now, all of this could be one giant PR stunt for XXX, and if you have followed his already hectic career, you know that that theory isn't outside the realm of possibility.