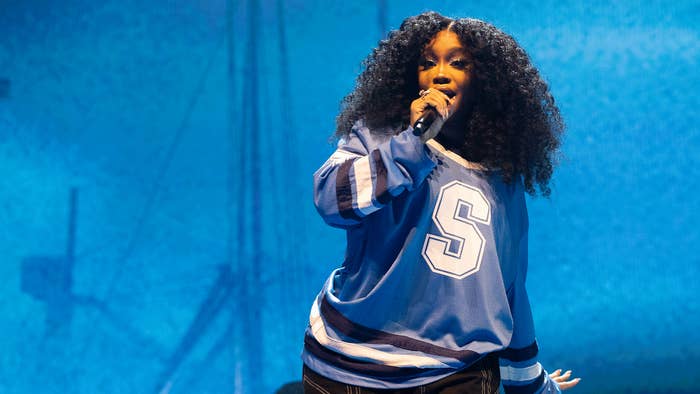 SZA earned nearly $35 million on her first arena tour following the release of her highly-anticipated sophomore album SOS.
As reported by Billboard, the SOS Tour grossed $34.5 million, spanning 17 cities across North America and lasting just over a month. Billboard notes the tour averaged 12,812 tickets per night and $1.9 million per show. 
SZA dropped SOS in December, five years after releasing her Grammy-nominated debut album Ctrl. Shortly thereafter, the "Kill Bill" singer announced on Instagram that it was "time to take this shit on the road."
During one of her stops at Madison Square Garden in New York City last month, SZA brought out Phoebe Bridgers and Cardi B, the latter of whom can be seen here performing "Tomorrow 2" and "I Do." 
Top Dawg Entertainment boss Terrence "Punch" Henderson sat down with Elliott Wilson and Brian "B.Dot" Miller on the Rap Radar podcast last month and commented on how the SOS Tour has had a positive impact on SZA by giving her an opportunity to connect with her fans.
"You're actually seeing these live people, and you're seeing them respond to you, and that energy exchange," Punch said. "So she's handling [fame] a way lot better now." 
SZA can also see the lasting impact of her music on the Billboard 200. When SOS claimed the top spot for a ninth nonconsecutive week in February, she became the first female artist to accomplish such a feat in nearly seven years. 
SZA told Billboard that she plans on delivering a deluxe version of SOS with 10 additional tracks before allowing herself to take inventory of everything she has accomplished over the last few months, saying, "I'm looking forward to actually feeling proud of myself and not just smiling and nodding at accolades, but really feeling it internally and knowing that I'm good enough."