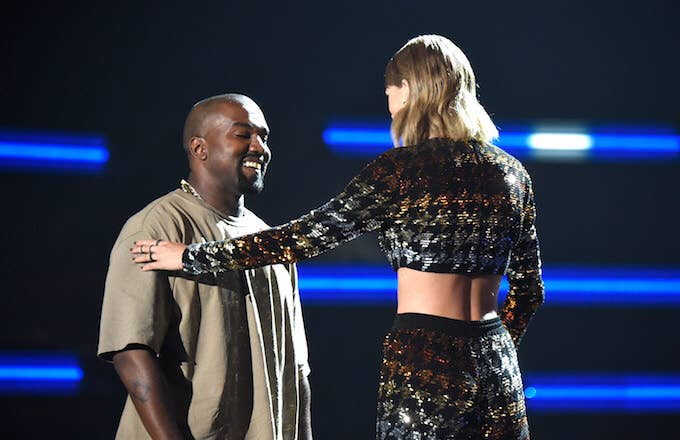 Soon after Taylor Swift announced the release date—November 10—for her sixth studio album Reputation, people realized that she would be dropping her latest effort on the 10th anniversary of the death of Kanye West's mother Donda. A source close to Swift claimed there was "no correlation" between Reputation's release date and Donda's passing, even though the singer has been known to exhibit petty-like behavior in the past. 
To combat Taylor's anticipated reign on the charts, a Kanye fan created a Facebook page calling for the Yeezy faithful to play "Hey Mama," the song dedicated to Mr. West's mother, on the same day as Reputation's release. According to The Ringer, the Spotify streams for "Hey Mama" jumped from 23.6 million to 24.3 million, an about 700,000 increase, within a 24-hour span. 
"Hey Mama" wasn't able to crack Spotify's Top 200 list, or any other Spotify chart for that matter, since the streaming service realized that the numbers were reflected of repeated listens. Meanwhile, Swift's latest album has already been putting some incredible numbers on the board. According to Billboard, Reputation sold about 700,000 copies in the U.S. on its first day. 
There's an important lesson to learn here. You need to pick and choose your battles. As much as we all love "Hey Mama," there's no way to stop the Swifties from getting Taylor to the top of the charts, especially after they have been waiting three years for a new body of work.