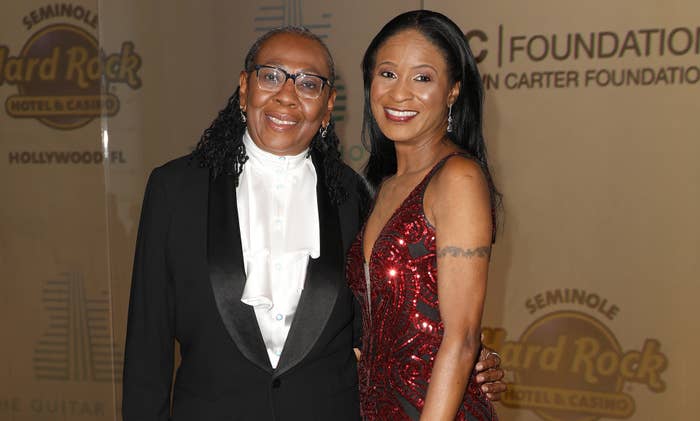 Gloria Carter, mother of Jay-Z, tied the knot with longtime partner Roxanne Wiltshire in New York City on Sunday night.
TMZ reports that Beyoncé, Kelly Rowland, Tina Knowles-Lawson, Tyler Perry, and Robin Roberts were among those who attended the star-studded wedding in Tribeca and subsequent reception that sources said didn't conclude until around 1 a.m.
Jay-Z opened up about his mother coming out to him on "Smile," a track off his 2017 album 4:44.
"Mama had four kids, but she's a lesbian/Had to pretend so long that she's a thespian/Had to hide in the closet, so she medicate/Society shame and the pain was too much to take," he rapped. "Cried tears of joy when you fell in love/Don't matter to me if it's a him or her/I just wanna see you smile through all the hate/Marie Antoinette, baby, let 'em eat cake."
Jay-Z confirmed in an interview with David Letterman on the Netflix series My Next Guest Needs No Introduction that he did shed tears of joy upon discovering his mother fell in love.
"Imagine having to live your life as someone else and you think you're protecting your kids," he explained. "For her to sit in front of me and tell me 'I think I love someone,' I really cried...I cried because I was so happy for her that she was free."
Jay said his mother came out while he was still putting together 4:44 and their conversation led to the creation of "Smile" the very next day. The track features a poem, written by Gloria, which she wrote on a plane headed to Los Angeles to see her son.
Gloria figured she needed to assist him in completing the song. After presenting him with the poem, Jay recorded her as she recited it over the phone.
"I was sitting there and I was telling him one day. I just finally started telling him who I was. Besides your mother, this is the person that I am, you know? This is the life that I lived," Gloria said in a 2017 appearance on the D'Usse Friday podcast. "So my son started actually, like, tearing because he was like, 'That had to be a horrible life, ma.' I was like, 'My life was never horrible. It was just different.' So that made him want to do a song about it."
In 2019, Hov thanked his mother for allowing him to share her story after he and Beyoncé received the Vanguard Award at the GLAAD Media Awards. Bey dedicated the award to her late Uncle Johnny, who not only made the prom dress referenced on "Heated," but also introduced her to house music, which became the primary inspiration behind her Grammy-winning album Renaissance.