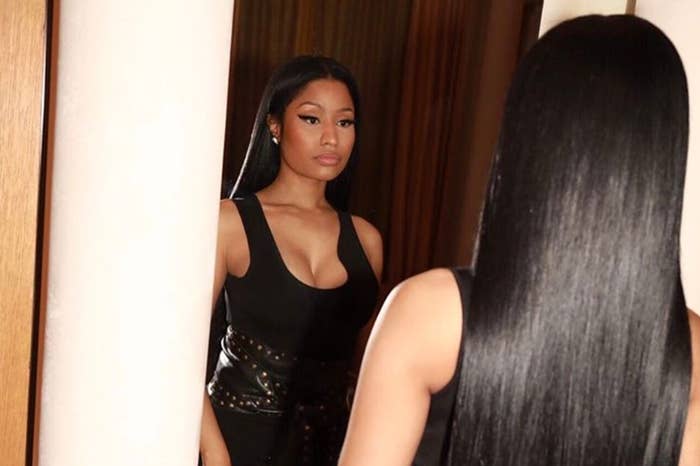 After letting the embers of Remy Ma's scorching "ShETHER" smolder for nearly two weeks, Nicki Minaj finally answered. The rap queen from Queens released three new tracks on Thursday night, two of which—"Changed It" and "No Frauds"—attempt to make her squabble with Rem a battle worth watching. Mostly, though, they make you want to change the channel.
Nicki didn't deliver an all-out barrage to rival Remy's firestorm of a diss record. She doesn't even address Remy by name. She does, however, dedicate an entire verse of her anticipated Lil Wayne and Drake reunion "No Frauds" to answering her Bronx rival's quips about cosmetic surgery and an alleged 360 deal. Nick throws some low blows of her own, recalling the infamous shooting that sent Rem to jail for six years:
Heard your pussy on "Yuck," I guess you needed a Pap
What type of bum bitch shoot a friend over a rack?
What type of mother leave her one son over a stack?
The shots continue on the midtempo "Changed It," a more bark-than-bite Wayne collaboration that cleverly flips Remy's ecstasy-use allegations ("Stopped doin' pills, but bitch them withdrawals," she rhymes) but otherwise just drops more No. 1 claims and warnings ("The bitch gambled her career, now it's gon' be severe"). Neither track is the crushing reply (or contagious hit) that would've made Nicki Minaj vs. Remy Ma an epic battle, but did you really expect that?
The two feuding artists are playing their positions: Remy is the vicious spitter hardened by the underground rap circuit, while Nicki is the most successful female rapper of all-time. Sure, Rem has had moments of mainstream shine ("Lean Back," "All The Way Up") but her defining peaks are going on a robbing spree on M.O.P.'s 2000 classic "Ante Up (Remix)" and demolishing Lady Luck in a 2004 battle at the Fight Klub. And while Nicki cut her teeth on the mixtape scene, her legacy is intact—even before she likely becomes Billboard's all-time leader in Hot 100 appearances amongst women next week.
Fittingly, Remy has emphasized the importance of lyricism while Nicki Minaj is playing the pompous prima donna who's above pulling her hair back, taking off her earrings and really getting her hands dirty. Nicki knew she couldn't give half a bar, but figured a response verse and some scattered taunts shall do. Additionally, she's issued a challenge for Remy Ma to make a hit record in just three days time (perhaps hypocritical given her own dilatory counterattack).
Nicki Minaj is beyond spending an entire track clowning an opponent, as she did with 2010's Lil Kim diss "Roman's Revenge," when she was still an upstart proving herself. It's a luxury that her massive success has earned, but also an approach that makes for a snoozer of a battle—each artist has threatened to release incriminating photos or footage, which isn't the most compelling threat to commit to wax. Nothing more to see here.
Traditionally, MCs who've claimed a crown in hip-hop—whether Drake, T.I., Lil Kim, Jay Z, or 50 Cent—have made hit records while defending their throne against worthy competition. Nicki has long claimed to be lyrically in a league of her own; she shows how lethal her pen can be on tracks like 2014's "Chiraq." And there's plenty of ammo at her disposal—Nicki could flip Remy's name against her, question her feminism, and if she's feeling particularly savage, pull late, great mentor Big Pun into this. Instead, "Changed It" and "No Frauds" slips past the most offensive bars on "ShETHER" to home in on "Another One," the weaker of Remy's disses.
With Remy Ma as her first true rap rival, it's not enough for Nicki to throw some light retorts and rest on her laurels. Peers and music fans have to respect sales, plaques and historical records, but real rap royalty rules with an iron fist.