Getting To Know BNXN, The Afro-Fusion Artist Setting A New Mood From Nigeria—To The World
We sat down with BNXN over Zoom to find out how he discovered his eclectic sound, what it's been like working with musical heavyweights so early on in his caree
Publicist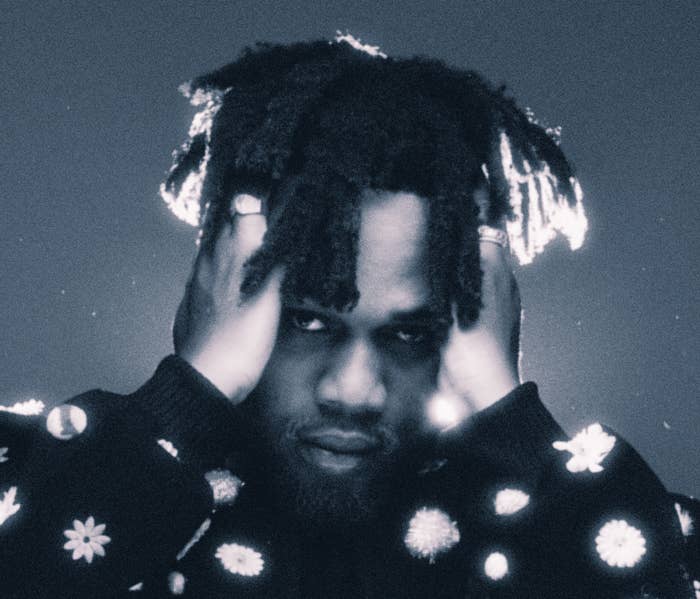 This time last year, rising Nigerian artist BNXN (pronounced Benson, a phonetic play on his surname) was on stage supporting Wizkid at a packed-out O2 Arena. "That was the most epic moment of my life," he tells me, with a grin of accomplishment beaming across his face. Joining Wiz for a performance of their collab hit-song, "Mood", the artist formerly known as BUJU was welcomed by an uproar of excitement from the crowd—all 20,000 people devotedly singing his hook, I'm in a big mood!, back to him. 
For BNXN, this track was the perfect debut into the big league. It was also confirmation of the talent the likes of African Giant Burna Boy also saw in him from the beginning. Now, all roads lead back to London as the 25-year-old talent gears up to headline Indigo O2 this month, off the back of his solid sophomore EP, Bad Since '97 ('bad' meaning 'dope' or 'great' in Nigerian pidgin, UK slang or Caribbean patois, for the record). The seven-track offering is carried by BNXN with a returned favour from Starboy Wiz on their groovy follow-up collab, "Many Ways", produced by Juls. Staying true to his soft-spoken, relaxed crooner style—one that you wouldn't expect from such a towering figure—each song justifies the numbers and the support from industry peers and fans alike. With the use of his high-pitched harmonies and "jeje" (gentle) tone, the gifted singer-songwriter switches from Yoruba and pidgin slang to English with complete ease, further proving his spot amongst current Afro-fusion greats. 
We sat down with BNXN over Zoom to find out how he discovered his eclectic sound, what it's been like working with musical heavyweights so early on in his career, the highs and lows of being an independent artist, and more. 



"There's nothing like being an independent artist. I wouldn't want to do anything else."
COMPLEX: The title—and music—speaks for itself, but what's the main message you were trying to convey to listeners with Bad Since '97? 

BNXN: Well, the main message behind the album was to show my ascension from just being a regular musician, someone who was trying to find his way or find his sound, to finally finding my spot and my standing. Bad Since '97 is exactly that: I've been bad since I was born!
What's the best vibe or setting to jam to this project?  

Take a drive to it. You could even work out to it. 
There's been a lot of talk about your name change, from BUJU to BNXN, and the reasons behind it. I'm sure you've been ready to set the record straight, so what's the real backstory? 

The name change was to maintain authenticity. I wanted everything that came with my success to be attributed to just me, and not any other person or any other entity.
Were you ever worried it would change things? 

I wasn't worried. If anything, I was more excited for the challenge.

You turned 25 this year, but looking back, how did you actually get into music? Was there a pivotal moment that pushed you to make songs? 

In 2017, I was listening to a lot of music on SoundCloud. I wanted to make similar music and have a community of people that listen to my music, and can access it any time. Around February 2018, I connected with my good friend and producer, Inspo, and that's when I started recording and putting out music on SoundCloud. That was the first ever time I put music out professionally. I had already been singing in the choir. 
How would you describe your upbringing, especially your day-one friends from your hometown that you salute in your tunes? 

Very exciting. I'd say that, for sure. It came with a feel of everything, because I experienced a lot—a whole lot growing up as a kid. I grew up in Gbagada in Lagos, and then moved to Ogun State and so I've had a mix of different settings or environments to grow from. My day ones all went to either my high school or university; they knew me before I even wanted to make music. 
How did you find this slower, soft-spoken singing style, especially when it goes against the ordinary? 

The need was to feel a difference. I wanted to come with something that you would know was missing if it wasn't there, you know? My singing style is all based on my personality, myself. I like to be chill when I'm recording and soulful when I'm making music. Hence, sometimes I come off very energetic and confident, but at the same time it's all still very chill and relaxing.
Who are some of your musical inspirations that helped this discovery, especially the ones from back in the day? 

I listened to a lot of Burna Boy, Buju Banton, Yellowman, and J Hus.
How has the journey been for you as an independent artist?

It's super-challenging, but it's 100,000% rewarding. Like, it's amazing, because I'm so open to the challenges that come with being independent. At the same time, on a day-to-day basis, you're faced with things that are sometimes outside your scope of work; sometimes, I just want to make music, create. But being on a label, you've got to think of the things that the label wants, too: how they want you to look, how they want you to be perceived, and other things outside of just the music. So, for me, there's nothing like being an independent artist. I wouldn't want to do anything else. 
Wizkid features on your song, "Many Ways", and you feature on his song, "Mood". How did this God-destined connection come about?

The first time I ever got to talk with Wiz was when he messaged me on IG, and asked me to pull up to the studio sometime in June last year. It was a very shocking one for me to even get that kind of message. I was elated, super-excited! So we linked up the next day and we made, like, four songs together, but the one that stuck out was "Mood". He didn't even record his verse that day—he went back to London, and when I met him again in London, he played the verse and I was super-amazed. We've held an amazing relationship ever since. He brought me out at the O2, we performed in Malta, and loads of other places. Even when he came to Lagos and told me "pull up to the hotel," that was when I played "Many Ways" for him. He heard it and he was like, "Yo! this is crazy." I just sent him the track file, he did his thing on it and sent it straight back. It's musical greatness every time we meet—a sonic match made in heaven. 



"I'm really pushing for a Grammy. I feel like it's gonna do something great for me, mentally, to know that I have that."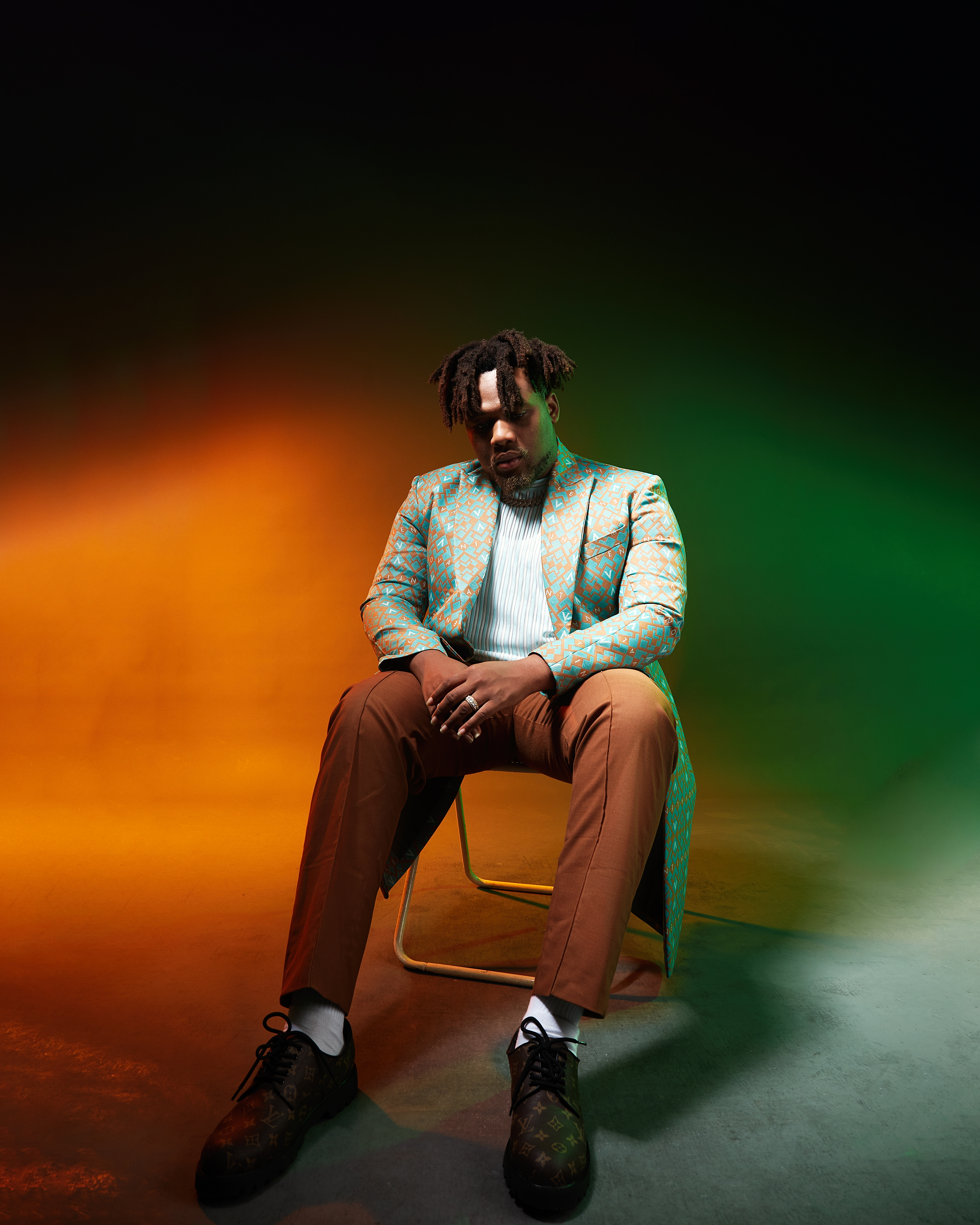 It's been almost a year since he brought you out to a sold-out O2 Arena in London. How was that experience for you and what did it change, career-wise and personally? 

That was the most epic moment of my life, honestly, because that's the biggest stage I've played to date. We did that two nights; he sold-out three nights in a row! It made me feel really special. I feel like it wasn't everybody that got that opportunity, and the vibe and energy was so genuine. Besides just playing our songs together, I played my own songs on the O2 stage. So yeah, it meant a lot to me, something I'll never forget.
You've been to the UK many times now—how do you feel about the love you get from the fans and supporters here?

It's really amazing. You've got to understand, like, London was the first city I ever left my country for. The love and reception there is something that still shocks me. I came off a sold-out show at the LaFayette in 2021, and it was amazing coming off as a new artist, fresh off the streets and off one EP. And now we're doing the Indigo O2—5,000 capacity! You can see the level of growth and elevation. The love from the UK is something I don't take for granted at all. That place has been really instrumental to my career and growth. 
This is a random one, but I've seen you use the term 'TRABOSKI' online and I need to know what it means [laughs]. And what situations it can be used in.

[Laughs] It's a slang term I coined off of being at the peakest state of euphoria. So, imagine a setting where you're at the club or at a function where it's really lit, or it's your birthday—and you know how birthday's get these days, where your friends really wanna get you fucked up. It's allowed, but I wanted to give people a song with a title where they have an excuse to say, "I can't do anymore, cos if I take one more shot, I'm gonna fall down." You feel me? 
I feel you on that one. What's your connection/friendship like with Dave and JAE5, especially since after working on the banger "Propeller" together? 

Woah! JAE5, for one, has been a major inspiration in my career, mainly because I used to listen to J Hus a lot for inspiration and guidance and JAE5 was a core instrument to the sound that we've come to know and love from J Hus. So getting to work with him was like a dream come true. It was a chance for me to create under the same expertise and same powerhouse J Hus makes music with. That was a super link-up, thanks to Twitter [laughs]. We linked up in Lagos, made some songs together... I didn't know he had plans of putting Dave on "Propeller", but they're friends and Dave loved the song. Even in London, when I met Dave, he told me how much the song meant to him and how much he loved it, which made me feel good. That was the first time we were getting to see each other and talk. There was, like, a joy in his eyes talking about the song. It was a smash record, an amazing smash record, and I'm grateful to have been a part of it. There'll be more from us to come.
Speaking of more, what are some of the future goals you've set for yourself as an artist?

I'm really pushing for a Grammy. I feel like it's gonna do something great for me, mentally, to know that I have that. I'm in no rush, though. I'm patient with myself and I'm just working towards that. I just know it's something I wanna tick off my list. But aside from that, I just want to keep making music I enjoy, and music that the world enjoys and relates to. These are the goals that I've set for myself.