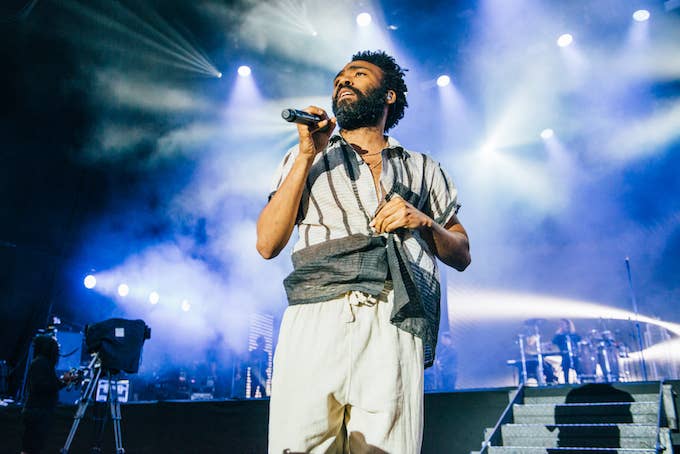 This year thousands of people descended on Gunnersbury Park in Ealing, West London to scope out the new location for Lovebox Festival under an aggressively hot July sun. In all honesty, we're not totally sold on the venue change. The park was much smaller, but felt far more oppressive because of it, not to mention the sound bleed hopping from stage to stage. There were also some pretty major issues with safety leaving the site, but we have faith these issues can be cleared up in time for next year.
It wasn't just the change of scenery people came for, this year seemed to also cram more big name acts on to the line-up than we've seen for a while. Skepta and Childish Gambino headlined the Friday and Saturday respectively, while The Internet, SZA, Wu-Tang Clan, N*E*R*D, Diplo, Anderson .Paak, Vince Staples, Mura Masa, Dave, D Double E, Kali Uchis, Novelist, Shy FX and more also made made attention-grabbing appearances.
Frustratingly, SZA arrived about half an hour late, but when she did arrive she delivered a breathtaking performance. Though brief, her voice stunned every critic into silence and it wasn't long before she was (mostly) forgiven. Anderson .Paak was mind-blowing, as always. If you've ever been lucky enough to catch him and the Free Nationals live more than once you'll know that it just keeps getting better and better. D Double E proved to be another highlight, tearing down the Koppaberg stage for Mike Skinner & Murkage Present Tonga, leaving us even more anxious for Jackuum!. Unfortunately for Skepta, however, the intense heat was followed by a torrential downpour that seemed to focus exclusively on Gunnersbury Park, chasing out much of the crowds.
Saturday, though, remained bone dry and the heat became barely manageable. No one there seemed put off and the crowds descended once more in even greater numbers. CASisDEAD was sadly cancelled, but there was plenty more to enjoy on the line-up. Thankfully, The Internet cooled us all down with a charismatic tour through their psychedelic R&B output. Novelist's set at the Koppaberg stage is still being talked about today, and there's probably an argument to be made for him getting bumped up a level or two on the line-up. N*E*R*D, as you'd expect from the greats, made themselves one of the other key talking points with an energetic, engaging and utterly frenetic performance of their greatest hits. 
As you've probably heard, it was Donald Glover who stole the already impressive show. A mixture of deep cuts, cult hits and crowd favourites, Glover's balance of what the crowd wanted and what they needed was expert. Though his stage set consisted of simply himself, his band and a small choir, the energy was electric. Between personal anecdotes, an expression of solidarity (the anti-Trump march took place the same day) and wild-eyed power, Glover was at once charming and self-effacing, while also a towering figure whose name we'll be saying for decades to come.