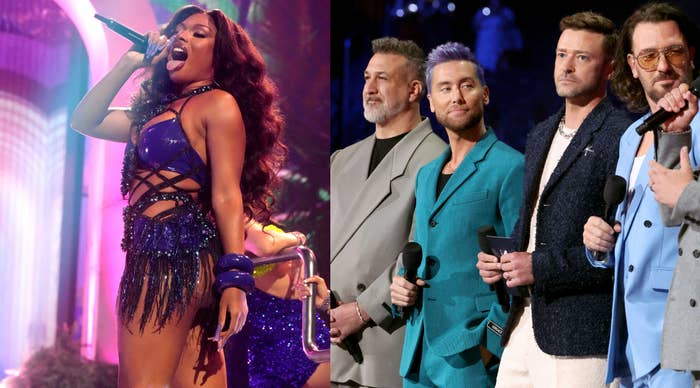 UPDATED 9/13/23, 9:47 a.m. ET: All appears to be well between Justin Timberlake and Megan Thee Stallion. The Traumazine rapper took to TikTok to share a video of herself hanging out with the *NSYNC member. Head here to check it out.
See original story below.
While some fans who relish drama may be disappointed by the lack of Cardi B and Nicki Minaj drama at the 2023 MTV Video Music Awards, an unlikely beef contender has entered the ring: Megan Thee Stallion and...Justin Timberlake?
In a video taken from the official VMA backstage feed, Megan can be seen having her hair touched up when Justin Timberlake, alongside his reunited-for-the-night *NSYNC bandmates, appears to lean in and say something to her. While it's unclear what's said or who exactly says it, the rapper doesn't look too happy and appears to tell one of them off, wagging a manicured finger.
Variety quickly reported that an eyewitness claimed there was "zero fight."
"He said, 'It's so nice to meet you,' and she said 'No, no this don't count, this don't count. We gotta meet proper.' It was very cute," the anonymous source shared.
Also at the VMAs, Meg took the stage to perform her latest collaboration with Cardi B, "Bongos," for the first time. The song arrives three years after their similarly scandalous smash hit "WAP."