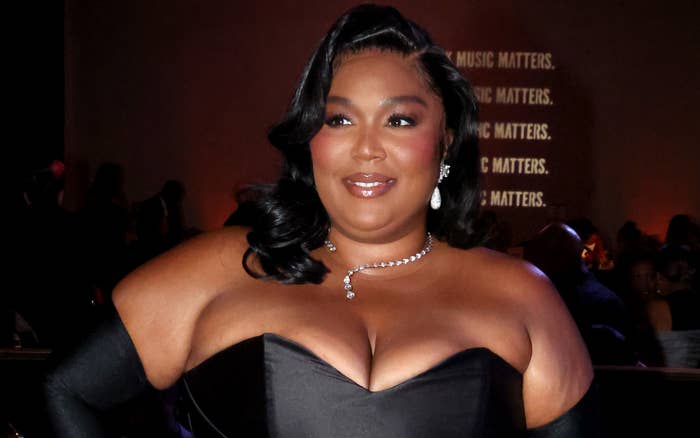 A little over a month after Lizzo's tour dancers filed a sexual harassment suit against her, the singer is facing a second lawsuit that accuses her and her team of bullying, sexual harassment, and grueling working conditions.
Asha Daniels, a fashion designer who created outfits for Lizzo's dancers, filed a lawsuit against the singer and other members of her team. The lawsuit alleges that Amanda Nomura, the singer's wardrobe manager, called the performers "fat," "useless," and "dumb." It also alleges that the dancers were forced to change in front of a predominantly white crew who would "lewdly gawk" at them.
According to The Hollywood Reporter, the lawsuit also mentions a group chat of over 30 people that reportedly included Daniels and her touring team in which a backstage manager "sent a photo graphically depicting male genitalia."
Daniels' lawsuit also claims that Nomura and other members of the crew discussed hiring sex workers for "lewd acts," as well as mentioned buying hard drugs. She alleges that she was pressured to join in.
Daniels allegedly informed the tour manager, Caroline Gugliotta, about the "widespread racial and sexual harassment" that the Black dancers were subjected to, which included being "mocked, objectified and denied accommodations." According to the suit, Daniels was subsequently fired before the end of her contract and her complaints were ignored.
Additionally, the suit claims that Nomura threatened Daniels and others when she couldn't find her medication, saying that she would "kill a bitch" and "stab a bitch." It also alleges that Nomura shoved a crew member and snatched food out of the hands of a crew member who attempted to take a break. Daniels additionally alleges that Nomura sprained her ankle when she was moving a rack of clothing, denying her from wearing her orthopedic shoes when she was healing.
Daniels also claims to have been subject to 20+ hour shifts daily, frequently being denied breaks by Nomura who "monitored and policed" those under her watch.
In response to NBC regarding the lawsuit, Lizzo's spokesperson said that Daniels' lawyer, Ron Zambrano, was attempting to "sully" Lizzo's humanitarian award she received on Thursday night from the Black Music Action Coalition. Additionally, the spokesperson claims Daniels "never actually met or spoke with Lizzo."
This lawsuit arrives a month after Lizzo's sexual harassment lawsuit filed by several of her tour dancers. The singer responded to the accusations, calling them "sensationalized stories" from "former employees who have already publicly admitted that they were told their behavior on tour was inappropriate and unprofessional."