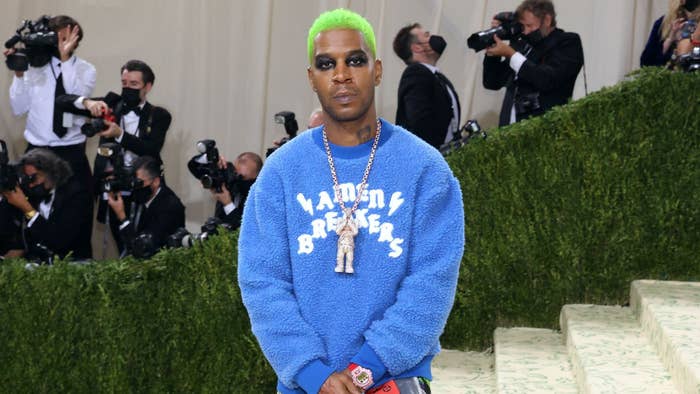 Lil Nas X was just named one of Time's 100 most influential people of 2021, and the 22-year-old artist was given a tribute by none other than Kid Cudi.
The magazine's annual feature involves relevant people paying written homage to honorees who are often adjacent to or influenced by the author, and Cudi highlighted X's talent and accolades. Time's list this year also includes Billie Eilish, Naomi Osaka, Bad Bunny, and more.
Cudi shared his piece paying homage to Lil Nas X on Twitter, where the 37-year-old talks about how brave, talented, and influential the Montero hitmaker is.
One excerpt in particular that Cudi highlighted was at the end of the first paragraph, where he pointed out how pivotal it is for a gay man in hip-hop to be setting records and making history.
"To have a gay man in hip-hop doing his thing, crushing records—that is huge for us and for Black excellence," Cudi writes. "The way he's unafraid to make people uncomfortable is so rock 'n' roll. He's a true rock star."
At the beginning of September, Cudi shared how he'd love to hop on a track with Nas X on his upcoming album after saying many male rappers did not want to work with him.
Lil Nas X then confirmed he and Cudi will make a song together for the deluxe version of Montero. The album debuts this Friday, Sept. 17.
And then later in the day, Cudi teased the release of his Netflix series Entergalactic, alongside a short clip. Check it out below.