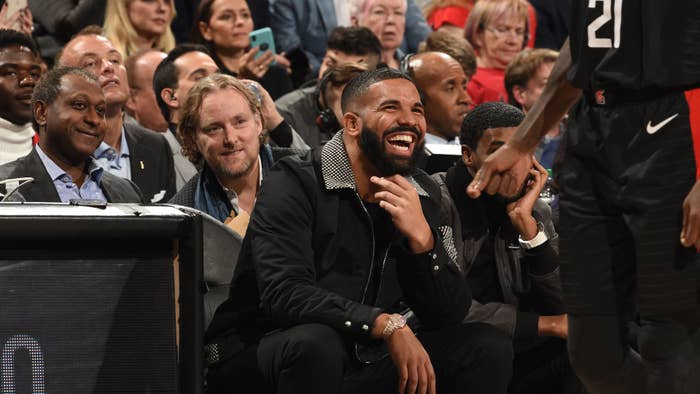 Hosting auditions for his fake "Coulda Been Records" company, Drake joined the live and joked about how he was drinking alone at a bar because he's been on a "downward spiral" ever since Certified Lover Boy dropped.
"I'm at the bar by myself, I really got shit going on man," Drake said with a laugh. "It's really been downhill after the album dropped, I'm not going to lie. It's been slow motion. It's been a bit of a downward spiral."
Drake's Certified Lover Boy debuted at No. 1 on the Billbaord 200 with a massive 613,000 album-equivalent units and stayed in the top spot for an impressive three weeks. It's currently at No. 2 after it was edged out by YoungBoy Never Broke Again's Sincerely, Kentrell album.
After the two friends shared a laugh, Druski pitched Coulda Been Records to Drake and showed him his hotel room before Drizzy said he'd get J Prince on the line to work it out, which Druski immediately rejected. Druski and Drake have a well-established friendship, with the comedian appearing in the music video for the rapper's song "Laugh Now, Cry Later."
Druski is also close friends with rapper Jack Harlow. When asked what makes the two so close in Complex's latest cover story, Druski said it's because they share many of the same goals.
"I think we share a lot of the same goals, just lifewise," he explained. "So I think the biggest thing with us is just, I could talk to him about, like, 'Yo, so in this situation, how do I move with this?' And he'll give me advice, like, 'Yo, I actually just went through that.' You know what I'm saying? I'm like, 'Damn, I needed that.' It's to be going up with the same person that you started—not necessarily started with, but we're in two different lanes, but we're doing the same transition."
You can read the whole cover story with Druski and Jack Harlow here.