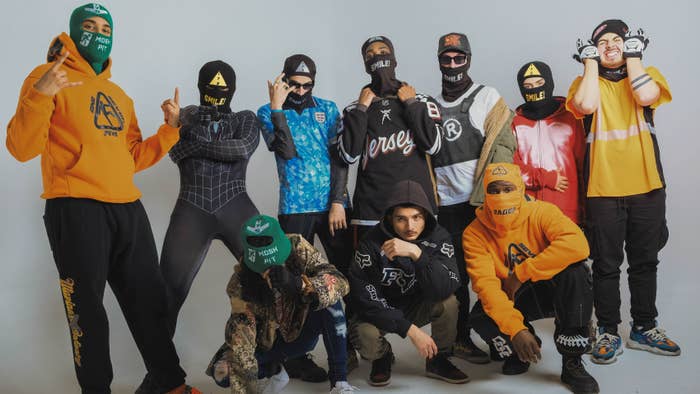 Moshing is inherently community-driven. You're floating in a sea of colliding humans with a (typically) intense beat and song as the soundtrack, but there is more community to the madness than most people realize.
In late September 2022, we brave the cold New York City air outside of Citi Field to travel into Rolling Loud's pit's orbit. My ears are ringing, but it's not because of the music booming from what has become a center for young moshers. The people around me are screaming louder than any of the artists on stage. All I can hear is, "Open that shit up!" 
As I look around, panicked at first, to try and find my place in the pit, it feels like I'm preparing for a theatrical performance.The teens take their places and begin to form massive black holes in the middle of the festival grounds. It's outside of one of these chaotic scenes, at a Sheck Wes performance, where I run into a digital camcorder-holding videographer named Walé, better known by his Instragram handle 175tv. From behind his lens, he documents the madness of mosh pits at rap shows, where everyone is committed to the rage—when the beat drops, a curtain of bodies swings open as me and hundreds of other concertgoers start jumping and pushing for our lives. But, beyond Walé, 175tv is a community.
"I see myself as an artist who's trying to help curate the community," Walé told me as we both struggle to hear each other waiting for the next artist to perform. "Even though I would be in foreign places by myself, I felt connected to the people in those pits and the crowd."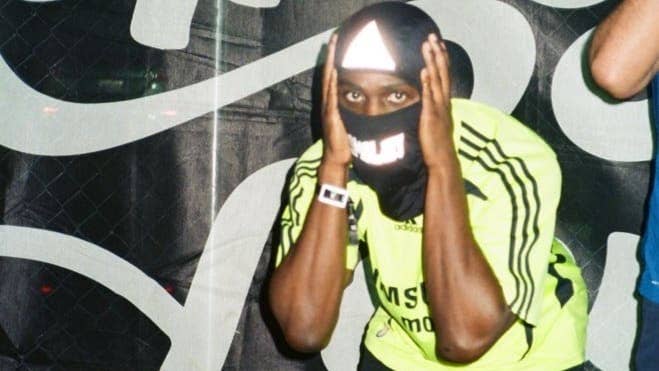 Seven months later, we bumped into a member of 175tv at Dreamville Fest in a Waka Flocka Flame pit. True to Walé's word, the community he's been curating can be found wherever moshing is happening. Despite Dreamville Fest not being a moshpit-heavy festival, a man wearing a black ski-mask with a caution symbol shepherded us through the pit and helped us rage. In conversation with Complex before his set, Waka says his tips for the pit are to simply "stay moving… The man that don't move is the man that gets pushed around."
Mosh pits are not a new concept: Heavy metal rock and other genres have been moshing for decades. When it originated in the California punk rock scene in the '80s, moshing was defined by its freeform "thrash dancing." There were similar albeit less chaotic variations of freeform dance that were associated with rap around the same time, like crunk and Memphis Jookin. One of the early and most notable instances of early rap moshing was captured in the now-iconic video of DMX's 1999 Woodstock set, where the New York rapper performed "Ruff Ryders Anthem" to a massive sea of fans.
Fast-forward two decades later and the chaotic collision of humanity has become more prevalent in rap as artists have embraced more rockstar personas. Odd Future was among the first of mainstream artists in the 21st century to push moshing even deeper into rap. Running parallel to them were acts from the first SoundCloud era like Travis Scott, Lil Uzi Vert, Playboi Carti, Ski Mask the Slump God, and Trippie Redd. These artists were critical in normalizing mosh pits and moshing at hip-hop shows. ASAP Rocky has made it a habit of starting his shows by opening up a mosh pit in the middle of the crowd in disguise and performing from there. Even legacy acts like Jay-Z and Kanye West have encouraged fans to mosh at their own shows, reeling Queen Bey herself at their show in 2012.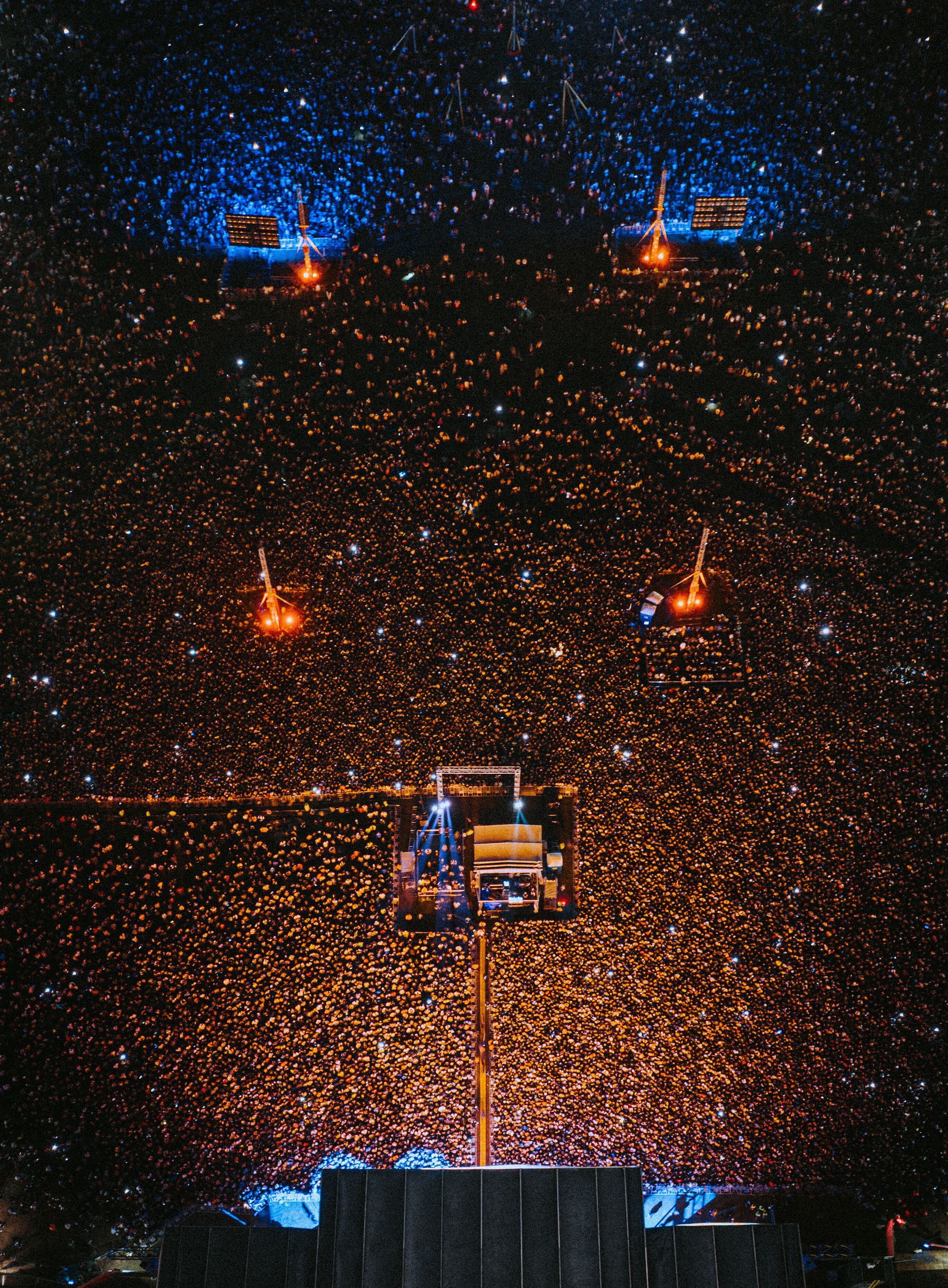 Originally from England, Walé has spent the last five years recording the modern hip-hop moshing community. His 175tv platform is unique because of its consistency and proximity; they literally get into the thick of it as both a mosh collective and social media page dedicated to capturing the madness of pits at rap shows. A typical 175tv video starts before the madness, with the camera showing mosh pits forming like giant whirlpools in the middle of a sea of people. And then, as the shot switches from person to person in the pit, you're sucked into the swirling madness as the people begin to jump into each other. Finally, the beat drops and all hell breaks loose: People start running and pushing and shoving and screaming as the mosh goes into full swing. 
"Stay moving… The man that don't move is the man that gets pushed around."
Walé initially started vlogging his experience in various festival crowds in Europe in 2018. Through those experiences, he discovered a bustling community of like-minded music fans. In 2019, he started a Discord that now boasts 1,300 members from across the globe. (He also works with Rolling Loud in an official capacity, traveling to their different festivals around the world, from Thailand and Holland to Miami, to capture mosh pit footage for them.) At concerts, they recognize each other by their neon ski masks with the caution symbol on the forehead.
Steven Gutierrez from Ellenville, New York, who has been with 175tv since 2019 said that "Before I met 175, I wasn't really a mosh pit type of guy," the 27-year-old explained. "Before all of this, I was in the XO scene heavy. Like The Weeknd, Nav, Belly. I even had an XO crew (NYCXO) that went to every Weeknd event similar to how the Ragers do it with Travis and Carti." Then, he met Walé at Rolling Loud New York and began immersing himself in the moshing scene. He said he had always seen how much fun people looked like they were having in pits, but never thought to try and participate himself until Walé gave him that gateway to try it. 
"There's something about opening up a pit and seeing the excitement build up on people's faces knowing it's about to get crazy," he explains. "But at this point we're almost like mosh pit professionals; as crazy as our pits get, people also feel safe around us." This is because 175tv practices good mosh pit etiquette. When someone falls down, they pick them up. If someone feels overwhelmed or gets hurt, they stop what they're doing to help. They don't lose their humanity in the pits.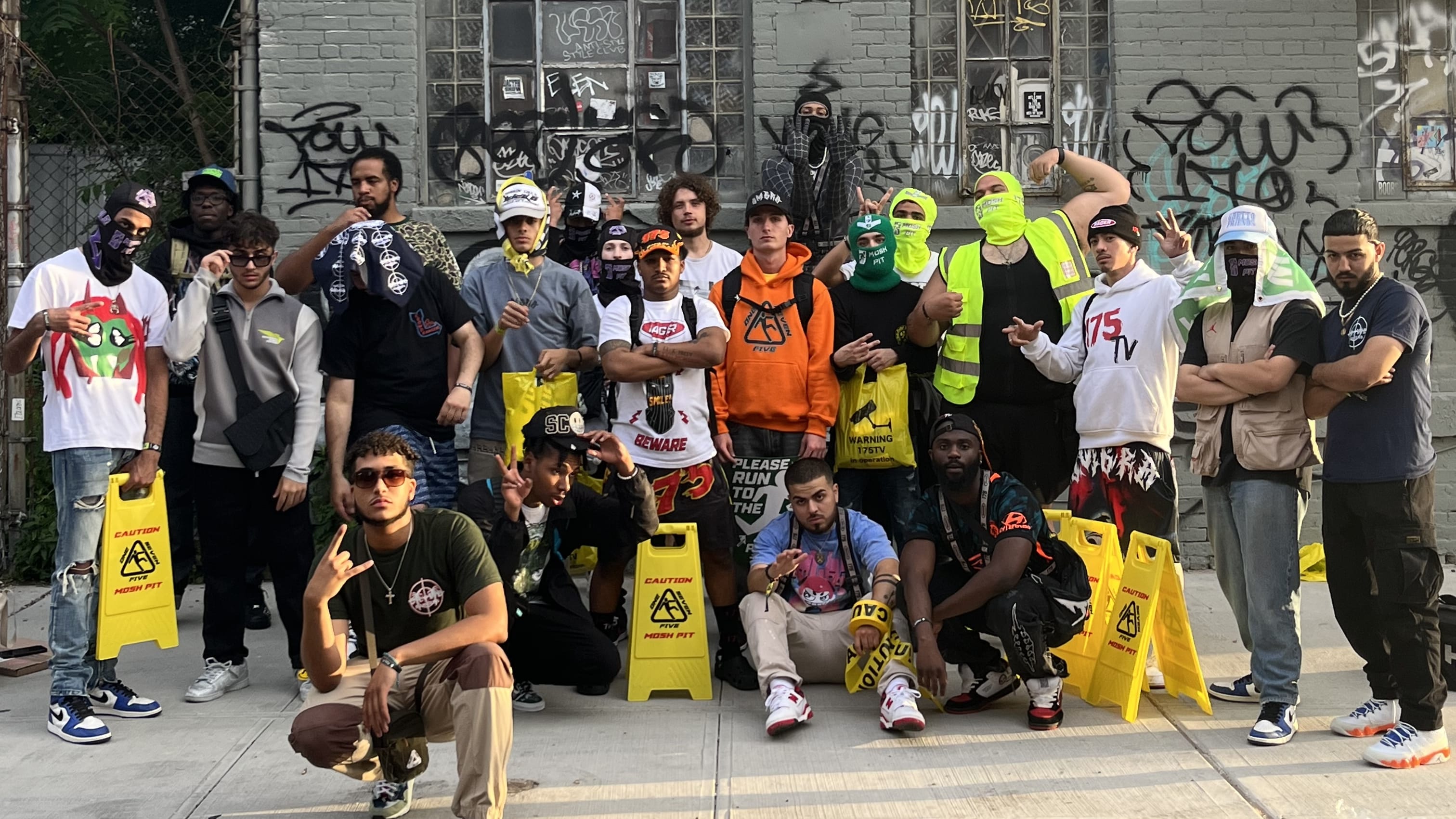 The tragedy at Travis Scott's Astroworld Festival in Houston in November 2021, where a fatal crowd crush killed 10 concertgoers, left many unsure if festivals and mosh pits would ever be able to return to prominence. The Houston Police Department said that crowd-surging and crowd-crush were the main catalysts for the Astroworld tragedy, and not mosh pits, but the aftermath of the event has made many fans and artists alike nervous about large groups of people pushing and shoving one another in consolidated spaces.
Putting your body on the line and diving headfirst into a pit for an extended period of time takes a certain level of bravery, but Walé assures me that the community keeps each other safe to the best of their ability, despite what it may look like from the outside. "Ultimately, the goal is to just have fun and zone out to your favorite artist," he says. "One of the main rules to moshing is to not try and actually hurt anyone. Have fun, but have human decency too, and make sure people are safe. Especially after the events that happened last year," he says, referring to Astroworld. "Everyone is extra cautious and makes sure to pick anyone up if they fall down, even if the beat's about to drop. It's a community." 
People are entering the scene with excitement, but also hesitation. "I love the artists, but it's not worth putting yourself at risk. It's not that serious," a different group of women told me from the outskirts of the crowd while an artist was performing. "We run away whenever [artists] say 'open that shit up.'" 
A poll of 287 members from the 175tv Discord (roughly a quarter of the total members) shows that just over a fifth of them are women or nonbinary people. While the moshing community in rap is swiftly becoming its own microcosm, it's still generally very male-dominated. In a 2018 piece for Okayplayer, Evan Nicole Brown writes that fans of Rico Nasty, who commands a legion of predominantly female moshers at her shows, see the pit is a place of vulnerability and release. Footage from any Rico show will illustrate how she promotes pits at her shows, and how these pits are often more diverse than ones from her male counterparts like Playboi Carti or Sheck Wes, two male artists whose violent history outside of music often bleed into their shows. I ran into a young woman named Angie at Rolling Loud New York who said that she feels a similar energy that with her 175tv peers. 
"Since I've met 175tv, I know that the community has me," she says. "So I'm never concerned about my well-being because I know that everyone is keeping each other safe and having fun. We're rare [in moshes], but you do have those one or two girls who are down and have the same energy as you, and there's an instant connection."
"Oh, none of this is safe, but we're lit."
Of everywhere he's ever jumped into a pit, Walé still says that New York City's are the best and wildest ones. Despite all of the safeguards that have been put in place by the community and touring companies alike to make moshing safer, though, the act itself is still dangerous innately. "Oh, none of this is safe, but we're lit," a young fan calmly tells me on the soggy train from Queens at the end of Rolling Loud weekend. "That shit is definitely not for everybody, bro. It's 100 percent fun, but if you're physically not capable of keeping yourself up, you're not going to make it out."
I made it out, but after all the moshing was said and done, I was exhausted. My body ached, my feet hurt, and I felt like my mind remained on high-alert after. Raging is one thing, but the mental component of making sure that people are safe is quite another. To my surprise, though, the community welcomed me with open arms even though I was an obvious novice.
Mosh pits were created by misunderstood punk rock kids who needed a space to let off steam. It's easy to write off both the pits and its participants because of how they both look on the outside, but that would be doing the scene and the people involved a disservice. Mosh pits are aggressive, chaotic, and generally unsafe to most. But where I was—and where 175tv lives—in the heart of the trenches, are people who vied for community and found one in the pits.