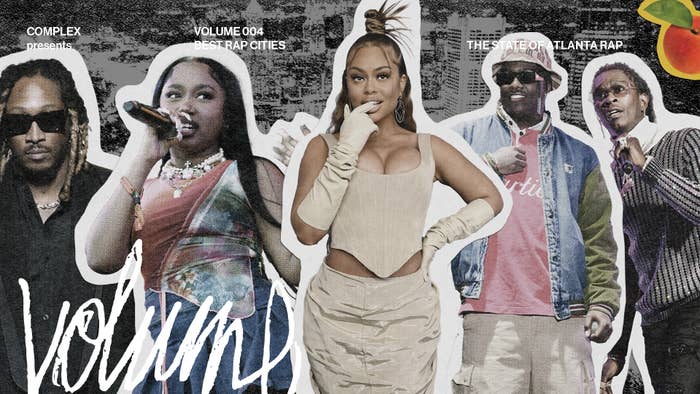 As we celebrate the 50th year of hip-hop's vibrant existence and look to the future, we must first embark on a comprehensive journey through its storied chapters. Undoubtedly, that exploration begins with New York City, the birthplace of hip-hop that has continued with relentless innovation. But it's equally crucial to acknowledge another chapter of similar magnitude and complexity: Atlanta.
Atlanta has long commanded attention and pushed boundaries in rap. In the '90s, pioneering acts like OutKast and Goodie Mob set the foundation for Atlanta's takeover. And by the 2000s, Atlanta emerged as a powerhouse in the rap scene, revolutionizing the genre with infectious dances like those of "Crank Dat" and "Lean Wit It, Rock Wit It," which came paired with irresistible hooks in an era that preluded TikTok.
Then, with trailblazers like Gucci Mane, Future, Young Thug, and Migos leading the charge in the 2010s, accompanied by visionary producers such as Metro Boomin and 808 Mafia, the trap sound that dominates airwaves beyond the city's borders became synonymous with Atlanta. In the process, A-town dethroned established regions like New York and Los Angeles, solidifying its position as the mecca of rap.
But as it reaches nearly 30 years of dominance, cracks have appeared in its foundation, making its placement as the number one rap city less concrete. Plus, other regions have re-emerged, posing a challenge to Atlanta's long-standing reign. In the last five years, New York rappers have been turning the spotlight back on the city. In 2019, Pop Smoke spearheaded the Brooklyn drill movement. Although his untimely death put a strain on the BK drill scene, it has not only persevered but expanded with rap darlings like Ice Spice, Lola Brooke, and Scar Lip taking new ground. Houston and Memphis have also elevated their game with acts like Megan Thee Stallion and GloRilla respectively. Amidst these rising challengers, recent events have also cast a shadow over Atlanta's rap scene, leaving it on shaky ground.
So, is Atlanta still undeniably on top?
"I don't think Atlanta has lost momentum," celebrity publicist Abesi Manyando (Future, Lil Baby, Saweetie, etc.) tells Complex. "I think other regions are finally getting back to having some shine."
DJ Greg Street—a Mississippi native and Atlanta resident for more than 30 years, best known for his V103 radio station segment—tells Complex that he thinks there are "various reasons it doesn't appear to be as big as it used to be," pointing out the lack of support Atlanta is receiving from other communities, saying "the media doesn't really pay attention to it."
"Atlanta, the culture is so divided right now," ATL Jacob, the Grammy-nominated producer behind "Wait For U," the chart-topping collab with Future, Drake, and Tems, says candidly. "Usually, everybody looks at us like, 'Oh, we need to be like them. They help each other,' which is still the case in some ways. But so much stuff is going on within Atlanta in the streets and in the industry, I feel like it's dividing everybody."
But Atlanta is built on its sense of community, and record labels based in the Big A have been a key part of establishing that for their artists. But as they continue to flourish and extend their reach, they are confronted with a set of unique challenges. Quality Control Music bid farewell to the influential group Migos, and concerns have been raised about the label's future dominance. Simultaneously, HYBE'S acquisition of the brand in a multimillion dollar deal has raised questions about the potential impact on day-to-day business operations. Adding to an already turbulent atmosphere, the ominous shadow of the YSL case and a series of tragic murders, have rocked Atlanta's rap community, threatening to disrupt the fabric of the city's identity. Meanwhile, other labels like the star-making label LVRN and Generation NOW, a boutique label boasting undeniable star power, brings a fresh perspective that has the potential to redefine industry norms.
"I don't think Atlanta has lost momentum... I think other regions are finally getting back to having some shine."
At this critical crossroads, we explore the dynamics that now shape the Atlanta rap scene. Will the city continue to hold its crown, or will it be dethroned by new contenders? As Atlanta stands on the precipice of change, let's delve into the narratives that will define its next chapter.
Is Future still on top?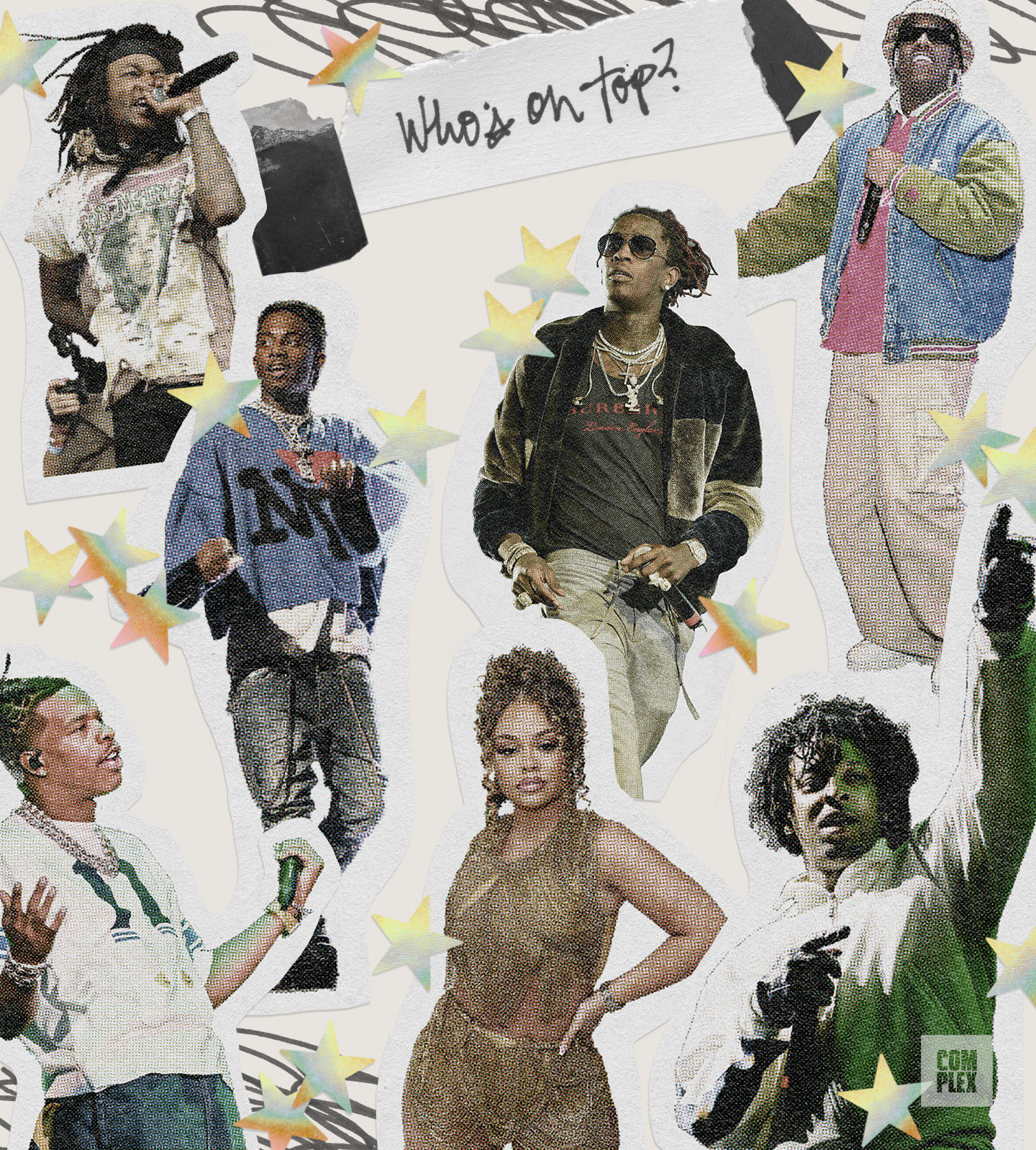 "What I love about these guys, as A-list musicians, is they're really friends. Everybody works together," renowned publicist Abesi Manyando says. "They have true friendships and they really work together and lift each other up. I don't see it in other regions." In the past few years, Atlanta has played a pivotal role in ushering in talent through collaborative projects like Metro Boomin's 2022 album, Heroes & Villains, on which everyone from Young Nudy to Gunna and Young Thug appeared on wax. Artists consistently share each other's projects on social media, most recently exemplified when Young Thug released his new album Business Is Business on June 23, which got love from Metro Boomin and Drake.
Friendships aside, healthy competition for the seat at the top is evident in back-to-back releases and playful online banter. When discussing the current kings and queens of Atlanta's rap scene, the answer varies depending on who you ask. Despite the friction and dismay brought on by the YSL trial, Young Thug and Gunna have been front and center when it comes to the conversation of Atlanta rap right now. Young Nudy also received widespread acclaim for his album, Gumbo, which made it to the Billboard 200 in February.
Yet, music mogul Jermaine Dupri boldly claims the city only has two hot artists right now. "For the last 20 years, Atlanta's always had at least five to six top rappers at one time. Right now, Atlanta's dropped down to two top artists: Lil Baby and Future," he toldVIBE magazine in January.
"Future is always relevant," Manyando tells Complex. Manyando is the legendary rapper's longtime publicist, but she asserts that she doesn't need to plug her client when discussing Atlanta's current heavy hitters (several sources Complex spoke to, including Greg Street, ATL Jacob, and DJ Drama, also named Future as a top artist right now). "What was the longest charting album last year?" Manyando asks. Future's 2022 album, I Never Liked You, debuted at No. 1 on the Billboard 200, selling over 220,000 units. Manyando continues, speaking on why Future is a mainstay in conversations surrounding contemporary rap music in Atlanta and beyond. "Even when he doesn't have music [out right now], he's still the most talked about."
Future, although the most prominent and enduring figure in rap right now, does not stand alone on Atlanta's rap Mount Rushmore. Contrary to Dupri's sentiment, DJ Greg Street emphatically highlights the presence of other notable stars such as Lil Baby, 21 Savage, and Young Nudy. Lil Baby's 2020 album My Turn became his first number one album, which was further stamped by having 12 songs from the project chart on Billboard's Hot 100. 21 Savage, Complex's 2022 Best Rapper Alive, has also had a huge couple of years with the successes of Savage Mode II and Her Loss.
"What city has artists now in the new generation and this generation that can compare with 21 Savage, Future, Lil Baby?" Street asks enthusiastically. Street isn't going to get off that easy, though. Los Angeles and Toronto may not have as many artists as Atlanta but it has global stars such as Kendrick Lamar and Drake respectively. When asked how Atlanta's power players compare when looking at all of rap's heavy hitters, Street has a clever response. "Los Angeles got Kendrick Lamar, but LA has no answer for 21 Savage. LA didn't have an answer for Lil Baby. Roddy Ricch is dope, but he's not Lil Baby or 21 Savage. You got to think, these guys are big all over the world," he continues.
"Los Angeles got Kendrick Lamar, but LA has no answer for 21 Savage. LA didn't have an answer for Lil Baby. Roddy Ricch is dope, but he's not Lil Baby or 21 Savage. You got to think, these guys are big all over the world."
Street cites 21 Savage's 2023 tour with Drake and Lil Baby's joint tour with Chris Brown as testaments to Atlanta's global significance. "When you are Drake, you're not bringing an artist on tour with you just to break them as an artist. You already know these kids can put people in seats," he says, speaking of 21 Savage's fanbase.
While Atlanta is booming with huge talent from Young Thug to Lil Baby to 21 Savage, Future's continued reign in Atlanta cannot be ignored. His consistent chart-topping hits and undeniable talent have propelled him to the forefront, making him the undisputed ruler of Atlanta's music scene. "There is no one who can compare to Future in Atlanta," DJ Greg Street stresses.
How does the YSL trial impact Atlanta rap?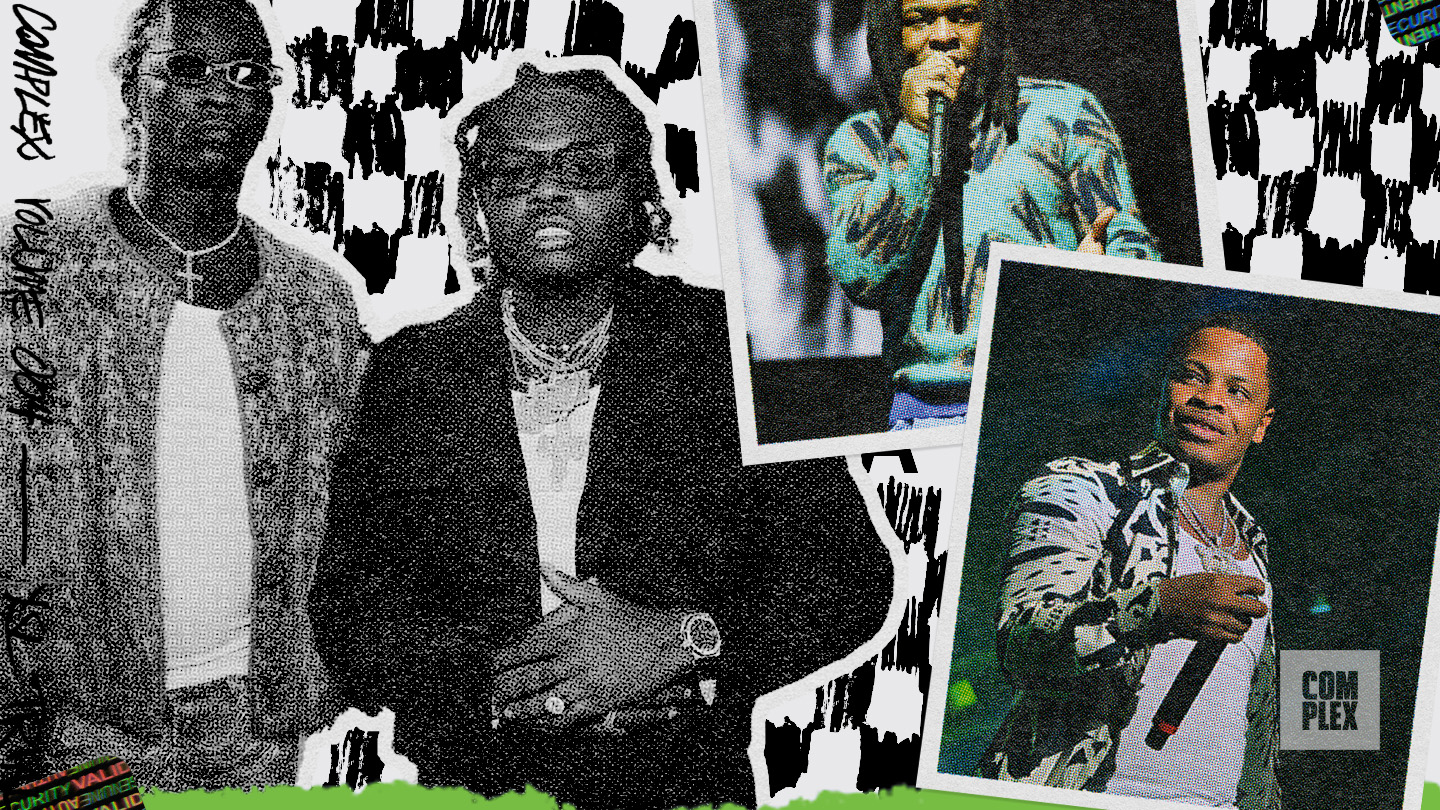 The sense of camaraderie among Atlanta artists and producers still appears to hold true, but in recent years, Atlanta's collaborative spirit has waned, leaving a noticeable impact on the city as a whole. "You can feel a lot of energy missing from Atlanta right now. Atlanta just ain't the same, honestly. I feel like we took a lot of big ass losses last year," 21 Savage told Complex in January.
Since the COVID-19 pandemic in 2020, there's been a particular spotlight on Atlanta's crime rates. Shockingly, 2020 marked the deadliest year in two decades, with the Atlanta Police Department reporting over 157 homicides being investigated in the area. The trend persisted into 2022, with a reported 43 percent increase in homicides compared to the previous year. In an effort to combat rising crime, the Fulton County District Attorney's office has initiated a crackdown on violence that has infiltrated the city, which was greatly exemplified by several major arrests in 2022.
In September 2022, Chaka Zulu, Ludacris' longtime manager, was arrested and charged with murder, aggravated assault, possession of a firearm during the commission of a crime and simple battery. The charges stem from the June 2022 triple shooting that occurred in Atlanta in which a 23-year-old man was left dead. Chaka Zulu's lawyer has argued his client acted in "self defense."
And, perhaps most notably, on May 9, 2022, Young Thug and Gunna were among 28 people arrested in Atlanta on charges in a 56-count Racketeering Influenced and Corrupt Organizations Act (RICO). The following day, Fulton County District Attorney Fani T. Willis held a press conference, alleging that Young Thug, Gunna, among other defendants, "operated as a criminal street gang" to commit "havoc in our community."
DJ Greg Street describes the initial reports of their arrest as a "dagger" to the scene. "Gunna was becoming the biggest artist in the world," Street acknowledges, "And then everything happened." Prior to Gunna's arrest, his album DS4ever was atop the Billboard 200 chart, blocking the Weeknd's album Dawn FM from the No. 1 seat. "So Gunna was a dagger," Street continues, "[Young] Thug, that was a dagger, and [YFN] Lucci, that was a dagger." In May 2021, YFN Lucci was among 12 people arrested on a 105-count RICO indictment. The rapper is still being held in a Fulton County jail cell.
In the months since their arrest, Gunna was released from jail after accepting a plea deal, which exempt him from serving prison time and appearing on trial. Young Thug is still being held in Fulton County jail. Initial court proceedings for the case began on Jan. 4, 2023.
Several rap lyrics from Young Thug's songs were cited in court documents outlining the charges, which in turn, has sparked widespread dialogue about the use of rap lyrics as evidence in court and whether it is a violation of rappers' First Amendment rights. As a result of the case, the Restoring Artistic Protection Act (RAP Act)—legislation that aims to safeguard artists from having their lyrics used against them in legal proceedings—was introduced to Congress. 300 Entertainment (parent company of Young Thug's YSL record label) CEO Kevin Liles also accrued more than 85,000 signatures on a Change.org petition to "Protect Black Art."
Nevertheless, District Attorney Willis has adamantly defended the right to use rap lyrics in legal cases. "I think if you decide to admit your crimes over a beat, I'm going to use it," Willis said at the news conference in September 2022. "I'm going to continue to do that; people can continue to be angry about it. I have some legal advice: Don't confess to crimes on rap lyrics if you do not want them used—or at least get out of my county."
The YSL case has already had an effect on rap, and could impact how artists in Atlanta express themselves. Artists like Lil Durk have begun adding disclaimers such as "cap" to their songs, telling listeners and peeping law enforcement that their lyrics are fake. But as the trial unfolds, the career trajectories of two of Atlanta's biggest stars have been called into question. While Young Thug faces a potential 25-year sentence, his arrest has sparked a groundswell of support, leading to the "Free Thug" rallying cry with fans and artists such as Meek Mill using the hashtag and phrase on social media and live stages. Thug has also appeared as a guest feature on songs like Yeat's "My Wrist," Metro Boomin's "Trance" (peaked at No. 42 on the Billboard Hot 100), and Rae Sremmurd's "Royal Flush," suggesting he is still embraced by the community at large.
Gunna's career, on the other hand, has suffered more noticeable repercussions, with fellow artists like Lil Durk and Boosie labeling him a "rat." His longtime producer Wheezy even vowed never to work with him again. Despite these challenges, Gunna is striving to persevere, releasing new music like the introspective track "bread and butter" on June 2. The single, which directly confronts the rumors surrounding his case, has garnered 7.7 million streams on Spotify, which stands in stark contrast to previous releases before his arrest like 2022's "Pushin P," which amassed over 300 million streams on the platform. His new album A Gift and a Curse, released June 16, is on track to debut at No. 3 on the Billboard 200, which suggests a comeback is imminent.
How has death changed the Atlanta rap ecosystem?
The deaths of rappers from Atlanta has also been felt within the city. In 2022 alone, the rap community mourned the losses of notable Atlanta artists including Trouble, who was fatally shot during a home invasion, Lil Keed, who died of the rare blood disease eosinophilia, and Takeoff, who was senselessly murdered outside of a bowling alley in Houston. Manyando recalls the atmosphere in Atlanta following Takeoff's death in November 2022. "When Takeoff died, there was a dark, dark cloud [over Atlanta] for a while here. Even for myself, that was very depressing. It's a reminder like, wow, it's not just music, this is real life," she recalls.
The loss of Takeoff sent shockwaves through the Atlanta music scene, forever altering its landscape. In his solo release, "Greatness," Quavo boldly proclaimed the end of the Migos era. While the group had already weathered a tumultuous period with Offset pursuing a solo career and Quavo and Takeoff collaborating as the rap duo Unc and Phew, fans still clung to hope for a future reunion. The impact caused by Takeoff's absence is yet to be measured, but according to 21 Savage, the loss is irreparable, with him stating in a 2022 interview with Complex, "we'll never ever recover from that shit, if I'm being honest."
The shift within the Atlanta music community following great loss goes beyond its borders. In December 2022, Harlem-based rapper ASAP Rocky opened up to Complex on the evolving scene, saying, "It's such a weird time for hip-hop. We're losing so many legends. And the scope of the game, pop is fighting for the number one spot, as far the most predominant genre." DJ Drama, the famed music executive best known for his Gangsta Grillz mixtape, adds. "I feel their concerns. With what's going on with YSL, with us losing Trouble, Takeoff, Clay [Evans Jr.], who was a big representative of Ground Hustle, we've definitely had some moments that I'd say as a city we haven't been used to."
Manyando acknowledges the disheartening and unfortunate nature of deaths like Takeoff's but avoids dwelling on the doom and gloom of recent news for too long. Instead, she emphasizes Atlanta's resilience in continuously cultivating and strengthening the local community, such as 21 Savage's annual back to school drive or Young Dro's anti-gun initiative. It's this perseverance and dedication to changing the narrative that helps Atlanta maintain its dominance despite tragedy and adversity. "I've seen a lot of artists and musicians here really taking the initiative and making efforts to promote anti-violence and see how we can sustain without people having to lose their lives," Manyando says. "Offset, 21, and of course, Future, are making efforts because people are waking up and realizing, hey, I want to have a career that lasts like Jay-Z." According to an Atlanta Regional report (updated in March 2023) there has been a decline in the city's violent crime rate in 2022, the first time since 2018.
A look at where Atlanta's record labels stand right now:
Being that Atlanta's at the center of a flourishing music scene, it can be easy to fixate solely on their challenges and negative headlines. It is equally crucial, though, to acknowledge the business ventures that showcase the city's resilience and continued growth. Atlanta is home to a handful of Black-owned and artist-run record labels that house some of the biggest artists in both hip-hop and R&B. This is in stark contrast to other regions that have not yet established a robust infrastructure. While cities such as Los Angeles have Top Dawg Entertainment (TDE) and Memphis has Yo Gotti's Collective Music Group (CMG), both regions lack the same level of influence as Atlanta. Today, Atlanta's thriving rap ecosystem stands as a testament to years of tireless cultivation and strategy. According to a study conducted by 50 States of Music, the music industry has contributed over $2.5 billion to the state of Georgia's economic growth and has generated more than 45,000 job opportunities.
Highlighted below are three labels that are making a significant impact on the music business landscape in Atlanta today.
LVRN
Love Renaissance (LVRN), is one of the most influential and rapidly growing Black-owned labels and creative management houses in Atlanta right now. Founded by five Black men—Tunde Balogun, Sean Famoso McNichol, Junia Abaidoo, Justice Baiden, and Carlon Ramong—in 2012, the label has developed a roster with names like Summer Walker, 6LACK, DRAM, and Westside Boogie.
Tunde Balogun, co-founder and President of LVRN, shares that the industry's current state feels familiar and consistent with its past. "From our perspective, I still talk to my same friends in the industry. I still deal with the same artists," Balogun says. "I just think folks are a little bit more busy now, and focusing on themselves and their businesses. Of course, in some instances there are different crews, but that's been longstanding. It's really nothing new. It's kind of the same old Atlanta."
Amber Grimes, Executive VP/GM at LVRN, says Atlanta has always been "supportive of the label," noting, "we've got a big building in the middle of the city, and we do a lot of events to help support the Atlanta music community artists that are not applying to us as well as our artists."
The topic of mental health has become a trending topic in all of entertainment and music, but more specifically in Atlanta due to all of the recent loss, by way of death and incarceration. This has long been an issue in music, but in hopes of navigating the increasingly tough subject, LVRN launched a mental health division in 2020, which provides meditation sessions and licensed therapy services to all their artists and teams. This is a significant development for Atlanta's music scene, especially considering Black people and musicians have only recently started advocating for mental well-being and such divisions were not readily accessible to previous generations.
QUALITY CONTROL MUSIC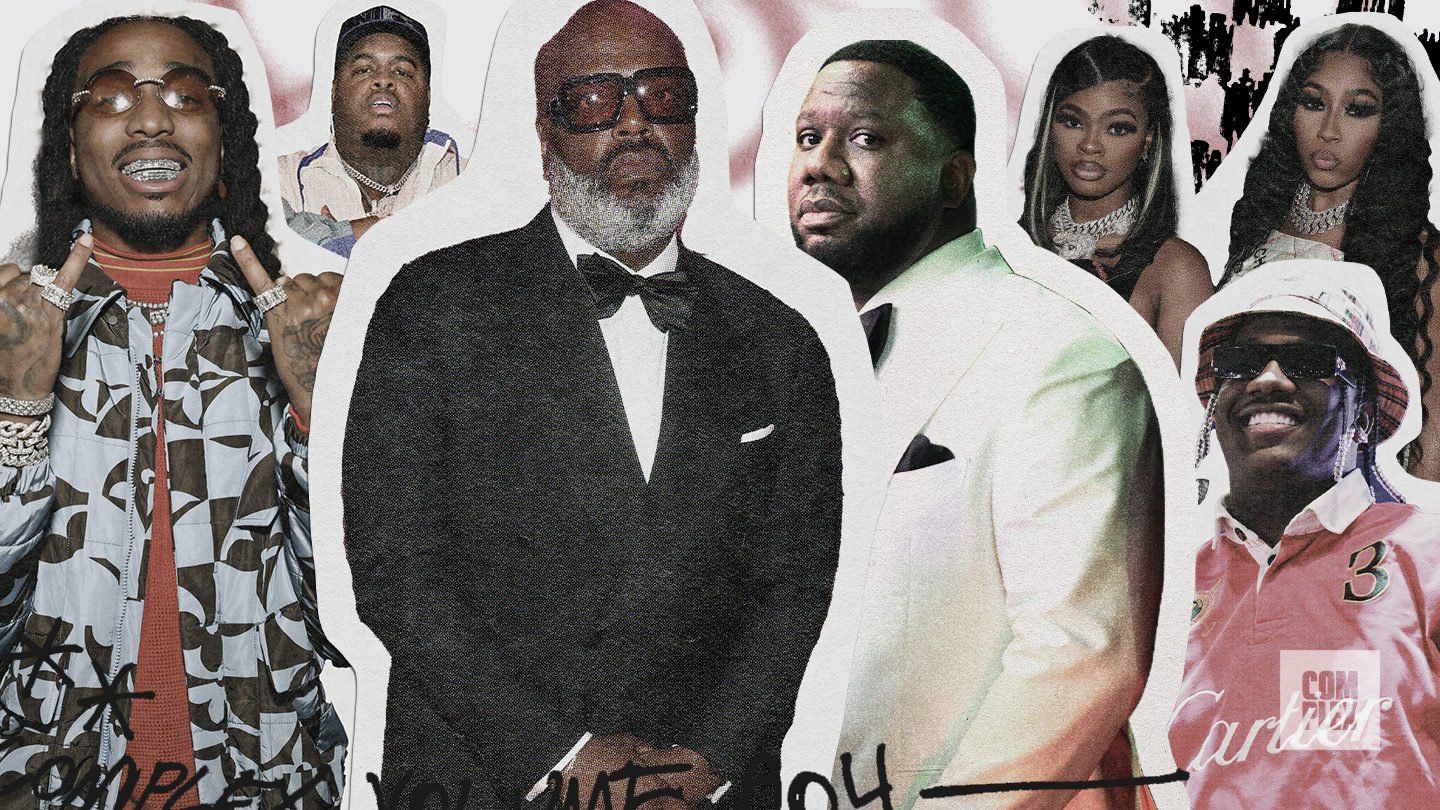 There are dozens of record labels in Atlanta now, but it would be difficult to talk about the current music landscape without highlighting Quality Control Music (QC). Founded in 2013 by Pierre "Pee" Thomas and Kevin "Coach K" Lee, QC quickly became a driving force in shaping the sound and culture of Atlanta rap. The label has cultivated a roster of talented artists, including heavyweights like Migos, Lil Yachty, Lil Baby, and the City Girls, all of whom have dominated the charts and left an indelible mark on the rap landscape. Cardi B is also signed to a management deal with the label. QC inarguably has the most globally relevant acts on their roster, but they have reached a significant crossroads that has put a large question mark on the label's future success.

The biggest concern is who will fill the shoes of the Migos, who disbanded in 2022. Right now, Quavo is the only artist from Migos still affiliated with the label. In August 2022, Offset filed a lawsuit against the label, alleging he was "blackballed" in an attempt to control his solo career. Nevertheless, the Migos' solo careers have historically not performed anywhere close to what the group accomplished together (Quavo's solo album, Quavo Huncho debuted at No. 66 on Billboard 200 before eventually peaking at No. 2, while Offset's Father of 4 debuted at No. 4; together as the Migos, their 2017 album Culture debuted at No. 1).

Wayno Clark, the label's VP of A&R, did not work with the group during their early career and remains tight-lipped about the status of both remaining members. However, he does comment on the looming question of who will fill the shoes of Migos or follow in the footsteps of Lil Baby and Lil Yachty. Rather than replicating what has already been done, he is focused on finding unique artists who can bring their own flavor to the table. "It's all about discovering fresh voices and pushing boundaries to keep QC at the forefront of the rap scene," he tells Complex. "Not everybody is going to make it to the same level."
While Quality Control has seemingly prioritized the careers of primarily Atlanta-based artists (with the exception of City Girls), the label has branched out to include artists from other cities, too. Duke Deuce and Gloss Up, who signed to the label in June 2022, are both from Memphis. The label also signed two Detroit artists: Baby Money and Icewear Vezzo. When asked about the upcoming wave of artists Quality Control plans to sign, Clark doesn't focus on their origins as a determining factor. Instead, he emphasizes the importance of discovering emerging talent who display dedication, hard work, and the ability to create exceptional music.
"It's all about discovering fresh voices and pushing boundaries to keep QC at the forefront of the rap scene."
In addition to a roster that now represents several cities in the South and midwest, Quality Control made a major industry move in February 2023, when it was was acquired by the North American division of South Korean music company Hybe (led by Scooter Braun), a deal reportedly worth $300 million in cash and stock. The acquisition not only speaks to the value and QC's current roster, but also sets up the company's potential for global expansion.
This new deal may seem enticing, but past deals similar to this indicate the need to proceed with caution. Several Atlanta record labels, such as Gucci Mane's 1017 Brick Squad and Ludacris' Disturbing the Peace (DTP), encountered challenges when seeking lucrative deals with various companies (Gucci's label was shopped around to several large entertainment houses, including Mizay Entertainment, Asylum, and Empire, while DTP hopped around before ultimately end its run in the early 2010s). The recent acquisition by Hybe, coupled with the departure of a key player on the label, raises concerns about the label potentially facing a similar fate as its predecessors. Complex reached out to Hybe for comment on this acquisition but did not receive a response at the time of publishing.
GENERATION NOW
GenerationNOW, the youth-driven record label founded by DJ Drama, Don Cannon, and Leighton "Lake" Morrison in 2014 is also making significant strides in the industry. They're home to some of the biggest millennial and Gen-Z artists, including Lil Uzi Vert and Jack Harlow. The label's co-founders, though not originally from Atlanta, are important to the city's culture and legacy in their own right as well. Both Drama and Cannon were influential in helping the careers of artists like Young Jeezy, T.I., and Lil Wayne. In conversation with Drama, he also highlights Atlanta's role in helping create Gangsta Grillz, which he declares, "the most important mixtape series of all time. Meanwhile, Lake has played a crucial role in developing marketing campaigns for artists like Bobby Valentino, Young Gunz, and Freeway.
Although the label's co-founders and artists are not native to Atlanta, DJ Drama emphasizes to Complex that the label has consistently positioned itself as an "Atlanta-based label." "We take a lot of pride in being part of the Atlanta scene," Drama says. "Even through the come-ups of our artists, a lot of that happened based from Atlanta and based in the city. Me and the guys, Cannon and Lake, we share a storied history of 25-plus years in the city, putting our flag down and going through the ranks of generations of Atlanta culture and hip-hop."
Having worked with artists across all cities, DJ Drama has an interesting take on Atlanta's current position in the musical landscape. Though he acknowledges the boom of New York City's rap scene, he says, unconcerned, "I don't think that's affected Atlanta… Off the top of my head, I can say Latto is killing shit right now, Metro Boomin is killing shit right now, Nudy is killing shit. Playboi Carti and 21 Savage are on fire right now. And Gangsta Grillz is back like it never left. Even though other cities are having a resurgence, there's never a time when Atlanta isn't in a dominant space."
Can drill take over trap in A-Town?
Atlanta's music scene has undergone a remarkable evolution over the decades. In the 1990s, the "Dirty South" sound fused Southern hip-hop with funk and soul elements. The 2000s saw the rise of crunk music led by artists like Lil Jon, along with the emergence of street storytellers such as T.I. and Ludacris. In the 2010s, Atlanta became synonymous with trap music, with artists like Future, Migos, and Gucci Mane at the forefront. Throughout its history, Atlanta has always been a pioneer in creating the next trend, but ATL Jacob (who has also produced for Lil Baby and Kodak Black) suggests that its creativity has suffered lately.
"Everybody is rapping about the same thing, rapping on the same type of beats," he sighs. He suggests that if Atlanta wants to continue to position itself as a leader in rap, "the people in Atlanta that's making music need to evolve, be themselves, and stop trying to make the sounds that they hear. They need to make the sounds that they feel and talk about the things that they feel."
To be clear, trap is still a leading force in the music industry and Atlanta. Metro Boomin's Heroes and Villains has spent 27 weeks on the Billboard 200 chart, while Lil Baby's My Turn has spent a whopping 164 weeks. Still, if people are growing tiresome of the signature trap sound, where will Atlanta go next?
DJ Drama points to an emerging sound that "is sprouting out of [trap]." "When you think about [Playboi] Carti, Kenny Mason, and Destroy Lonely, it's almost like a whole other sub-genre," Drama explains. "You see Carti onstage with an electric guitar, and he's got a metal type of feel to him. Or when you listen to an album like Metro Boomin', and you hear a cinematic type of sound, and things like that. Then you have an artist like JID who's lyrically spitting and it's about his bars. So, yeah, I think that there's definitely different colors that are vibrantly showing their heads." This sound has been coined rage rap, and is characterized by hard-hitting beats, aggressive vocal delivery, and chaotic synths. Rage rap is by no means new or exclusive to Atlanta (artists like Lil Uzi Vert and XXXTentacion have previously been affiliated with the sound), but Atlanta artists are currently leading the charge. Playboi Carti's 2020 album Whole Lotta Red debuted at No. 1 on the US Billboard 200 with 100,000 album-equivalent units sold in its first week. Destroy Lonely's 2023 album If Looks Could Kill debuted at No. 18 on the Billboard 200. Carson's songs also appear in 1.8 billion videos on TikTok. DJ Greg Street also notes that Young Nudy's "Peaches & Eggplants" track "is huge."
"There's definitely different colors that are vibrantly showing their heads in the culture and there's a space for it all. But I don't think we're at a place where anyone could say trap is not relevant."
ATL Jacob also highlights "Atlanta drill." "It's New York drill, London drill, UK drill, Chicago drill, but [Atlanta] drill is not [the other drill]," ATL Jacob explains. "We only say 'drill' because it's like you talking about the same things that other drill artists talk about. It's a term used for going on a drill beat." Aside from the different sounds and production styles, drill music is often characterized by its menacing lyrical content that boasts a gritty portrayal of street culture and violence. ATL Jacob shouts out BabyDrill's "32 Freestyle" as an example of the ATL drill scene, saying BabyDrill is "innovative."
Can rage rap and Atlanta drill compete with emerging scenes like Brooklyn drill or even the resurgence of Jersey Club? Of course. Street notes that although records from Kendrick Lamar, Baby Keem, and other artists outside of the region are chart-toppers of the moment, they still borrow from Atlanta's sound. Yeat and Young Thug's "My Wrist" has accumulated more than 500,000 views on YouTube, and PgLang's signee Tanna Leone also hopped on the sound with his single "Antisocial."
Despite emerging sounds, Atlanta trap, with its various subgenres, is not in jeopardy of being replaced by emerging regional sounds, Drama says. The city's influence, combined with its ability to innovate and adapt, ensures that some various renditions of trap will remain a dominant force. "There's definitely different colors that are vibrantly showing their heads in the culture and there's a space for it all. But I don't think we're at a place where anyone could say trap is not relevant," DJ Drama says.
Who is Atlanta's next big star?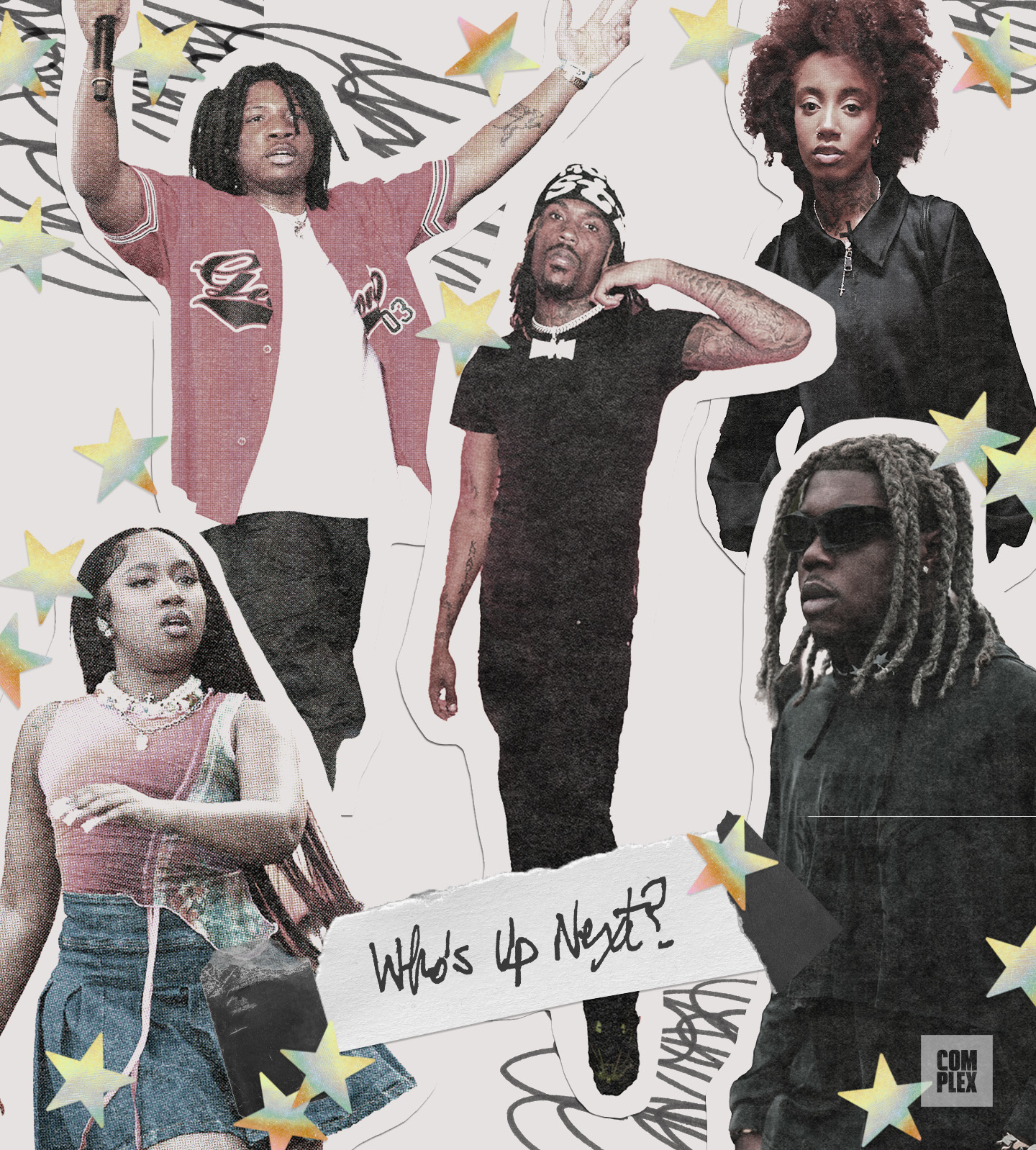 As Atlanta rap enters a new decade, the evolving landscape prompts questions about the emergence of the next big stars. Should Future retire or Young Thug remain incarcerated, who is Atlanta's next big star? Although it doesn't seem like the city is dead set on re-creating their careers, the city has already shown its ability to do just that. Lil Baby, for instance, is a product of being lifted up by his predecessors (although his newest single "Go Hard" didn't perform as well as expected). Lil Yachty also grew in popularity and garnered support this year by releasing his critically acclaimed album Let's Start Here. And stars like Latto—whose single "Put It On Da Floor" has made its way to the top 20 of the Billboard Hot 100 chart—and Young Nudy, whose 2017 single "AE" continues to ignite every party and club in the city, appear to be leading the charge right now. Playboi Carti's Opium Records, includes signees Ken Carson and Destroy Lonely, who are setting them up to be the leaders of the new school. Ken has already captivated listeners with his distinctive and youthful sound, which blends trap elements with a unique melodic style and rebellious delivery. His tracks like "MDMA" and "i need u" showcase his raw talent over electronic production, and have garnered millions of views on YouTube, solidifying his growing presence in the music scene.

Hunxho, a 300 Entertainment signee who has already earned early support from notable figures like 21 Savage, is making waves with his laid-back delivery and unique beat selection on tracks like "Let's Get It" and "Highly Performing." While he may not have achieved global stardom just yet, Hunxho has captured the attention of the local rap community and is rapidly gaining traction. "Everybody is buzzing about [him]. He's their star. They're all rooting for him," Manyando says, describing him as "a Tupac type of artist."
Manyando wouldn't think of picking anyone to fill Future's shoes, but says "there's always going to be the next one, and I think it's easier to do in Atlanta because the artists that are on top, they actually embrace the young guys coming up."
"When you talk about hip-hop, there's no way you could ever have the conversation without talking about Atlanta, its dominance and the run that it's had in the last 30 years," DJ Drama says.
"Atlanta's never going to fall off," Manyando asserts, citing the city's consistency for its continued dominance. It's true. Through many intense conversations and debate, Complex has determined that Atlanta is still the most dominant city today, despite New York, Los Angeles, Memphis, and other cities having big moments. Manyando continues, "Atlanta has made a global impact. I think there's room for everyone in hip-hop. It doesn't have to be regional, but I do think that when it comes to the long term, these guys, they're always going to be on top. It's not a fad."