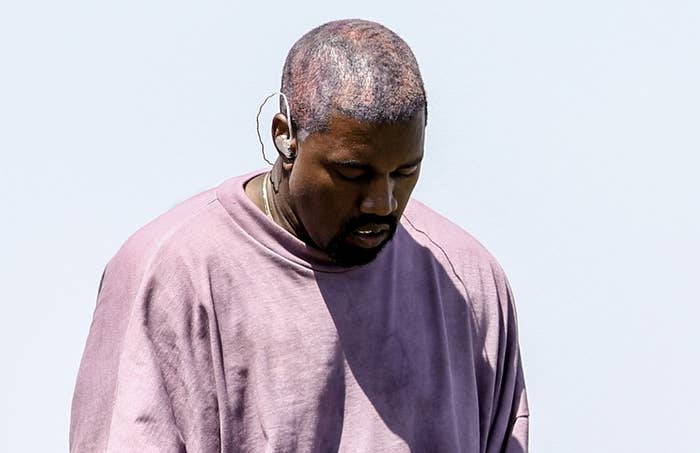 On Thursday, August 29, Kim Kardashian shared a cryptic post of what appeared to be a title and tracklist for Kanye West's forthcoming project. The photo teased a tentative title, Jesus Is King, along with a 12-song tracklist and a release date of September 27. Although it's unclear exactly what direction Kanye will take, the project appears to draw inspiration from his faith and recent run of Sunday Service sessions, with song titles like "God Is," "Baptized," and "Sweet Jesus." 
It's been a long, eventful road leading up to Jesus Is King. Of course, after he promised an album called Yandhi last year, it never actually arrived, so there's no telling if this project will actually manifest. But while we wait for September 27 to arrive, here's a rundown of all the important events that have happened since Kanye announced Yandhi to the point Kim revealed Jesus Is King is on its way. 
In mid-September 2018, Kanye took a break from his Twitter rants to announce the release date of what was supposed to be his ninth studio album. The highly-anticipated project entitled Yandhi was set to drop on September 29, which would have coincided with his appearance on the premiere of Saturday Night Live.
Once his initial release date for Yandhi came and went, Kanye recruited his wife Kim Kardashian to provide an update on the project's whereabouts. Her announcement tweet, overflowing with a series of unrelated emojis, promised that the album would be available in time for Black Friday and it would be "worth the wait."
In November 2018, Kanye West and Kid Cudi closed out Tyler, the Creator's Camp Flog Gnaw music festival in Los Angeles with a live performance of their joint album, Kids See Ghosts, for the first time. During the performance, which took place from inside a levitating steel box, Kanye appeared to have a breakthrough. At that moment, he made the revelation that he was not ready to release Yandhi. In a tweet after the show, he explained, "It felt so good being on the stage last night with my brother Cudi. After performing again, I realize the new album I've been working on isn't ready yet. I'll announce the release date once it's done."
Unfortunately for Kanye fans, the release of Yandhi ultimately never arrived.
As Christmas approached, Kanye appeared to be having a sort of spiritual awakening. One of the first inklings of this came when he tweeted that the "Holy Bible" was his favorite app.
Two weeks later, Kanye revealed that Chance the Rapper had helped him reconnect with his faith and religion.
It's unclear how Chance specifically assisted him in this journey, but in a Beats 1 interview with Zane Lowe, Chano suggested it was simply their friendship that aided in his discovery. "I can't pinpoint a moment when it was like, Ye, has his—I don't even know what to call it—his revelation, but he does often like, reference me when he talks about it, and I think that's important," he explained during the August 2019 interview. "I think fellowship is the most important thing, period, and if we can't talk about faith, then it's like, 'Why are we talking?'"
January 2019: Kanye begins Sunday Service sessions
Not long after the first Sunday Service commenced, a red-haired Kanye went viral, thanks to Cyhi the Prynce's documentation on Instagram. Cyhi's post included a preview of one of Kanye's Sunday performances on the hills in Calabasa, where Kanye and his choir (adorned in all white) energetically bounced around to a jubilant melody of instrumentation. Kanye, whose year had previously been defined by many as a rather angry Trump-supporting ranter on social media, looked particularly happy and "free" in this moment. The viral clip represented one of the first times he received near-unanimous praise from the public in recent memory. It would seem that this moment represented a turning point away from politics and into religion.
In April, Kanye brought his Sunday Service series to the public at Coachella 2019—on Easter Sunday of all days. Viewers either watched from a hill in Indio, California, or through a fisheye lens on the festival's lives tream. In addition to a roster of surprise, celebrity guests, Kanye also previewed a new song, "Water." Unbeknownst to fans at the time, the track would later make its way to the tracklist of his forthcoming album, Jesus Is King. 
Thanks to Sunday Service's success, Yandhi became a distant memory to ssome fans. That was, until several unfinished versions of the lost album were leaked online. The project featured a number of artists including Nicki Minaj, Ty Dolla $ign, and XXXTentacion, and was met with mixed reviews. At this point, it's unclear whether any of these songs will end up on Jesus Is King or not.
Kanye took his Sunday Service from the hills of Calabasas to a real congregation this summer. He brought his experience to the California Worship Center in California to perform a mix of gospel and secular songs, including Watch the Throne's "Lift Off" and Snoop Dogg's "Drop It Like It's Hot." 
Although some fans had previously raved about the Sunday event, Kanye's live performance at the church was met with less enthusiasm and received some criticism for its misuse of religious traditions. Prior to Sunday Service's launch, Kanye had received negative attention for his support of the Trump administration, and critics felt as though Sunday Service capitalized on the black church experience in order to erase his past mistakes and win back his core audience. Nonetheless, Kanye continued along his Christian-inspired musical path.
While Kanye remained quiet on social media about the leaks, Pusha-T stepped in to address the situation on Twitter. When a fan questioned who was leaking the unreleased record, Push stated that he was disappointed whoever the culprit was. "I honestly hate it for the sake of making an event of a song or project, it ruins all that we have in store for u guys." 
Just before Labor Day weekend, Kim Kardashian disrupted Twitter timelines to drop a mysterious tracklist and a release date of September 27. The handwritten note didn't blatantly announce a new Kanye West album, but there were more than enough signs indicating a new project will arrive before the end of the month. The album's tentative title, Jesus Is King, and the song titles appeared to be a nod to Kanye's Sunday Service era. And the note also included a full version of the previously-teased track, "Water."
The image also includes other clues that shed  light on Ye's vision and inspiration for the project. The most significant clue is the Holy Bible in the corner of the photo, which was opened to Psalm 57:6. According to Kanye's favorite Holy Bible app, the passage states: "They spread a net for my feet my soul was despondent. They dug a pit before me, but they themselves have fallen into it! Selah." It's also worth mentioning the "Selah," which often signals an exclamation or musical break at the end of a verse, is also the title of a track on the album.