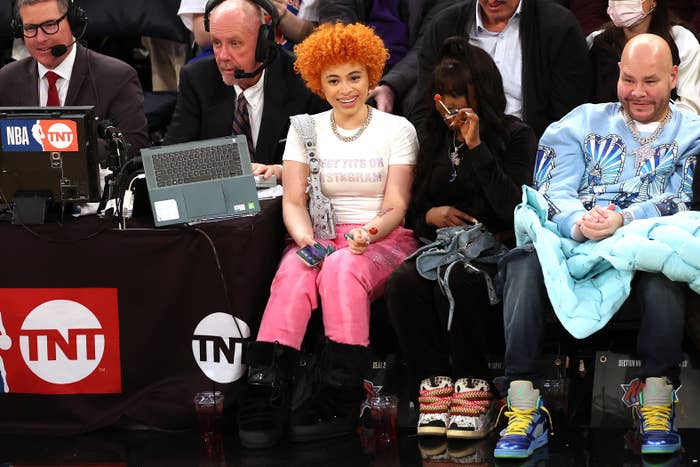 Rap can't get enough of Ice Spice. The industry's newest it-girl is taking over with her bright orange curly hair, innocent look, and laid-back flows. In the past year, the rising star has been popping up everywhere—from a surprise guest appearance at Rolling Loud New York last fall to, most recently, being tapped to star in Beyoncé's latest IVY Park campaign and more. 
There are a few things we know about the "Princess Diana" rapper due to her continued spotlight. First, the basics. Ice Spice was born Isis Gaston in the Bronx, New York, at the beginning of the new millennium (Jan. 1, 2000) to a Nigerian father and Dominican mother. She is the oldest of five siblings and, after listening to rappers like Lil' Kim when she was 7 years old, the young artist developed an interest in pursuing a rap career of her own. 
She developed her writing skills in high school, where she wrote poetry and practiced her rap skills, but it wasn't until she went to college that she started making moves toward a professional career. 
In March 2021, she caught a break by going viral for doing the popular "Buss It" challenge on TikTok. Capitalizing on her newfound insta-fame, she released her first song, "Name of Love," on SoundCloud, which gained popularity on Instagram. In August 2022, she released her breakout single "Munch (Feelin' U)" to widespread acclaim. The track charted on Billboard's Hot R&B/Hip-Hop Songs and Bubbling Under Hot 100 charts, and garnered co-signs from big artists, including Drake. Just a few months later, Ice Spice dropped her debut EP featuring standout tracks like "Princess Diana" and "Actin a Smoochie." 
It's hard to have a conversation about rap right now without mentioning Ice Spice. Still, there's some mystery when it comes to who she is beyond her public persona. So we dug through interviews and social media so you don't have to. Here's a list of fun facts about Ice Spice that you might have missed:
Her stage name was her social media username at age 14
Ice Spice's stage name has been with her long before she was an established rapper. The 23-year-old was commonly referred to as "Ice" growing up because her real name is Isis. The full name came together when she was a teenager. "The Spice came from Instagram. I was just trying to come up with a username when I was like, 14," she remembers.
She spent $100K on her Power Puff Girls chain
In early January 2023, Ice Spice was spotted wearing some new ice. The chain was a medium-size, diamond-encrusted version of the Powerpuff Girls, and the price tag on the new piece was not cheap. According to reports, Ice paid a hefty $100K for her custom chain. Ice Spice joins the list of rappers to pay for expensive chains in the form of cartoon characters (Bow Wow with Mickey Mouse chain, Nicki Minaj with Barbie chain, etc.). 
She used to play volleyball
Before Ice Spice was rap's newest star, she was an athlete. Shortly after the Bronx native broke through, an old photograph of Ice in college started circulating on social media. In the photo, Ice Spice was captured wearing a headband and blue camouflage shirt with the words "Purchase Volleyball." After news of her high school hobbies came to light, Ice Spice responded on Twitter, writing, "Aw, I miss volleyball." 
Her ideal dream date is very low-key
We know Ice Spice doesn't like a "munch," but what kind of person does she go for? In a new interview between Ice and Erykah Badu and her daughter Puma Curry for Interview magazine, the rapper opened up about her ideal date night. "I'm a homebody. I don't really like to be out in public doing things like that, especially now," she said. "My dream date is chilling at home by ourselves. We're just smoking, eating, and watching movies. You get to know somebody better that way." 
Her dad convinced her to embrace her curls
Ice Spice's signature feature is her bright orange, curly hair. Today, she's complimented on her tight curls, but she says that wasn't always the case. In fact, before she was famous, she wore a lot of wigs and straightened her hair. "When I was in high school, I was straightening my hair, trying to be something that I'm not," she said. Now, she loves her curls. She has credited her father for helping her overcome her insecurities, as well as the change in society's beauty standards. "The hair is definitely iconic," she admitted. "Now it's flattering seeing a wave of Afros. I enjoy that. I feel like that's great for Black women especially, making Afros more like just a normal staple look."
She was a Catholic school girl
Ice Spice's upbringing might be different from what you expected. "I was very popular," she said of her high school years in Catholic school. She also noted that when she started to go to Catholic school, "things started changing." She added, "I didn't go to church a lot at home growing up. I was never even baptized. But I'm still religious in the sense [that] I strictly pray every day, all the time." 
Pole dancing is one of her favorite hobbies
Ice Spice has described herself as a "homebody" in various interviews, but that doesn't mean she doesn't like to let loose and have a good time. In an interview with NME in January, the rapper revealed her favorite pastime activity. "When it's time to have fun, my favorite thing to do is be home," she explains. "I have a stripper pole, so I've been getting into pole dancing. I'll put music on and dance on the pole for hours. It's so fun, but I have a bunch of bruises everywhere now [laughs]."
She met her go-to producer at art school
After high school, Ice Spice attended SUNY Purchase, a liberal arts school in Westchester County, New York. The college specializes in creative fields, and according to Ice, many of her friends were "painters, sculptors, dancers." She also met a lot of people who were aspiring producers but had a hard time convincing them that she was a serious artist. "I was around a lot of creative people all the time. I had other producer friends at Purchase, but they wouldn't take me seriously," she explained. "I would try to ask for beats, and they would never send them." The only producer to see her potential was RIOTUSA. The two met while at Purchase and instantly started making magic. RIOTUSA produced Ice's breakout single "Munch (Feelin' You)," as well as several songs on her debut project Like.. ? After their success together, Ice Spice told Interview that the producer who once rejected her is now trying to send her beats, but now, it's "too late!" 
She used to work as a babysitter
Before Ice Spice was famous, she used to work several different odd jobs. According to her latest interview in The Cut, Ice confirmed that her last job before committing to a rap career was babysitting for a "Jewish family upstate" in Westchester, New York. She didn't give much detail about her role but said, "Shoutout to them. They was cool."