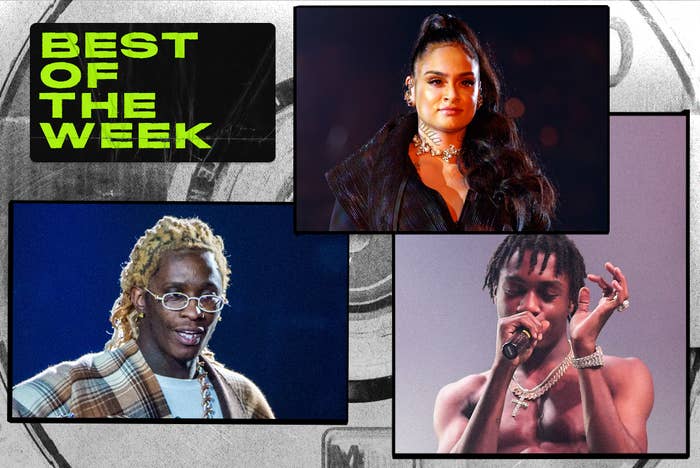 This has been another big week for major releases. Young Thug and Chris Brown connected on their joint project, Slime & B, which dropped earlier this week. Nav assembled a team of all-stars for his new album, Good Intentions. Lil Tjay dropped "Zoo York" from his latest project, State of Emergency, featuring one of Pop Smoke's first posthumous verses. Kehlani and Jhene Aiko finally connected on "Change Your Life," which appears on Kehlani's sophomore album. And we also received new music from Justin Bieber, Ariana Grande, Quando Rondo, and more. 
Here is the best new music of the week. And to keep up with all of the latest releases in hip-hop, follow our playlist on Spotify here. 
Lil Tjay, Pop Smoke, Fivio Foreign, "Zoo York" 
Lil Tjay is putting on for his city with his latest anthem, "Zoo York." And it wouldn't be a New York banger this year if it didn't include stars from Brooklyn's drill scene. On the track, Lil Tjay slides over gliding drill bass with a melodic tone as he repeatedly sings, "Bitch I'm from Zoo York, Zoo York/Bitch I'm from Zoo York." Fivio Foreign cuts in later, bringing the aggression drill artists are known for. And finally, Pop Smoke closes out the single with his instantly recognizable deep voice, spitting, "I woo from the floss, yeah, we do it better." "Zoo York" is one of the first posthumous verses from Pop Smoke to arrive since his tragic death in February. About Lil Tjay's album, State of Emergency, which dropped Friday, the rapper tweeted, "Lotta shit going on rn, and I'm just tryna be the helping hand to my city." 
TM88 & Southside f/ Future, Young Thug, and Moneybagg Yo, "Blue Jean Bandit"
TM88 and Southside assembled an all-star team for "Blue Jean Bandit." The record is a hypnotic trap banger that finds Young Thug, Future, and Moneybagg Yo rapping about expensive jewels, cars, and illicit activity. "Half a million, told my jeweler my ice is real, what up?/Anything I say I can say twice, what up?" Thugger raps. "I talk nasty to the cops, I know my rights, what up?/The bitch mad that she got lonely nights." Speaking on the song's vibe and sound, TM88 told Complex that "the sound is the 808 Mafia… This is the normal trap sound that people are used to hearing from us. It's just a super dope record." 
Kehlani f/ Jhené Aiko, "Change Your Life"  
Kehlani and Jhené Aiko finally hopped on a song together. "Change Your Life" is a joint track from Kehlani's It Was Good Until It Wasn't, which finds the duo looking to change and elevate someone's current situation. "I'm not saying that you incomplete, but / Just imagine what we'd be if we became one," they sing on the chorus. Together, they help reimagine what a new life would look like for that person should they open up to their help. You would think two singers with as many similarities as these two (west coast natives, similar soothing energy) would have collaborated a long time ago. No matter how long it took, we're just glad that this collaboration finally happened. 
Young Thug & Chris Brown f/ Gunna and Lil Durk, "Big Slimes" 
Young Thug and Chris Brown were the duo you didn't know you needed. The pair dropped their first joint project, Slime & B, earlier this week, featuring the slick standout track, "Big Slimes." On the record, which also features Gunna and Lil Durk, Thug takes point, rapping about women, big guns, and his rockstar lifestyle. He also incorporates raspy singing on his verse before handing it off to CB, who brings more melody to the track. Gunna and Lil Durk close out the single with smooth and memorable verses as well. "Big Slimes" is a great blend of trap and R&B, and hopefully opens the door to more collaborations from Thug and Chris in the future. 
NAV f/ Lil Durk "No Ice" 
Nav and Lil Durk were on to something when they recorded "No Ice." The collaboration has a late-night cruising vibe thanks to the alien-like sound that starts off the track. When the drums kick in, Nav reflects on his rags-to-riches story, revisiting his old neighborhood after his come-up, rapping, "When I go back to the block I grew up on and roll dice / I don't create no hierarchy, pull up with no ice." Durk's verse is just as memorable, as he raps about his dark past. "No Ice" appears on NAV's new album, Good Intentions, which dropped on Friday. 
A.CHAL f/ Gunna, "Hollywood Love" 
"Hollywood Love" is a soulful, melodic collaboration from A.CHAL and Gunna that finds the duo singing about the fakeness that comes with trying to find love in Hollywood. "I can't tell no more if it's Hollywood or what/Hollywood love/Probably gon' fuck anyway/But that's so what?" A. CHAL sings on the chorus. Gunna comes in later, spitting, "I call you when I'm lonely, be my company, fuck space/She told me if I drink with her then I don't gotta chase." "Hollywood Love" will appear on A. CHAL's forthcoming album that will be coming soon. 
Quando Rondo, "Get Down" 
"Get Down" starts off slow, with a reflective intro from Quando Rondo, as he looks back on his search for love and loyalty. But when the Al Geno-produced beat drops, the song quickly picks up momentum, turning into a bouncy trap record. Still, Quando is emotional as he sings of murderous thoughts and fallen friends. "She see the murder in my eye/I'm plottin' on a way where I can bust that boy dome/Stand on the block my dawg died on /That's on the porch his momma cried on," he sings. "Get Down" is a thoughtful record from Quando Rondo that reflects on his past, and will likely resonate with the streets. 
Justin Bieber and Ariana Grande, "Stuck With U"
"Stick With U" is a slow ballad in which Ariana Grande and Justin Bieber sing to each other about being stuck in the house. The song was inspired by the ongoing COVID-19 pandemic, so there are subtle lyrics that reference self-quarantining like, "There's nobody on these streets," and "Might as well cancel our plans." But once you forget the world's current situation, "Stick With U" is ultimately a romantic duet about wanting to enjoy a loved one's company. As a way to help those in need, all proceeds from the record will go to First Responders Children's Foundation, which supports scholarships for children of essential workers. 
RMR f/ Future and Lil Baby, "Dealer Remix" 
It looks like RMR is looking to achieve viral success once again, and this time he's tapped big names to get the job done. The "Dealer" remix is just as soulful as the original, but it also finds Lil Baby and Future laying down bars that will leave you intoxicated just listening to them. "Drinkin' on the dirty soda/Promise I'ma never fo sober/Niggas ain't nothin' but some vultures/Percocets, molly, damn baby," Future raps. Lil Baby later professes his love for his drug of choice, rapping, "I be sippin' syrup, I think I'm in love, woah." 
GRIP, "Cassius" 
GRIP's "Cassius" is a classic-sounding rap song that sprinkles in bars about quarantine ("The quarantine pack is in/Gripper is back again") with other lyrics about his status and making it out of his hometown. The track is also full of motivational lines like, "This shit like when legends are born, and many weapons are forms, but I aways weather the storm," which he spits over a ringing beat produced by TU!. "Cassius" is a triumphant record from GRIP's album, HALO, which dropped back in April 2020. If you like this, we suggest you dive into the full project now.